MSNBC Panel Mocks Trump's Claim That Impeachment Witnesses Are 'Never Trumpers,' Says 'The President Is Flailing'
The panel of MSNBC's Morning Joe mocked Donald Trump's claims that the witnesses testifying in the ongoing impeachment inquiry are "never Trumpers," pointing out that they serve at high levels within the president's administration.
Trump and his supporters have repeatedly attempted to discredit the testimony against the president by accusing the witnesses of being "never Trumpers" and members of the so-called Washington "swamp." On Sunday, Trump repeated the accusation on Twitter against Jennifer Williams, an adviser to Vice President Mike Pence and a career foreign service officer, ahead of her public testimony to congressional investigators scheduled for Tuesday.
"I just don't get it," Morning Joe host Joe Scarborough, a former Republican congressman who now identifies as an independent.
"How did Mike Pence not know anything?" co-host Mika Brzezinski with sarcasm.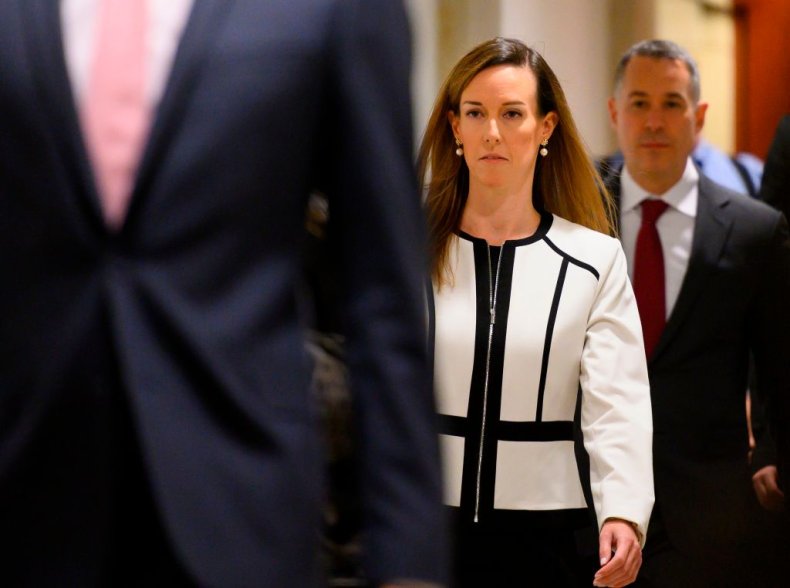 In his Tweet, Trump wrote that Williams "should meet with the other Never Trumpers, who I don't know & mostly never even heard of, & work out a better presidential attack!"
"The president is flailing," Eugene Robinson, an associate editor at The Washington Post, told the Morning Joe hosts. "I mean everybody who says anything negative about him is, of course, a 'never Trumper.' This is a ridiculous charge to level at somebody who works for [Secretary of State] Mike Pompeo and Mike Pence. It's not credible, but then again, what is credibility to this president?"
Williams was on the July 25 call between Trump and Ukraine's President Volodymyr Zelenskiy, which is at the center of the impeachment inquiry against Trump. During that conversation, Trump asked Zelenskiy for "a favor" and to open investigations that would target his Democratic political opponents. Meanwhile, the White House had temporarily withheld nearly $400 million in military aid to Ukraine, which multiple witnesses have said was connected to the president's pressure campaign toward the country's leaders to launch the inquiries he desired.
In a closed-door deposition this month, Williams told congressional investigators that Trump's efforts to pressure Ukraine to investigate his political opponents were "unusual and inappropriate." She also said the July 25 call seemed to be for the president's "personal political agenda."
Despite Trump's claims that the witnesses are "never Trumpers," they have all been members of his administration, with several of them being appointed under his leadership. The U.S. Ambassador to the European Union Gordon Sondland, who will testify publicly this week, even donated $1 million to Trump's inaugural committee.
The president's supporters have also attempted to discredit those testifying as being overtly partisan. In an interview with Fox News anchor Chris Wallace on Sunday, House Minority Whip Steve Scalise, a Republican from Louisiana, argued that those who have testified are "Schiff's witnesses," a reference to House Intelligence Committee Chairman Representative Adam Schiff, a Democrat from California, who is leading the inquiry.
Wallace quickly called out the congressman's claim. "Well wait a minute, no sir," the journalist said. "They're career foreign service officers and these are people who worked in the Trump administration."
Trump later attacked Wallace on Twitter over the interview. Referring to the journalist as "nasty" and "obnoxious," the president argued: "This kind of dumb and unfair interview would never have happened in the @FoxNews past."