MSNBC Panelists Blast Jeanine Pirro Over 'Russian Collusion Delusion' Rant: Was That a 'Saturday Night Live Skit?'
A panel on MSNBC's AM Joy ripped Fox News Judge Jeanine Pirro on Sunday for her pro-Trump rant condemning Mueller's investigation as "Russian collusion delusion."
In her opening statement on Fox News' Justice With Judge Jeanine Saturday evening, Pirro launched into a rant encouraging "the left to fold up their fantasy tents" with the Mueller investigation and focus on winning the 2020 presidential election rather than "this Russia collusion delusion nonsense."
Read more: U.S. refuses to "welcome" landmark climate change report, alongside Russia and Saudi Arabia
"Earth to Fox News, when a damaging court filing finds you 'Individual-1,' that's a bad thing — it's a really bad thing," AM Joy's fill-in host, Jonathan Capehart, said the next morning after sharing clips from Fox News. "President Donald Trump's favorite news outlet has actually gone out of its way to actually not cover the bombshell Mueller filings."
Get your unlimited Newsweek trial >
"Soooo - was that really Jeanine Pirro on Fox News or a Saturday Night Live skit?" Capehart said.
Journalist Gabriel Sherman responded: "You know, sometimes it is so hard to see the line between reality and satire on Fox, yet they make it so easy. For me, the highlight of this alternate reality was a segment that Fox & Friends did on a 9-year-old boy who fought to overturn a law banning snowballs."
Capehart went on to compare Pirro's opening statement on "something [Washington Post's] Dana Milbank would write in columns satirically to prove a point about how off-the-deep-end Republicans have gone, but she is doing this for real!"
"No, yeah, I give up on satire, I'm going to write about that snowball law," Milbank joked, before explaining that Fox News will soon be unable to keep covering up for the president.
Get your unlimited Newsweek trial >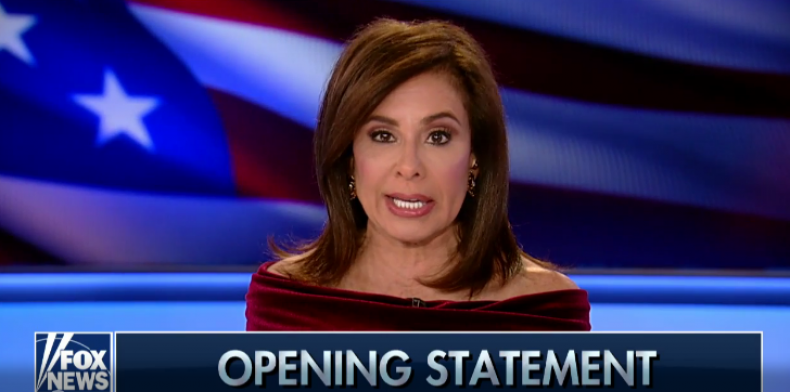 "I think something's happening here Jonathan. It's no longer Trump and the fake news media. What happened on Friday… these are prosecutors from the justice department... they're not even the rogue witch hunt hoaxter Robert Mueller's investigators. I think Fox is at a point now where they are trying to maintain things in a suspended animation."
"Even the Fox News viewers will be seeing with their own eyes it is not all fake news. That actually we are in a whole world of hurt right here," Milbank continued. "I think you're already beginning to see cracks in it. I think the whole notion of having this parallel reality is breaking down."
In recent weeks, Fox News' own legal analyst Andrew Napolitano has rebutted Trump's lawyer Rudy Giuliani's view that special counsel Robert Mueller's probe is searching for a crime and is close to finishing.
In an op-ed, published on Thursday, the former New Jersey Superior Court judge explained that he doesn't believe Mueller is on a "fishing expedition" or will finish his investigation anytime soon.
Watch the MSNBC segment below:
MSNBC Panelists Blast Jeanine Pirro Over 'Russian Collusion Delusion' Rant: Was That a 'Saturday Night Live Skit?' | U.S.