MSNBC Panelists Question Whether Trump Was Involved in Matt Gaetz' Tweet Threatening Michael Cohen: 'Hard to Dismiss as a Coincidence'
A panel on MSNBC Tuesday shredded GOP Rep. Matt Gaetz (FL) for threatening Donald Trump's former attorney and "personal fixer" Michael Cohen on social media and questioned whether the president was involved in the controversial tweet.
Ahead of Cohen's congressional testimony before the House Oversight committee on Wednesday, set to begin at 10 a.m. ET, Gaetz took to Twitter earlier today to accuse him of having affairs with multiple women and apparently threatened to release information related to the alleged infidelities.
"Hey @MichaelCohen212 - Do your wife & father-in-law know about your girlfriends?," Gaetz, a top Trump ally, tweeted today. "Maybe tonight would be a good time for that chat. I wonder if she'll remain faithful when you're in prison. She's about to learn a lot..."
Responding to the accusations of witness tampering that ensued after his tweet went live, Gaetz defended his statement to reporters, arguing that it's merely "witness testing." "When people like Michael Cohen, who's about to go to prison for lying, come before the Congress, there's an enhanced responsibility on the part of Members of Congress to test that veracity, to test the truthfulness and character of the witness and I think we ought to do it with great vigor," he said.
Gaetz also asserted that more information regarding the accusations in his tweet will be made public in the coming days. "Watch tomorrow," he told Vox. "Fireworks."
During a segment on MSNBC's Deadline: White House on Tuesday, host Nicolle Wallace led a panel discussion about Gaetz's tweet, questioning the congressman's motives and whether Trump played a role.
"I'm not sure if that is criminal, but it's certainly deplorable," Wallace asserted.
"I hate to dignify this, but this is a congressman. You are scum," Donny Deutsch, a close friend of Cohen, said. "Who the hell do you think you are? You are a congressman, do your job."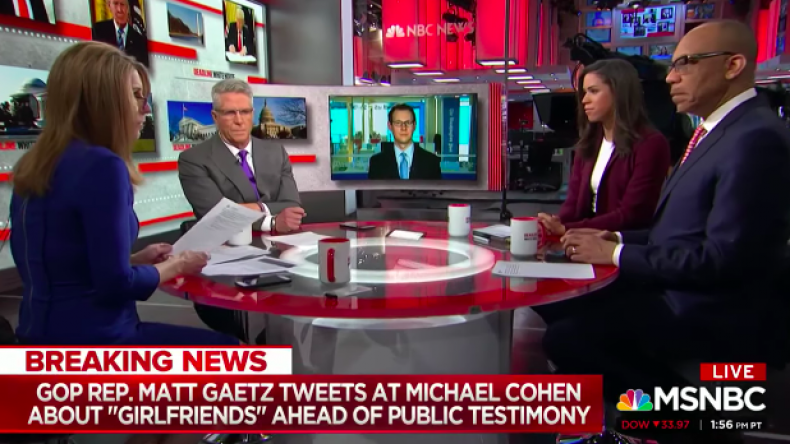 Washington Post senior political reporter Aaron Blake then broached the question of whether Trump could have been involved in the tweet. "I think this raises a real question about was this just the congressman freelancing or was this something that maybe somebody whispered in his ear and said he needed to put out there," he said, "Certainly we have seen the president, of course, tweet out things that at least operate within a grey area of obstruction of justice when it comes to Michael Cohen's family before."
Blake continued: "Matt Gaetz is somebody who is clearly very ambitious and has been willing to tow the Republican party and the Trump line on a lot of these things... Certainly the fact that it comes out the day before Michael Cohen is delivering testimony in public on Wednesday is hard to dismiss as a coincidence. This is really pretty evident what he is trying to do and that is to rattle Michael Cohen."
While Wallace then admitted that she doesn't have any evidence to "tie any link between the president and what was just tweeted," she did point out that Gaetz has acted for Trump's interests in the past.
"He has played Trump's stooge before in earlier episodes," she said.
"And obviously continues to do that," Washington Post columnist Eugene Robinson commented, before noting that it's strange that Gaetz "would go out with this by himself the day before the hearing."