MSNBC's Rachel Maddow Found Huge Ratings Success Covering Trump and Russia—So What Now?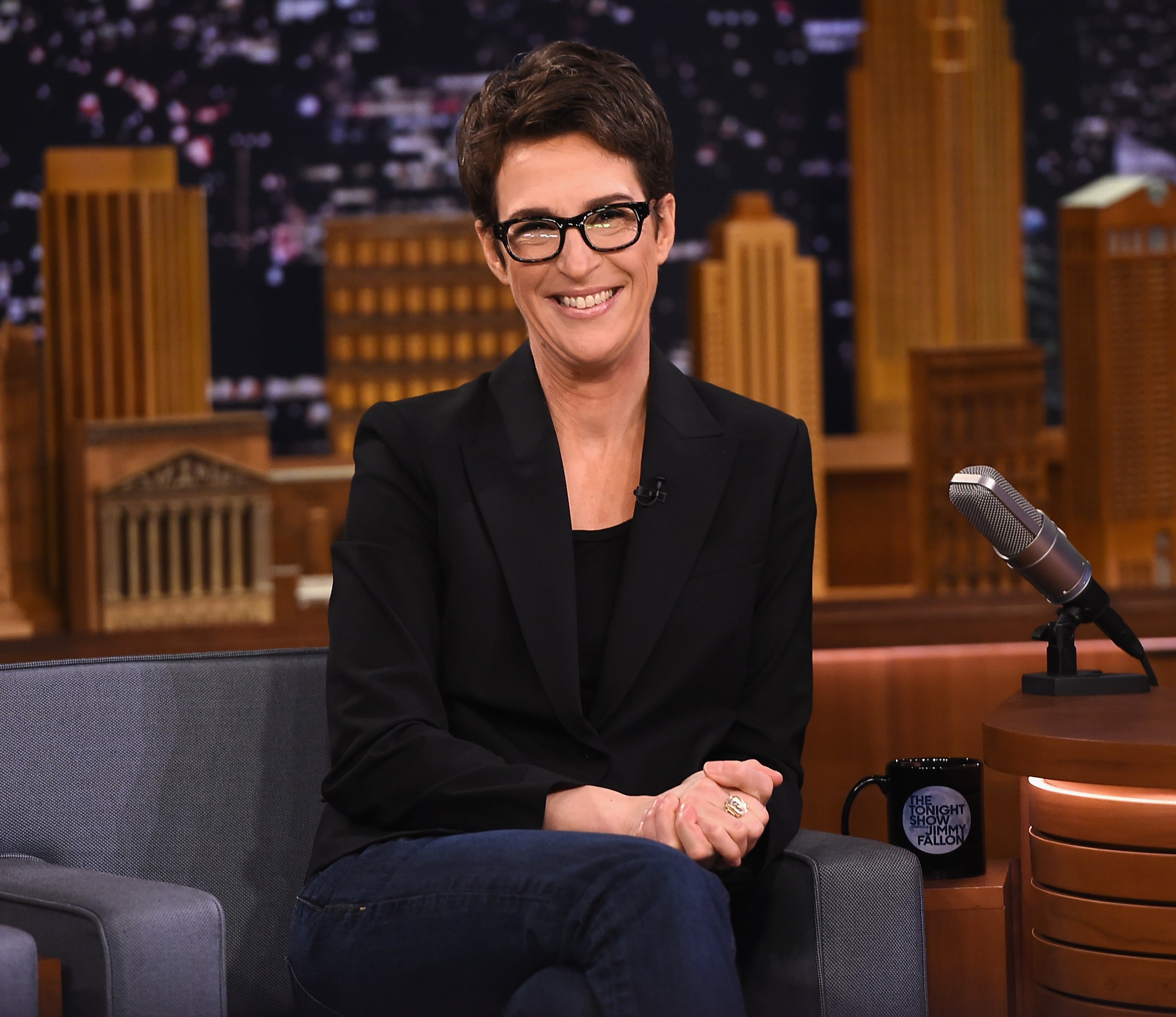 MSNBC's Rachel Maddow, like many of her contemporaries, has found that the era of President Donald Trump is, if nothing else, great for business. Maddow's rating surge, though, came in concert with a unique drawn-out style and a particularly dogged focus on Trump's potential connections to Russia and the various investigations into the leader of the free world.
But could the very strategy that helped propel her to the top of the ratings now be in jeopardy?
Late last week special counsel Robert Mueller's near-two-year investigation came to an end, and on Sunday Attorney General William Barr released a summary that said Mueller did not find evidence that Trump colluded with the Russians. The summary also noted the Mueller neither exonerated nor indicted the president on the question of obstruction of justice—which Barr decided not to pursue.
The battle is far from over—Democrats especially want the entire report released. But, with Mueller's report handed in, and the charge of collusion seemingly put to bed, what now for Maddow?
Perhaps more of the same.
Andrew Tyndall—a media observer who publishes a newsletter that monitors TV news—said even the most highly rated cable news shows in effect serve "niche programming, not mainstream programming."
"Even after Mueller has ended his investigation, the appetite for aggressive scrutiny of Trump among the niche audience that tunes into Maddow on a nightly basis will not be satiated," he wrote to Newsweek in an email on Monday. "I doubt that it will even diminish. Consequently, I do not expect that she will scale back her Trump coverage."
In the wake of the Mueller report being finished, a swift backlash has ensued from some on both the right and the left toward those who spoke loudest about potential collusion between Trump and Russia. ABC News correspondent Terry Moran tweeted out a video of former CIA Director John Brennan saying he "a lot to answer for." The Columbia Journalism Review wrote a piece detailing much of the criticism of the media's Russia coverage from places like Fox News, the Trump family and journalists like Matt Taibbi.
But Mueller's investigation is hardly the only probe looking into Trump. Among others, the Southern District of New York is investigating hush money payments, federal prosecutors are looking into his inauguration and he's being sued for defamation, which could result in him being deposed. It'd stand to reason there will be plenty of non-Russia Trump legal battles to talk about moving forward.
Tyndall also felt it was not right to characterize Maddow as too focused on Russia or Mueller coverage. He said that Maddow has more been focused on "corruption, obstruction and abuse of power by Trump, generally speaking" and that it remains to be seen if critics who say she focuses too much on that are correct or not. (The Intercept, for instance, in 2017 published a critical piece tracking her Russia coverage.)
FiveThirtyEight in December published charts tracking the amount of coverage the Mueller probe received on MSNBC, CNN, and Fox, in general. It noted that MSNBC devoted an average of 4.2 percent of its broadcast to Mueller, while CNN came in at 3.1 percent and Fox at 1.7 percent.
"What is beyond doubt is that Maddow's coverage has been tenacious and relentless," he wrote. "It is easy for detractors to characterize it as 'too much' and for enthusiasts to characterize it as 'justified'—it all depends on whether this presidency does indeed represent a civic emergency or not. Clearly Maddow has placed her bets on the former; those critics ... on the latter. Time will tell."
A press contact for Maddow's show did not immediately respond to Newsweek's request for comment.
Maddow even joked on Monday about claims from critical outlets about her supposedly "crying" over the Mueller report on-air. "LOL -- the Russia Today and conservative media news this morning that I **wept** -- I cried and cried -- through the show last night. LOLololol," she tweeted.
The Rachel Maddow Show is the network's most popular program and has seen its ratings rise in the Trump era. She and Fox News' Sean Hannity now regularly duke it out to see who has the best ratings in the business. Her influence has only grown. Politico reported in January that her stellar ratings had many in Democratic circles considering her a "kingmaker" for 2020 candidates.
There's reason to think that influence won't diminish anytime soon. As well as the still current investigations looking into Trump, an already ongoing fight over releasing the entire Mueller report, there are new investigative reports on the White House seemingly every day.
Asked if we should expect Maddow to focus on Trump investigations "a fair bit" moving forward, Tyndall was clear in his response.
"'A fair bit' is an understatement," he wrote. "Fixated is more like it."