E. Jean Carroll Says She Will Not Seek A Rape Charge Against Donald Trump
Elle advice columnist E. Jean Carroll said Friday that she would not seek a rape charge against President Donald Trump for an alleged sexual assault that occurred in the 1990s.
Carroll's comments came during an appearance on MSNBC's The Last Word with Lawrence O'Donnell where the journalist talked at length about the alleged assault that reportedly occurred in a dressing room at Bergdorf Goodman in New York City.
The nearly 20-minute interview featuring Carroll giving an account of the alleged assault, including how she ran into Trump in the department store and he asked for her advice on what to buy a woman. According to Carroll, she suggested a handbag and then a hat, prompting Trump to pick a fur hat that Carroll said she derided as a bad choice.
Eventually, Carroll said, Trump suggested they go to the lingerie department, and Carroll went with him. Once there, Carroll said Trump pointed to a sheer bodysuit and told her to put it on.
"It struck me as one of the funniest things I've ever heard a man say," Caroll said. "I said 'you put it on' and he said 'no, no you'll look good in this. Try this on' and he holds it up against my body. I said 'no, it goes with your eyes, you put it on' and - I used to be a writer at Saturday Night Live, so this whole situation struck me as one of the funniest things...Donald Trump is standing there with this filmy thing and I have the idea that I'm gonna make him put it on over his pants."
Carroll said she went with Trump to the dressing room, which was unlocked - something she said was odd because the store usually kept the doors locked - and once inside Trump shut the door behind them and threw her up against the wall and kissed her.
Caroll then recounted the rest of the alleged assault, explaining that she kept the outfit she wore - a Donna Karan coatdress - hanging on the back of her closet door for years. Carroll wore the dress for the first time to pose for the cover shot for New York magazine, which published an excerpt of her account of the alleged assault that is part of a book Carroll wrote.
MSNBC Host Lawrence O'Donnell asked why Carroll kept the dress all these years.
"This dress was unlucky, so when I hung it up I wasn't thinking 'oh, this is a talisman,' I just never wanted to put it on again because it had horrible memories, so it just hung there," she said. "I didn't bag it up, I didn't do any....it sat there behind the raincoats, that's it."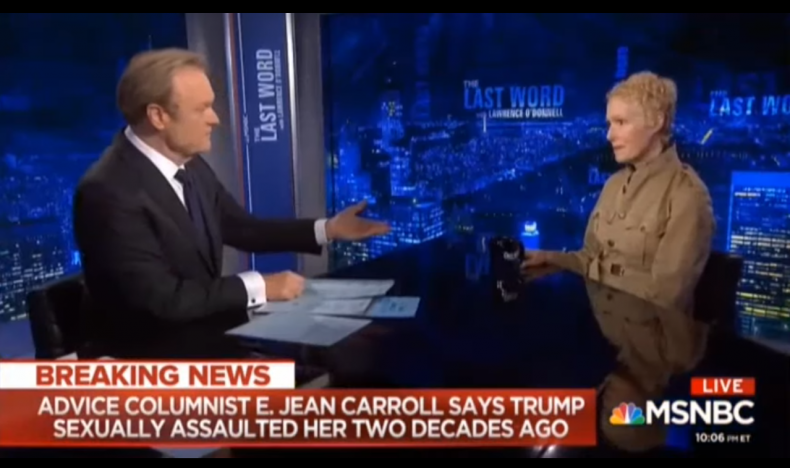 O'Donnell then played a clip from a prosecutor speaking on a previous MSNBC program who said that New York no longer has a statute of limitations on first-degree rape, meaning that if Carroll chooses to, she could seek charges against Trump for the alleged attack.
After the clip aired, O'Donnell asked if Carroll would try to charge Trump with rape and use the coat as evidence, provided it had not been washed or dry cleaned.
"No," Carroll said. "I would find it disrespectful to the women who are down on the [Southern] border who are being raped around the clock down there without any protection. They're young women, they, you know, try to come here - as you know, they are there by the thousands. The women have very little protection there; it would just be disrespectful."
"Mine was three minutes; I'm a mature woman, I can handle it. I can keep going," she added. "You know, my life has gone on, I'm a happy woman. But for the women down there - actually, around the world, you know in every culture this is going on. No matter if you are high in society, low in society, this is disrespectful. It just doesn't make sense to me."
In a statement Friday, the White House denied Carroll's accusation against Trump, saying, "This is a completely false and unrealistic story surfacing 25 years after allegedly taking place and was created simply to make the president look bad."
The president also denied the allegation of sexual assault, saying a statement released to the White House press pool that he has never met Carroll. However, a photo of Trump, Carroll, Trump's then-wife Ivana Trump and Carroll's then-husband John Johnson, at an NBC party in 1987 quickly made the rounds on social media in response to the president's words.
"She is trying to sell a new book - that should indicate her motivation. It should be sold in the fiction section.
Shame on those who make up false stories of assault to get publicity for themselves, or sell a book, or carry out a political agenda – like Julie Swetnick who falsely accused Justice Brett Kavanaugh. It's just as bad for people to believe it, particularly when there is zero evidence. Worse still for a dying publication to try to prop itself up by peddling fake news – it's an epidemic," the president said before praising Bergdorf Goodman for confirming to New York Magazine that the store has no footage of an assault.
"False accusations diminish the severity of real assault. All should condemn false accusations and any actual assault in the strongest possible terms," Trump's statement continued. "If anyone has information that the Democratic Party is working with Ms. Carroll or New York Magazine, please notify us as soon as possible. The world should know what's really going on. It is a disgrace and people should pay dearly for such false accusations."
Carroll is the 16th woman to have accused the president of sexual assault. Others include Kristin Anderson, Jill Harth, Cathy Heller, and Temple Taggart McDowell as well as Ivana Trump. However, Ivana later recanted her account while Trump was involved in his 2016 presidential campaign.
In the excerpt published from Carroll's book - which accounts six assaults that have happened in her life by different men - the columnist addresses why she held her silence for over two decades, saying, "Receiving death threats, being driven from my home, being dismissed, being dragged through the mud and joining the 15 women who've come forward with credible stories about how the man grabbed, badgered, belittled, mauled, molested, and assaulted them, only to see the man turn it around, deny, threaten and attack them, never sounded like much fun. Also, I am a coward."