'This Is What Authoritarian Regimes Do': MSNBC Guest Slams Trump's Attacks Telling Congresswoman to Leave the Country
MSNBC Morning Joe guest Katty Kay warned on Tuesday that President Donald Trump's argument that progressive Democratic congresswomen should "leave" the country if they want to criticize is exactly how "authoritarian regimes" behave.
"Look, this is what authoritarian regimes do," Kay, BBC World News Washington Anchor, said on the MSNBC morning show. "They say you cannot criticize. You cannot criticize this country. If you criticize anything about it, it means that you're not being patriotic. That's what we hear from authoritarian regimes around the world. It's not what we hear from democracies. It's not what we're used to hearing from the United States."
Prior to Kay's remarks, Morning Joe host Joe Scarborough said that Trump's comments had sent "shockwaves across the world." He pointed out that outgoing British Prime Minister Theresa May had condemned Trump's attack on the congresswomen.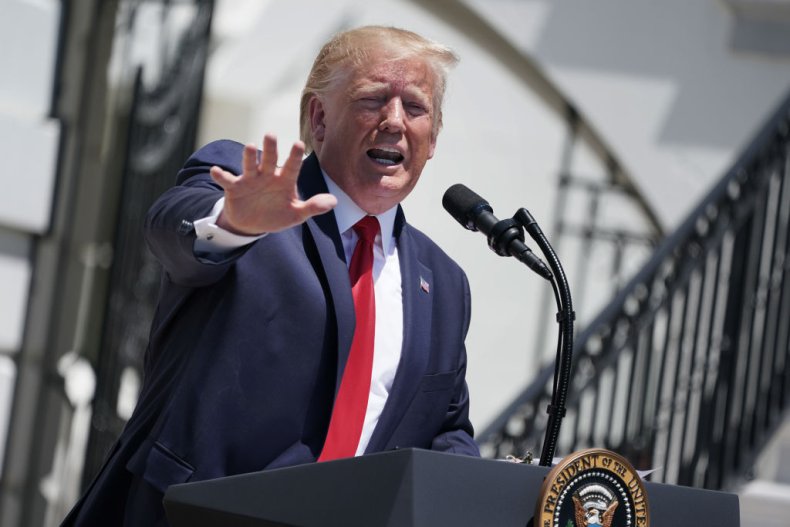 Kay pointed out that it was not just May condemning the tweets, but also Boris Johnson, who is seen as the prime minister's most likely successor. She also said that British journalist Piers Morgan, who has often defended Trump, called out the president's remark. In an op-ed for The Daily Mail, Morgan wrote: "Whichever way you try to spin it, is a racist sentiment."
"The president does have a problem internationally," Kay asserted.
On Sunday, the president posted to Twitter to argue that progressive Democratic congresswomen should "go back" to the countries "from which they came." He added: "you can't leave fast enough." Although he did not mention specific names, it was clear that he was referring to Representatives Alexandria Ocasio-Cortez of New York, Ilhan Omar of Minnesota, Rashida Tlaib of Michigan and Ayanna Pressley of Massachusetts. All are women of color and were born in the U.S., with the exception of Omar who came to the U.S. as a refugee when she was a young girl. She is originally from Somalia but has been a U.S. citizen for nearly two decades, having been naturalized in 2000.
Analysts, Democrats and some Republicans have called out the president's remarks as overtly "racist" and "xenophobic." Many have pointed out that there is a long racist history of people suggesting that non-White Americans should leave and go back to their countries.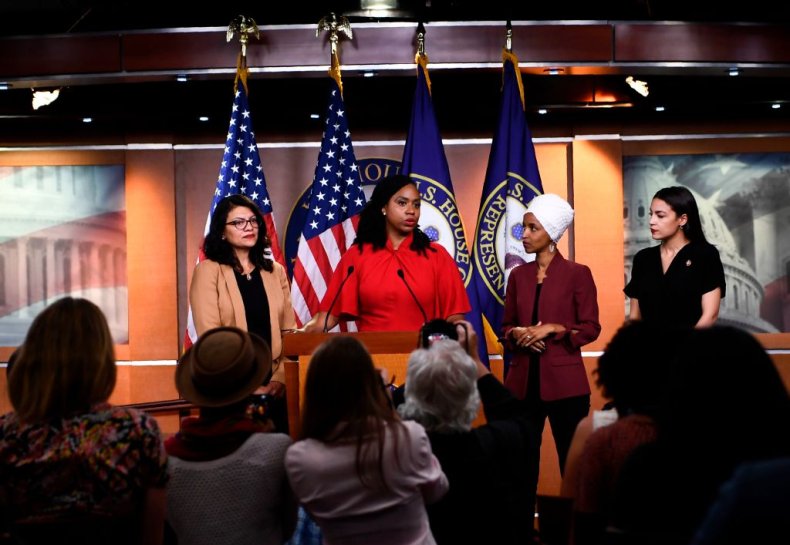 Trump has doubled down on his remarks, insisting again on Monday that the congresswomen should leave. He argued that he doesn't like criticism and accused them of hating America. But the congresswomen held a press conference of their own, blasting the president for his divisive remarks and vowing to continue to fight for greater equality.
Posting to Twitter on Tuesday morning, Ocasio-Cortez said that Trump does not actually want to be president.
"Donald Trump has decided he does not want to be President of the United States. He does not want to be a President to those who disagree," she wrote. "And he'd rather see most Americans leave than handle our nation's enshrined tradition of dissent. But we don't leave the things we love."