'He's Shameful': MSNBC's Joe Scarborough Breaks Down Laughing at William Barr 'Degrading Himself' Before Trump
Not for the first time, Attorney General William Barr offered lavish praise for President Donald Trump on Thursday, prompting a disbelieving MSNBC host Joe Scarborough to break down laughing while decrying the nation's top law enforcement official as "shameful."
Barr joined Trump in the Rose Garden Thursday as the president said he was effectively backing down in his fight to add a citizenship question to the 2020 census. At the same time, Trump announced that he was issuing an executive order to compel every federal agency to give the Commerce Department data on the number of citizens and non-citizens in the United States. However, while Trump claimed it as a new action, it is effectively the same as a plan announced by the Commerce Department last year.
Despite this fact, Barr, who has long faced accusations of acting more like the president's lawyer than the country's, offered effusive praise of Trump.
"Thank you, Mr. President and congratulations on today's executive order which will ensure that we finally have an accurate understanding of how many citizens and non-citizens live in our country," Barr said as he followed Trump in speaking to the gathered media in the Rose Garden.
After airing the clip on Friday, MSNBC's Morning Joe returned to the studio, where Scarborough was unable to contain his laughter. As the former Republican congressman chuckled in disbelief in the background, his co-host Mika Brzezinski said it was "another example of how far Barr will go to just destroy his reputation. He does not care," she added.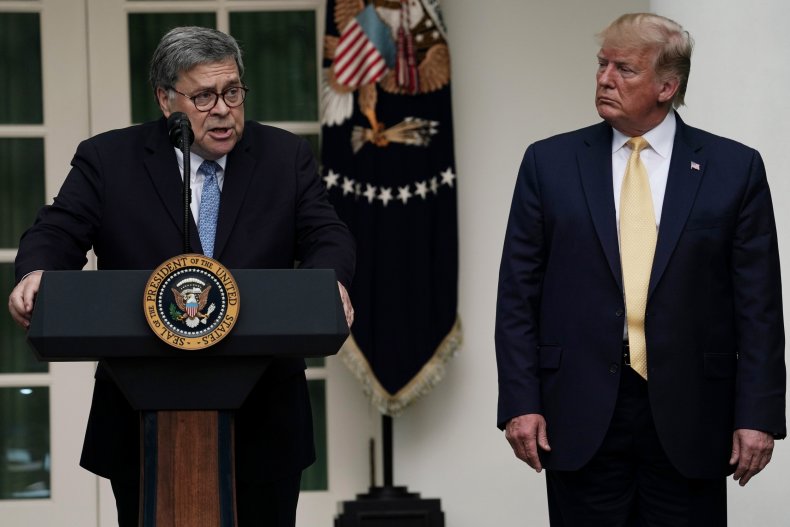 Scarborough then jumped in, comparing Barr to Trump's former adviser Sebastian Gorka, who came close to engaging in a physical confrontation with a journalist in the Rose Garden Thursday.
"He's shameful," Scarborough said. "He and [Secretary of State, Mike] Pompeo and a few others, they're acting like Seb Gorka and if that's how they want their children and grandchildren to remember them that's how they'll be remembered. There's not really much of a line right now between the behavior of Seb Gorka and trump's latest attorney general."
Bringing professor of national-security affairs at the U.S. Naval War College Tom Nichols into the conversation, Scarborough continued to excoriate Barr.
"Let's take the easiest target and that is Attorney General Barr going up there and degrading himself once again."
He concluded: "Is there anything to defend with this guy? He beclowned himself again yesterday."
Barr replaced Jeff Sessions as attorney general earlier this year and was immediately pitched into a partisan fight over the release of special counsel Robert Mueller's report into allegations of coordination between the Trump campaign and Russia to interfere in the 2016 election. Barr's initial four-page summary of the report was criticized by Mueller, who said it "did not fully capture the context, nature and substance of this office's work and conclusions."