MSNBC's Chris Hayes Wants Trump to Release Proof That Iran Was Planning Imminent Attack
MSNBC host Chris Hayes criticized President Donald Trump's behavior and his choice to call for the airstrike that killed Iranian General Qassem Soleimani during a Friday afternoon broadcast of All in with Chris Hayes.
"President Trump, who has been stewing and vacationing at his personal club in Florida awaiting an impeachment trial for abusing his office by attempting to extort a foreign country to meddle in our next election, ordered from that private club in Florida a deadly military strike in Iraq yesterday, executing an act of war against Iran without congressional approval," Hayes began.
Hayes then broke the news that another airstrike had taken place north of Baghdad, intending to target Shiite militia leaders, killing six.
"Donald Trump campaigned explicitly, 'I'm getting out of the Iran nuclear deal,'" Hayes said, adding that when Trump accomplished this in 2019 set Iran and America on a path toward confrontation.
Hayes then called President Trump and Pentagon's description of the attack on Soleimani as a deescalation tactic "implausible."
"I'm sorry, but no one can honestly believe that," Hayes said.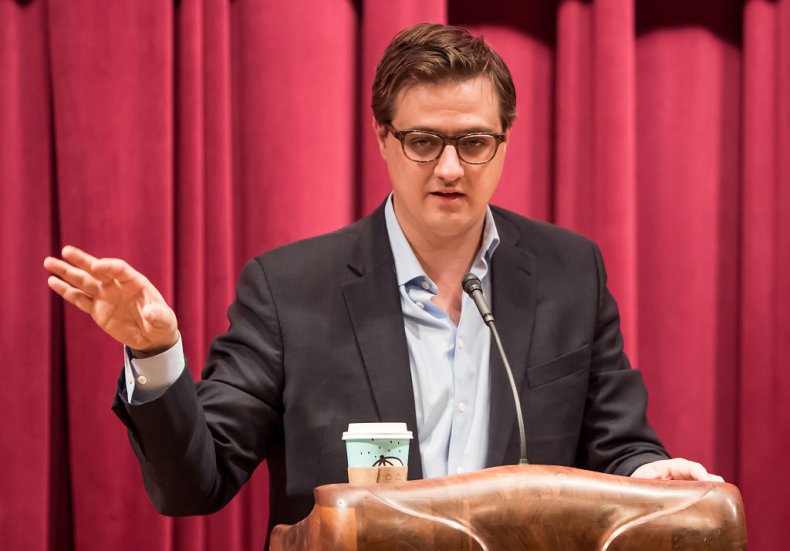 After describing reactions abroad to the strike, including quoting the Iraqi government's statement that the attack is a "violation of Iraqi sovereignty," Hayes then said that Republicans are doing "a lot of chest thumping" and added that multiple senators had stated that they had not been briefed before the action.
After quoting President Trump's statements during a press conference that the government had received intelligence reports about Soleimani's plans to attack American servicemen and diplomats in the Middle East.
"And if that is the case, they should show that intelligence to us, they should show it to members of Congress," said Hayes.
"Importantly, this is also in the context of the administration and a president that has been documented ad nauseam every day to lie about everything all the time, even the stupidest, most trivial things," Hayes said.
"It was not even a month ago the president was impeached for abusing the power of his office and trying to cover it up."
"There's absolutely no reason for anyone in the U.S. to credit anything the president or his administration says about matters of life and death and war and peace until it is demonstrably verified. Full stop. It's a rule for everyone on this and everything else."
According to a statement from the Pentagon, the strike against Soleimani "was aimed at deterring future Iranian attack plans."
The conflict between Iran and the United States has been intensifying since a rocket attack allegedly launched by members of the Kataib Hezbollah militia on an Iraqi military base in Kirkuk on December 27. That assault killed one American, a civil contractor, and wounded several U.S. soldiers. A spokesperson for Kataib Hezbollah denied involvement in the attack, according to The New York Times.
On Sunday, the U.S. launched airstrikes which killed twenty-four Kataib Hezbollah combatants.
In response, a large group of Iraqi protesters forced its way past security forces and into the U.S.'s embassy in Baghdad on Tuesday.
Armed with rocks and chanting "Death to America," they marked the interior walls of the embassy with graffiti, set fires, destroyed property, broke windows and announced their demands—a complete withdrawal of U.S. troops from Iraq.