MSNBC's Joy Reid Says U.S. Has Used Central America as a 'Giant Plantation' After Kamala Harris' Trip
MSNBC's Joy Reid came to Vice President Kamala Harris' defense over questions about when she will visit the U.S.-Mexico border, arguing there's a more "torrid history" behind the migrant crisis.
"Perhaps an unpopular opinion in the business right now, but I think we need to have some perspective," Reid said during her show on Wednesday. "There are seven countries in Central America. There are another dozen countries and two sort of territories in South America."
She continued, "The United States' Southern border with Mexico is not the only important issue that matters to the world. Those seven countries have a long history with the United States, much of it troubling. The United States used much of Central America as essentially a giant plantation."
Reid advised her viewers to research the United Fruit Company, the American corporation that once controlled much of the land in Guatemala.
"We have a long, sordid, torrid history with this region," Reid added. "The history does not begin at the border where people are showing up.… And to reduce what we just heard, 10 minutes of that, to 'are you going to the border?' to me—strikes me, personally, as missing a huge opportunity."
Harris has been under pressure to visit the Southern border since being tapped by President Joe Biden in March to lead the administration's effort to curb migration.
A record number of people, including unaccompanied minors, have attempted to cross the U.S. border with Mexico in recent months. The total number of border crossings this year is on pace to reach a two-decade high.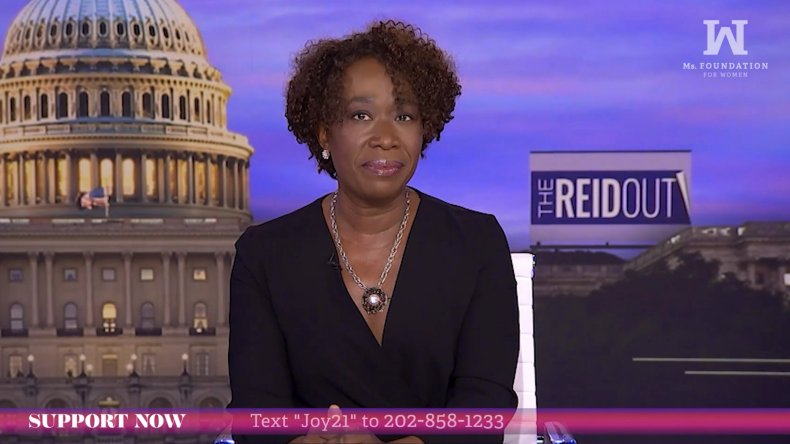 This week, during her first foreign trip to Guatemala and Mexico, Harris urged migrants not to make the journey to the U.S.
"I want to be clear to folks in this region who are thinking about making that dangerous trek to the United States–Mexico border: Do not come. Do not come," she said during a press conference in Guatemala.
She also faced multiple questions on whether she intends to visit the U.S.-Mexico border.
Harris defended not going to the border, telling reporters in Guatemala Monday that doing so would be a "grand gesture." Instead, she said she was focused on meeting with leaders to get "real results" in addressing the root causes of the migrant situation.
Asked again about visiting the border in an interview with NBC News on Tuesday, Harris responded she would go "at some point" and that members of the administration have already been there.
"At some point, you know, we are going to the border," Harris said. "We've been to the border. So this whole thing about the border, we've been to the border. We've been to the border."
NBC's Lester Holt quickly pushed back, noting that Harris herself hasn't traveled to the area.
"And I haven't been to Europe," Harris said. "And I mean, I don't understand the point that you're making. I'm not discounting the importance of the border."
Newsweek reached out to the White House for comment, but didn't receive a response before publication.