MSNBC's Morning Joe Blasts Trump for 'Riding The Obama Wave' While Taking All The Credit For Job Creation: 'It's a Lie'
MSNBC host Joe Scarborough fact-checked key economic claims in Donald Trump's Tuesday evening State of the Union Address, saying he was "sad" that the president "lies this way to people who support him."
Scarborough, who hosts MSNBC's Morning Joe, previously served as Republican congressman from Florida but now identifies as an independent. He argued during his Wednesday morning show that Trump's speech from the night before was "fed by lies," pointing out that many of the president's economic claims are simply false.
"It's just absolutely preposterous that Donald Trump suggests that had he not turned things around from Barack Obama this economy would be in terrible shape, when he's riding the Obama wave," the conservative host argued.
"It's an 11-year recovery, [former President] Barack Obama creating far more jobs over his last three years in office than Donald Trump's created in his first three years. The lies were preposterous," Scarborough added.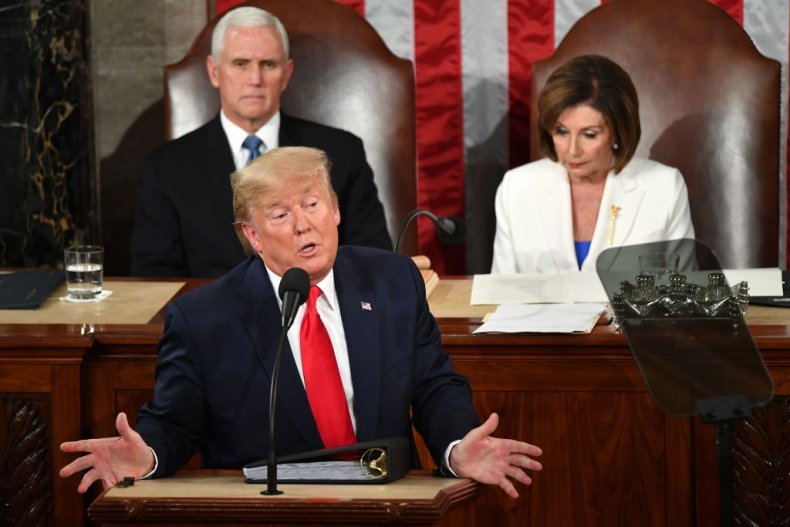 "It's a lie," he said.
During the show, Scarborough said Trump's repeated claim that this is the "best economy" the country has ever seen is verifiably inaccurate. The former GOP lawmaker noted that the average gross domestic product (GDP) growth under Trump is low compared to many of his predecessors over the past several decades. Putting a chart on the screen, Scarborough said that GDP growth has only averaged out to be 2.5 percent under Trump.
"Under Jimmy Carter, who Donald Trump has trashed before, 3.2 percent. Under Bill Clinton, 3.8 percent," he said.
While unemployment has decreased significantly under Trump and the economy has continued to grow, economists generally argue that this is the continuation of a steady economic recovery that began under the Obama administration. Just before Obama took office, the economy had entered a major recession, but the former president oversaw a recovery that led to steady GDP growth and significant job creation.
Meanwhile, Trump's signature economic policy has been the Tax Cut and Jobs Act (TCJA), which largely benefited corporations and the wealthiest Americans. When the bill passed, the president and Republicans argued that it would lead to significant investment and benefit Americans across all income levels. However, those promises have failed to materialize, while the deficit and national debt have ballooned, partly due to significantly lower tax revenues.
Hunter Blair, a budget analyst at the Economic Policy Institute, noted in a Tuesday blog post that investment has actually declined in the wake of Trump's tax cuts.
"Last week's GDP data showed that for the first time since the Great Recession, investment has declined for three straight quarters," Blair wrote. "Given that boosting business investment was the primary stated goal of the TCJA, this seems like an unambiguous policy failure for working people, benefiting only the rich and corporations."