MSNBC's Nicolle Wallace Says Trump Impeachment Senate Conviction Will Depend on Whether John Bolton Testifies
MSNBC anchor Nicolle Wallace has claimed that the testimony of former national security adviser John Bolton could be the difference in whether or not President Donald Trump will be convicted in a possible Senate impeachment trial.
Wallace made the claim during a panel discussion on Monday, in response to political analyst John Heilemann's assertion that "so much now hinges" on Bolton's potential testimony. Heilemann believes Bolton is the "most high value target on the list by a long, long way."
"The more we learn about him and his role in this, where he was and what conversations he had, what he was privy to, what he witnessed, if he came forward and told the story—it might be enough to start to shift the tectonic plates," said Heilemann, before adding the caveat that "Republicans are resistant to even powerful pieces of evidence."
"Look, I'm reluctant to say this out loud because I don't want to put anything in the water that could disincentivize John Bolton from testifying if that's what he wants to do," replied Wallace. "But I believe that John Bolton is the difference between conviction and no conviction in the Senate."
The panel seemed to agree that Bolton's credibility in conservative circles could be a game changer in terms of the potential outcome of a Senate trial. Before serving as Trump's national security adviser, Bolton served as U.S. Ambassador to the United Nations in the administration of former President George W. Bush. Prior to that, had served in various roles under former presidents Ronald Reagan and George H.W. Bush.
"I think Bolton is incredibly consequential," said GOP strategist Rick Wilson. "Bolton has a symbolic value that transcends the Trump administration. Because basically who is left in the Trump administration? A bunch of nobodies and dead-enders, and fourth- or fifth-tier people. Then John Bolton came in and a few Republicans who had been a little nervous were like 'OK, he's part of the long stretch from Reagan through today of conservative foreign policy.'"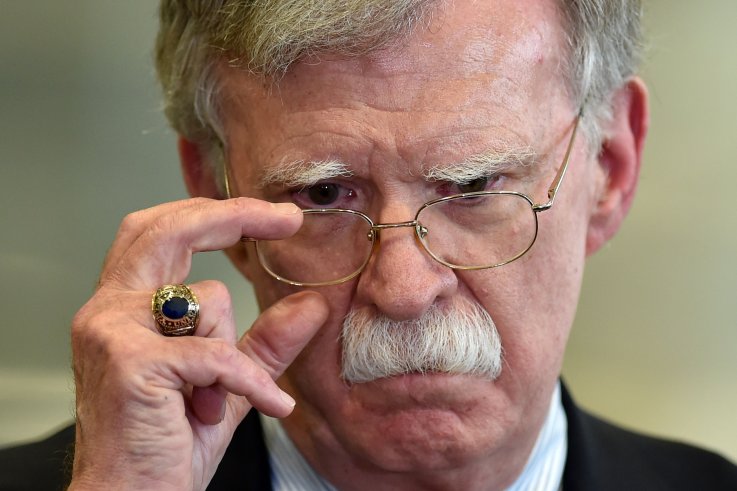 Wallace bolstered Wilson's assessment of Bolton by suggesting he had a historically significant place in shaping modern conservative views on foreign policy.
"To understand what he is to Republican foreign policy, he is what [former Supreme Court Justice] Scalia was to conservative judicial philosophy... he is the standard bearer of conservative foreign policy," claimed Wallace. "In terms of going into this White House, he legitimized an otherwise reckless and ignorant and uninformed president."
Wilson added that the former ambassador's testimony could potentially raise the stakes of the impeachment inquiry by undermining a key argument Republicans have been making in defense of the president.
"The Republicans put an awful lot of their bets on the 'hearsay' phrase," said Wilson. "John Bolton can speak to the details, to the timeline, to motive—there's a lot here if Bolton decides to do the right thing."
According to a Saturday report in The New York Times, Bolton does have first-hand knowledge that could be relevant to the inquiry. Before departing from his national security adviser role in September, Bolton reportedly held a private meeting with Trump and tried to dissuade the president from withholding aid to Ukraine, which Trump was allegedly trying to exchange for an investigation against his political rival, former Vice President Joe Biden.
Bolton has yet to do or say anything that suggests he is likely to volunteer his testimony to the inquiry.
MSNBC's Nicolle Wallace Says Trump Impeachment Senate Conviction Will Depend on Whether John Bolton Testifies | News