MSNBC's Nicolle Wallace Slams Trump's Acting Attorney General Matt Whitaker: 'The DOJ is Now Led by a Boob'
MSNBC anchor Nicolle Wallace called acting Attorney General Matt Whitaker a "boob" live on air today during a discussion about the White House's diminishing hiring standards in light of Donald Trump's attorney general nominee William Barr.
During a segment on Deadline: White House on Tuesday, Wallace, who previously served as the White House communications director for George W. Bush's administration, discussed Barr's appearance before the Senate Judiciary Committee, before segueing into a conversation about Trump's history of "disastrous appointees."
"Elise, I have this feeling we're looking at everything on this sort of sliding scale," Wallace told MSNBC political analyst Elise Jordan. "We're grading everybody on a curve and he's so benefited by the fact that Matt Whitaker is thought of by most conservative legal scholars as a boob. So the DOJ is now led by a boob."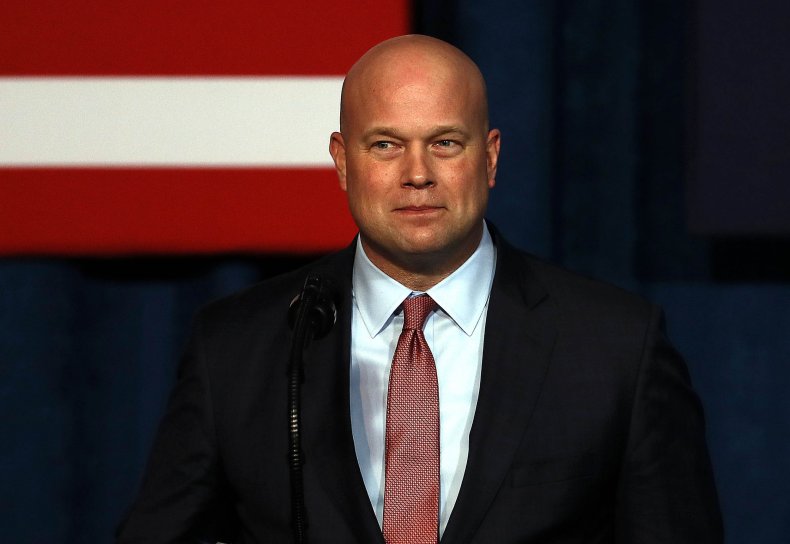 Wallace continued: "So everyone looks at Barr and it's like the scene in 'American President' when you're so hungry for leadership, you're going to crawl through the sand and when you realize it's a mirage, you're going to drink the sand. If there drinking of sand going on with Barr?"
"I spoke to a senior administration official in George H.W. Bush's administration who served alongside Barr in that administration and the source said immediately when this happened, 'Wow I gotta give Donald Trump points for this nomination.' In the aftermath of the glow from George H.W. Bush's funeral and the positive connotations that that association has," Jordan responded.
"I do think that he's definitely being graded on a curve, just because look at some of Donald Trump's disastrous appointees and we're going from, you know, a toilet salesman—all of the fraud that Whitaker is accused of—to someone who seems like a steady establishment pick."
In a statement, released Tuesday, U.S. House Judiciary Committee Chairman Jerrold Nadler (D-N.Y.) announced that Whitaker will testify before the panel early next month to answer questions about his views on special counsel Robert Mueller's investigation into Trump's 2016 presidential campaign and his decision to not recuse from the probe despite opposing advice from Justice Department ethics officials.
Barr attended his confirmation hearing in Washington D.C. on Tuesday. His nomination is expected to take weeks to confirm.
Watch the MSNBC segment below:
MSNBC's Nicolle Wallace Slams Trump's Acting Attorney General Matt Whitaker: 'The DOJ is Now Led by a Boob' | U.S.