'Mystery Science Theater 3000' Season 12: How Jonah and Joel Built on 'The Return' Behind the Scenes
After a splashy, multi-million dollar crowdfunding campaign, Mystery Science Theater 3000 Season 11 premiered on Netflix last year with a level of hype never before afforded the show, which had been off the air since 1999.
This time, instead of three seasons of onerous network demands at the Syfy Channel (after fleeing cancellation on Comedy Central), MST3K would be white hot. This time, it would return with cameos from Jerry Seinfeld and Neil Patrick Harris. The rebooted MST3K picked up Elliott Kalan, the former head writer for The Daily Show. Other writing talent flocked to contribute: bestselling fantasy author Pat Rothfuss, Rick and Morty's Dan Harmon and Justin Roiland, and Ready Player One writer Ernest Cline. Robert Lopez, who co-created The Book of Mormon and co-wrote "Let it Go," contributed original songs.
The reboot introducing new host Jonah Heston (Jonah Ray) and new voices for robots Crow (Hampton Yount), Tom Servo (Baron Vaughn) and Gypsy (Rebecca Hanson) —t he show's history of replacement voices and hosts, first from show's creator Joel Hodgson to series writer Michael Nelson, dampens the sense of discontinuity.
Odder than new faces is the culture into which MST3K reemerges, won entirely by comic books and geeks, now marching their prophet back into the city with a geek honor guard, like new captors Kinga Forrester (Felicia Day) and Max (Patton Oswalt). But under the celebratory air, the new Mystery Science Theater 3000 quickly revealed itself to be vintage; right down to the "commercial" breaks and punishing, surprising movie picks, like 1981's lurid, grunting monkey drama Carnival Magic. By the end of the 14-episode season, Mystery Science Theater 3000 felt just like it's old self.
Thanksgiving Day, Nov. 22, Mystery Science Theater 3000 returns for its 12th season, this time without the burden, or the fanfare. Instead of a one-off event, Mystery Science Theater 3000 is an ongoing show again.
"I mean, Seinfeld's not coming back," Ray told Newsweek while on the road with Hodgson for the MST3K live show. "Still, it's a better season. I think we really nailed it."
Whereas Season 11 had an all-hands approach to writing, Hodgson describes the more settled, experienced team that's come together for the series' latest season.
"This year it's really the core writing staff. We've figured out our method. We were doing 15 writers a show last year, I think we're down to 12," Hodgson told Newsweek. "We've now riffed 20 feature-length episodes as of this time, so they've really come a long way as far as understanding how we make the show and how we write it."
With feature-length episodes, not only does Mystery Science Theater 3000 require a huge volume of material, but it also must fit the contours of the movie. "When you're really starting to do the nitty-gritty of putting in the timecode between lines, you realize that joke from the writers room that you were like, 'that one's definitely going in,' you realize it's too long," Ray said. "So many jokes are just perfect, but it's also a matter of environment. Maybe you've got a great joke for this, but then you press play and someone immediately starts talking. That's gone. That cannot be there. The joke has to work for that spot."
Since it's not a traditional show, Hodgson doesn't run Mystery Science Theater 3000 like a traditional writers room, instead chasing what he described as the "different texture" of jokes made under different conditions. Hodgson, personally, prefers writing riffs alone. "It's also fun to do it as a group, but the group thing reveals different stuff. There is this kind of tyranny of the group that happens where this vibe emerges," he said.
This year's lineup of six movies are Mac and Me, Atlantic Rim, Lords of the Deep, The Day Time Ended, Killer Fish and Ator, the Fighting Eagle. The lineup is younger than most seasons of MST3K, especially 2013's Atlantic Rim, MST3K 's first foray into the age of CGI trash. And there's no end in sight.
"It's pretty vast all the stuff that is available," Hodgson said. "More and more things become available as time goes on. I don't feel like we're at a loss finding movies. Even after 200 episodes."
(Still, thanks to MST3K's generally family-friendly vibe, Ray is unlikely to ever get his favorite: "I really wanted to do the Stephen King directed classic Maximum Overdrive," he said.)
The refined writing process matches new energy in front of the camera, which Ray attributes to Season 12 co-director Rob Schrab, co-creator of Los Angeles' Channel 101 short film contest (where Justin Roiland premiered Doc and Mharti, later to become Rick and Morty) and director for shows like Ghosted and Community.
"The puppeteers are so good just filling them up. And Baron and Hampton would talk through them, even when we're not shooting. I could just be like, 'Hey, Servo, give me some David Bowie,' and the puppeteers would immediately be moving them. Everybody embodies the reality," Ray said, describing the good vibes on set. "The most challenging party is having to nonchalantly jump over the three-foot gap—the puppet trench."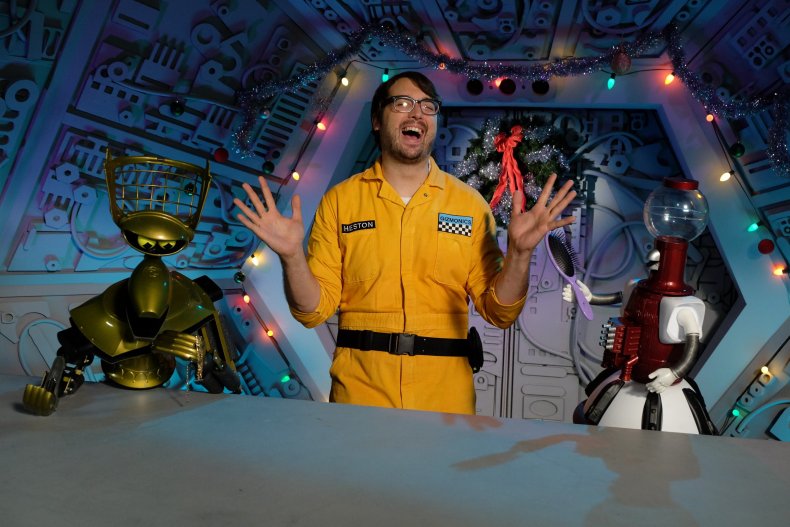 All six episodes of Mystery Science Theater 3000 Season 12 will be available on Netflix on Nov. 22.