Mt. Gox Bitcoin Customers Could Be Out of Luck, Experts Warn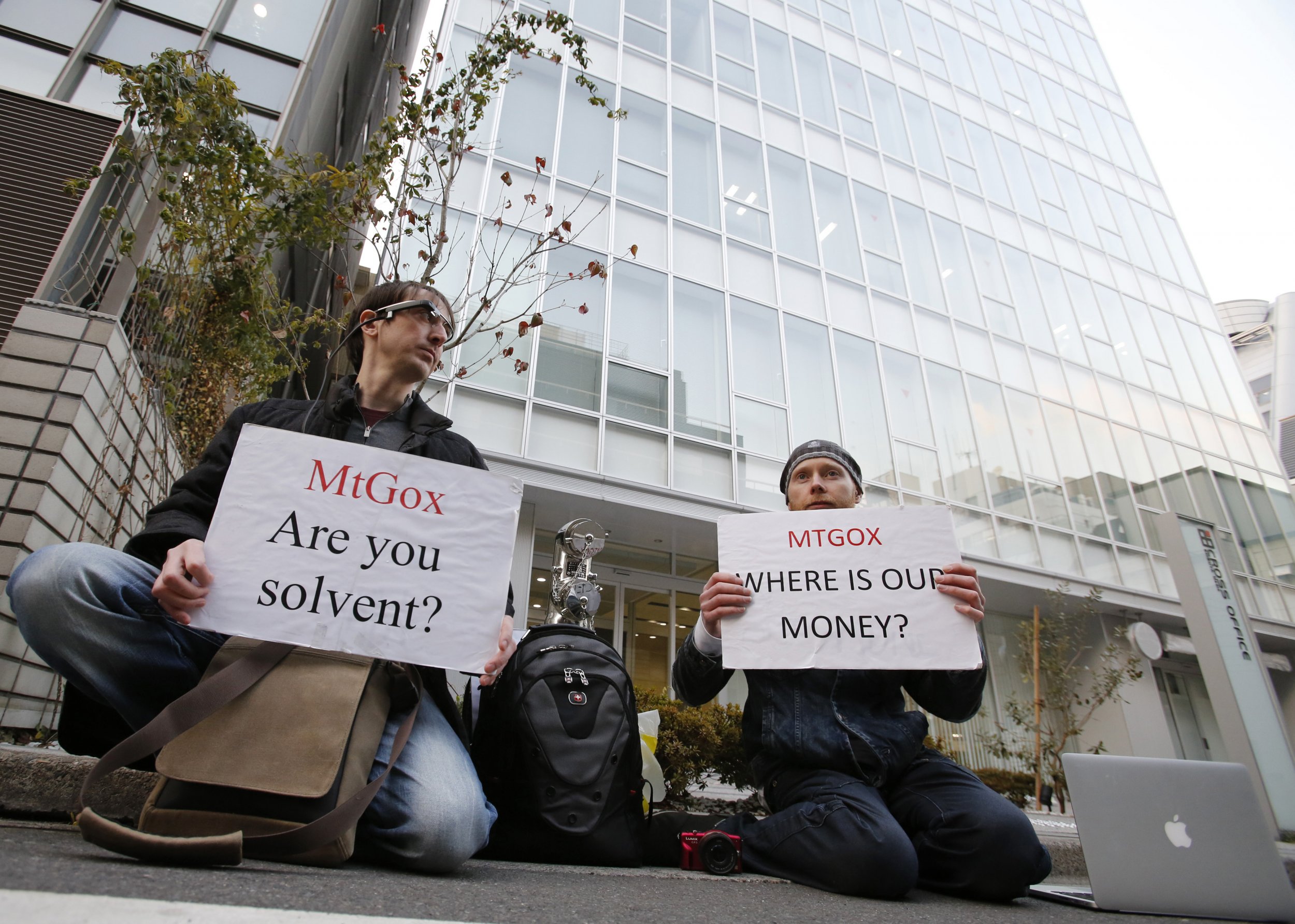 (Reuters) - What can you do if you deposited bitcoins at Mt. Gox, which shuttered on Tuesday with little explanation? Probably not much.
Customers of the bitcoin exchange may have little chance of recovering their funds if they prove to be missing, legal and regulatory experts said.
Clients could file lawsuits, claiming negligence or breach of contract, but the virtual currency is subject to very little regulatory oversight and no government guarantees.
Japan-based Mt. Gox went dark on Tuesday, weeks after a spate of cyber attacks, leaving customers unable to access their accounts and underscoring the risks associated with bitcoins.
Bitcoins, which exist in electronic form, depend on a network of computers to solve complex mathematical problems in order to verify and record every transaction. Investors deposit their bitcoins in digital "wallets" at various exchanges; Mt. Gox had been the largest as recently as February 7, when it and other exchanges were forced to halt withdrawals following several cyber attacks.
Unlike bank accounts in the United States, bitcoin deposits have no government-backed insurance. Instead, customers would have the same avenues of legal redress as anyone who entrusted property to an institution that failed to keep it protected, such as negligence, breach of contract or even fraud, said James Grimmelmann, a professor at the University of Maryland who focuses on Internet law.
"To me, the first really important conceptual hurdle to get over is that these things really are property," he said. "When you take money from the public and store it somewhere you claim is secure, you put property law in play."
If Mt. Gox has no assets, however, individual claims would fail to recover any funds, said Daniel Friedberg, a lawyer with Riddell Williams in Seattle who specializes in financial regulatory matters.
"The practical reality is, even if you do get a judgment against Mt. Gox, do they have the ability to pay?" Friedberg said.
A document circulating online that purports to be a crisis plan for Mt. Gox indicated that the exchange had $174 million in liabilities against $32.75 million in assets, though its veracity could not be confirmed.
The Tokyo-based Mt. Gox could also file for bankruptcy in Japan, leaving it up to a court to distribute any remaining assets to its creditors.
REGULATION COMING?
Several regulatory and legal experts said they expected the Mt. Gox shutdown could spur regulators to take more immediate steps to protect future customers.
Jeffrey Matsuura, a lawyer at Alliance Law Group in Virginia who specializes in online commerce issues, said he wouldn't be surprised if state or federal consumer protection agencies eventually take some kind of action regarding Mt. Gox and other exchanges.
But Jerry Brito, a senior research fellow at the Mercatus Center at George Mason University, said people who deposited bitcoins with Mt. Gox knew that the exchange had experienced problems in recent months.
"At this point, bitcoin is speculative," he said. "People are going in with eyes wide open."
Thus far, the only U.S. regulatory agency with specific oversight of Mt. Gox is the U.S. Treasury Department's anti-money laundering unit, the Financial Crimes Enforcement Network, or FinCEN, after the exchange agreed to register as a money services business last summer.
New York State's top banking regulator is exploring licensing requirements for bitcoin exchanges, while the Commodity Futures Trading Commission has considered whether to set rules for the virtual currency. And federal prosecutors in New York have issued subpoenas to Mt. Gox and other exchanges seeking information on how they had handled recent cyber attacks, a source told Reuters.
"Bitcoin in many ways is terra incognita for the regulatory system," said Joseph Grundfest, a law professor at Stanford University and a former SEC commissioner.
But, he added, that would not stop federal prosecutors in Manhattan from investigating criminal activity involving bitcoins if any of the transactions had a connection to New York.
"The lack of clarity about formal regulatory status provides no safe harbor for liability for criminal fraud," he said.