Magic: The Gathering Arena, or MTG Arena for short, will update on April 26 to include a whole bunch of new content. This information comes by way of a post on the official MTG Arena website.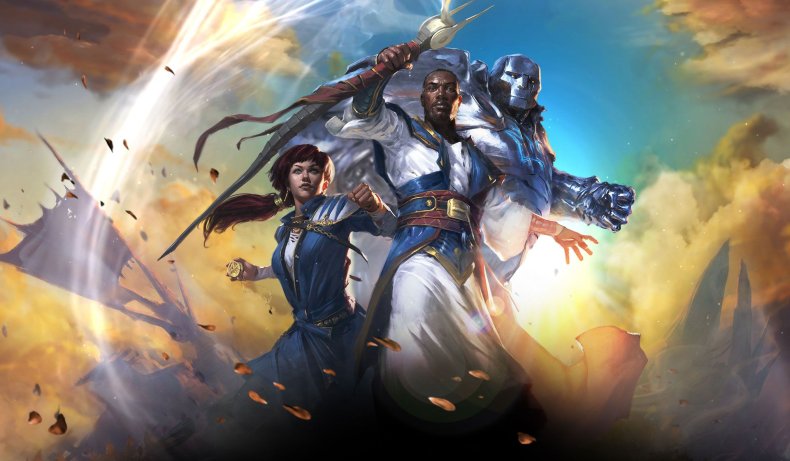 The update includes all the new cards from the latest Dominaria expansion. These are the same cards you can go out and buy in stores on April 27. Additionally, the update will include new effects and a new battlefield to play on.
For those living in New Zealand, the Dominaria expansion will have a real-world tie-in when buying physical Magic cards. New Zealand booster packs and Prerelease packs will include a promotional code that can be redeemed for in-game items. This is a trial program, so it is likely to expand to the rest of the world if things go smoothly in New Zealand.
In addition to the Dominaria cards, the new update includes Events, or different ways to play MTG Arena. The first event, starting on April 26 once the update is live, is a best-of-one Constructed competition. Starting on May 4, a best-of-one Draft event will allow players to participate in a Draft for the first time in MTG Arena. Constructed events will always be available to play, while Draft events are planned for every weekend starting May 4.
If you want to check out the new content before it is released, Wizards of the Coast has granted a handful of streamers the ability to play everything included in the latest update on April 25. Qualified streamers will be live from 4-8 p.m. EDT and can be found by browsing through the MTG section on Twitch. The streamers will only have access to all the content for one day, so make sure you tune in to those specific streams to see everything.
More details about the Dominaria update, along with details about the future of MTG Arena, will be revealed on April 25. Be sure to check the MTG Arena forums for all the new info.
So what do you think? Are you excited to play with the Dominaria cards in MTG Arena? What other play styles would you like to see featured in a future event? Let us know your thoughts in the comments section below.