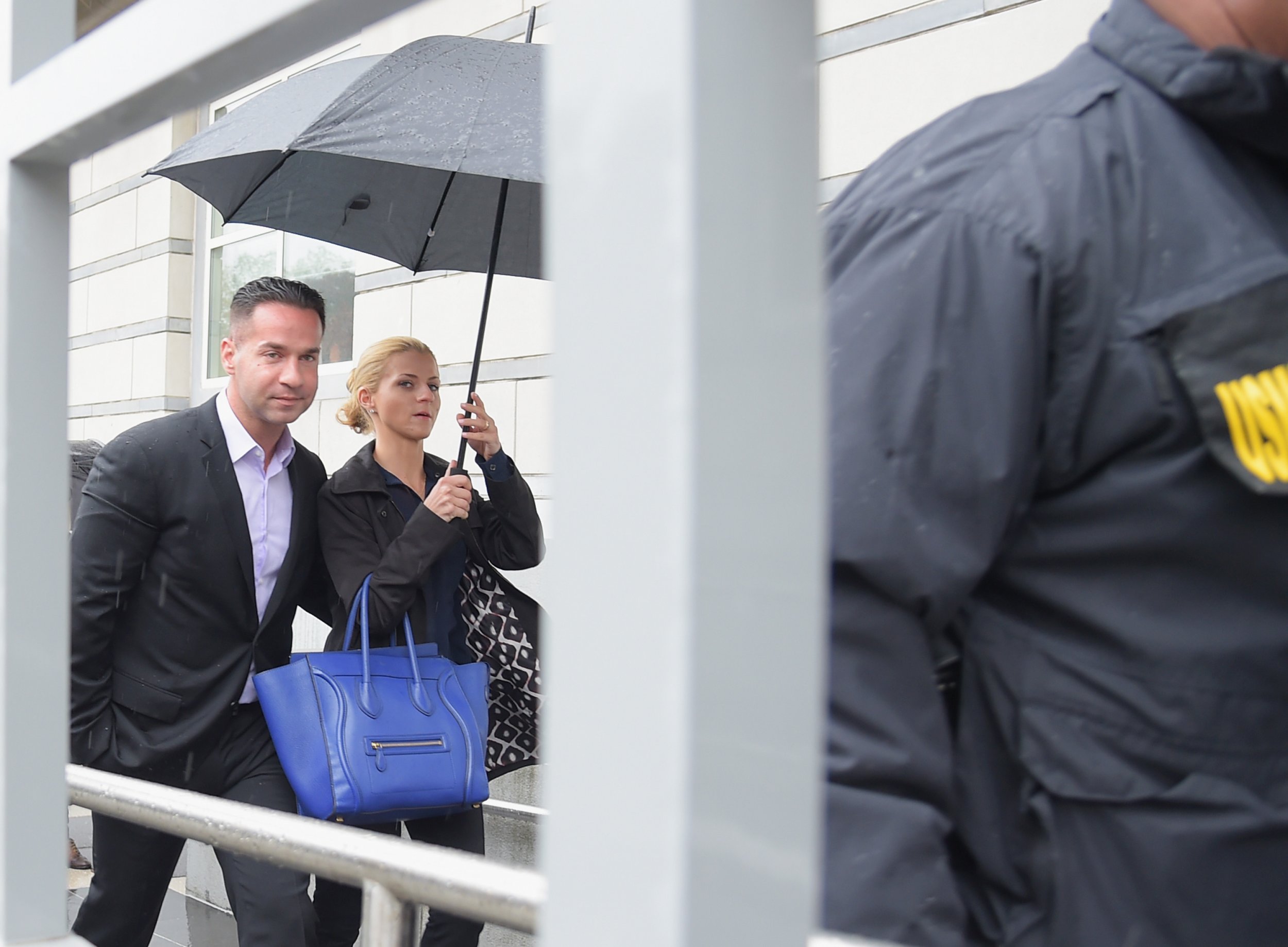 Days after MTV announced the location of its Jersey Shore reunion series, ones of its stars, Michael "The Situation" Sorrentino, pleaded guilty to a federal tax law violation.
Sorrentino hid some of his income in 2011 in order to avoid paying the amount he owed in taxes, the Department of Justice said Friday. His sentencing is scheduled for April 25 and he faces up to five years in prison.
Related: MTV Copes With On-Screen Life and Death
Sorrentino was a standout cast member of Jersey Shore, which originally aired on MTV from 2009 to 2012. Italian-American groups initially panned the series, claiming it perpetuated stereotypes. But the show developed a devoted following, and in late 2017, MTV announced that almost all of the cast members would return for a new series, Jersey Shore Family Vacation, to premiere sometime in 2018. This week, MTV announced the series would take place in Miami, the setting of the original series' second season.
But the judge on Friday granted Sorrentino the ability to leave the state during probation in order to film the show, according to Us, TMZ, the New York Post and other outlets. A spokesperson for MTV was unavailable for comment.
On Friday, Sorrentino tweeted and posted on Instagram, referring to a dance move popular among the cast members of the show, "Let the Fist Pumping Begin #jsfamilyvacation Here I come!!"
Sorrentino's legal issues have been the subject of tabloid reports for years. In 2017, when several Jersey Shore cast members reunited for E!'s Reunion Road Trip, much of the narrative was devoted to the possibility that it could be their last time seeing Sorrentino, if he went to prison.
Sorrentino's brother, Marc Sorrentino, who has also appeared on reality television, also pleaded guilty to a tax law violation, the Justice Department said Friday.
"Today's pleas are a reminder to all individuals to comply with the tax laws, file honest and accurate returns and pay their fair share," Principal Deputy Assistant Attorney General Richard Zuckerman said in a statement. "The tax division is committed to continuing to work with the IRS to prosecute those who seek to cheat the system, while honest hardworking taxpayers play by the rules."
Craig Carpenito, the United States attorney for the district of New Jersey, added in the statement, "What the defendants admitted to today, quite simply, is tantamount to stealing money from their fellow taxpayers…. All of us are required by law to pay our fair share of taxes. Celebrity status does not provide a free pass from this obligation."
"Today, Michael Sorrentino has come to terms with mistakes he made at a very different and tumultuous time in his life," a lawyer for Sorrentino said Friday in a statement to Us. "He deeply regrets his failure to pay his taxes, and has spent the past several years turning his life into something positive."
"The Situation" has taken credit for coining the term "GTL," an abbreviation for gym, tan, laundry, a routine he and the other cast members would do. "If you don't go to the gym, you don't look good. If you don't tan, you're pale. And if you don't do laundry, you ain't got no clothes," he once said on the show.
None of the other Jersey Shore cast members appeared to have commented publicly on the plea on Friday.