MTV VMAs 2017: Kendrick Lamar, Katy Perry, Ed Sheeran and All the Winners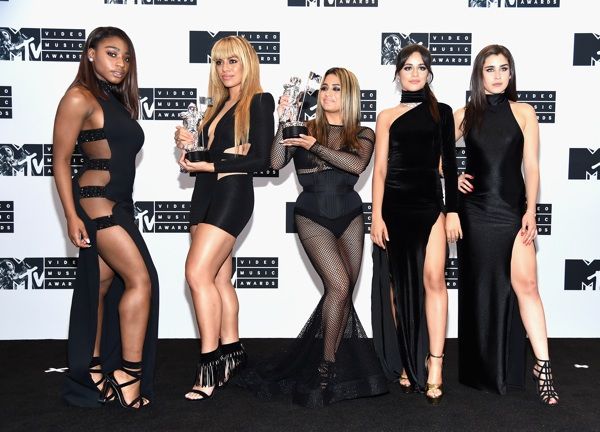 UPDATE 11:04 p.m. ET- And that's a wrap folks! The 2017 MTV Video Music Awards are done, opening the door for a whole new round of contenders to face off at the next video showdown in 2018.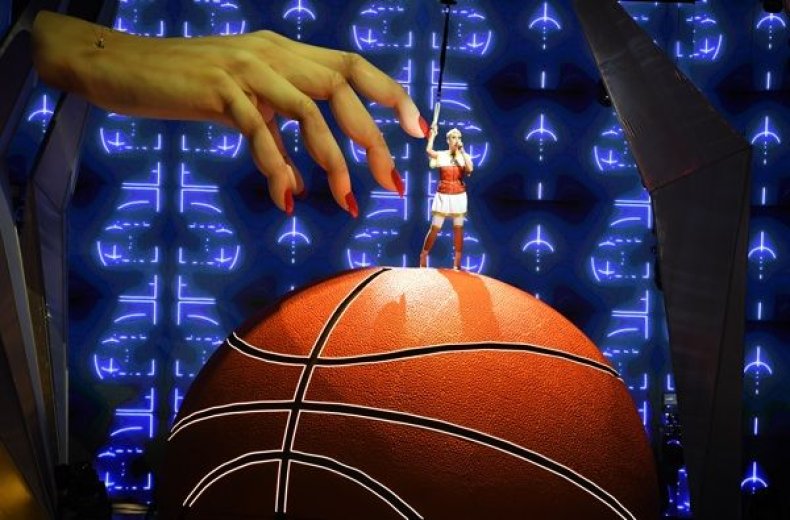 UPDATE 10:59 p.m. ET- Katy Perry officially takes off her hostess hat and gives the final performance of the night of her song "Swish Swish" alongside rapper Nicki Minaj and a whole lot of basketballs.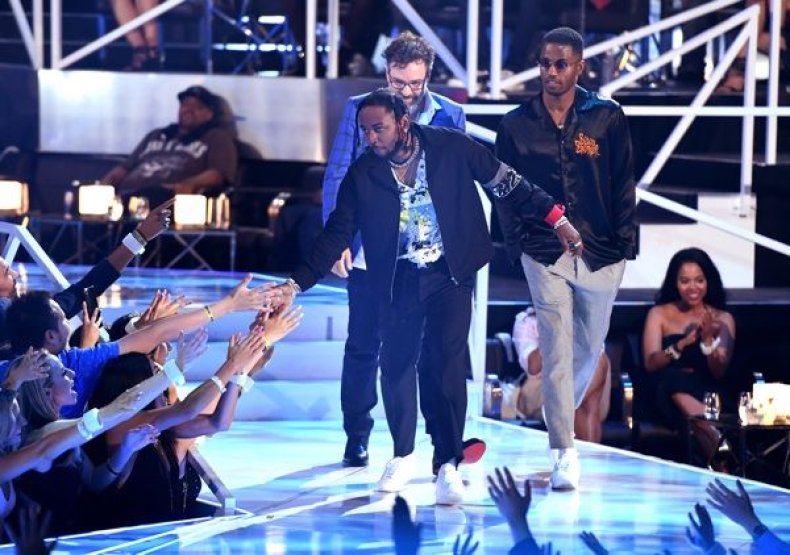 UPDATE 10:56 p.m. ET- Kendrick Lamar wins the moon man for one of the biggest awards of the night, Video of the Year.
UPDATE 10:45 p.m. ET: DNCE takes the stage with Rod Stewart for an electrifying and funky performance.
UPDATE 10:41 p.m. ET: MTV is making it really clear which side of equality they stand on by having Confederate leader Robert E. Lee's great-great grandson give a powerful speech condemning racisim and white supremacy just before bringing out the mother of Heather Heyer, the woman who was killed during a white nationalist rally in Charlottesville, Virginia recently.
UPDATE 10:30 p.m. ET- It's been over four years since 30 Seconds to Mars have gifted fans with new music. And, finally, they're performing their latest track "Walk on Water" for the first time ever with a really trippy neon x-ray set. Oh, and they've got Travis Scott on stage with them too.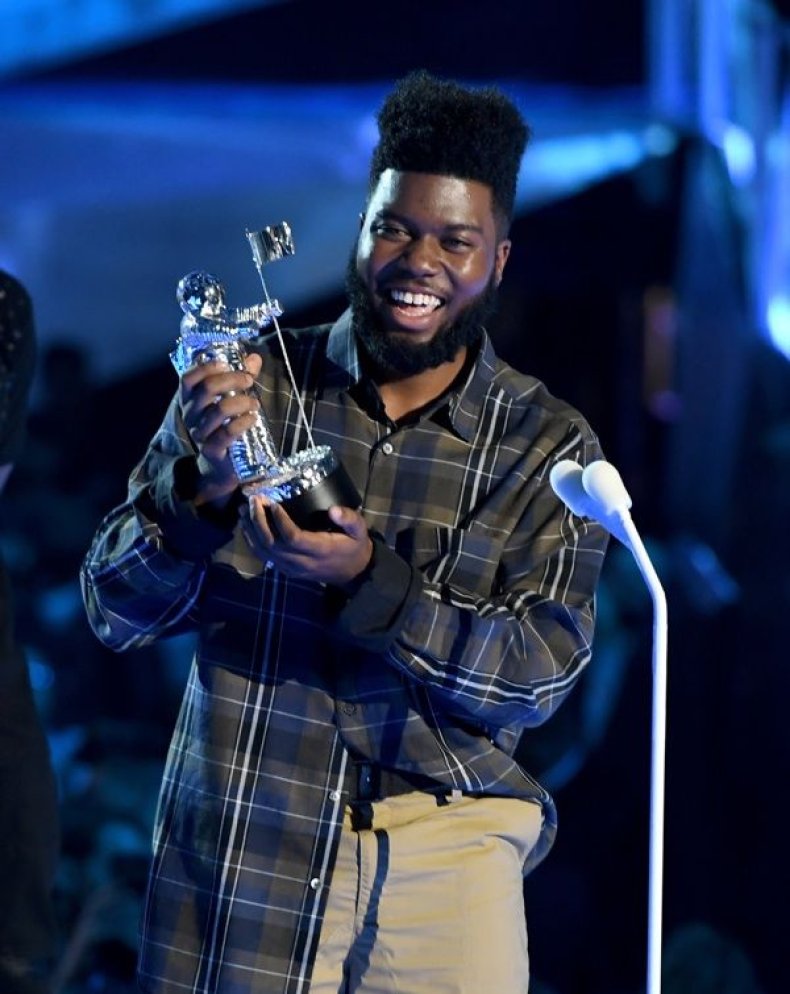 UPDATE 10:27 p.m. ET- Congrats to Khalid, who's winning the award for Best New Artist.
UPDATE 10:14 p.m. ET- Logic, Alessia Cara and Khalid all take the stage in a sweet mashup of their suicide-prevention song "1-800-273-8255." In the final moments of the performance, Logic gives a riveting encouraging equality for all people and all races that gets the entire audience on their feet with applause.
UPDATE 10:03 p.m. ET- Alessia Cara is dishing out natural beauty realness in a heartfelt performance of her Video of the Year nominated song "Scars To Your Beautiful."
UPDATE 10:03 p.m. ET- Ed Sheeran takes the moon man for Artist of the Year.
UPDATE 9:55 p.m. ET- For the first time ever Kyle hits the VMA stage to perform his catchy "iSpy."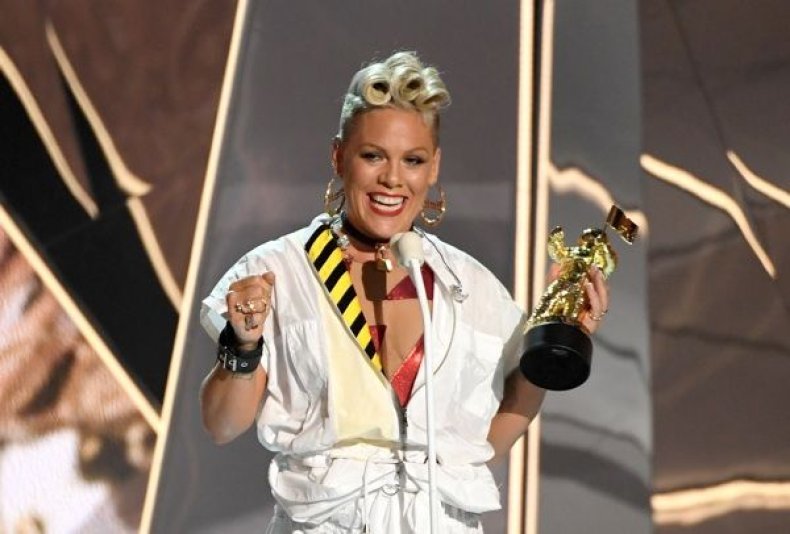 UPDATE 9:40 p.m. ET- Pink takes us through all of her old classics with a stellar performance before accepting her Vangaurd Award. It's 2001 all over again and we're loving every minute of it!
UPDATE 9:31 p.m. ET- Demi Lovato is still in Las Vegas where she recently sang the national anthem at Floyd Mayweather and Conner McGregor's epic showdown in the boxing ring, but that isn't stopping the singer from putting on a fire performance at MTV's VMA stage in Sin City.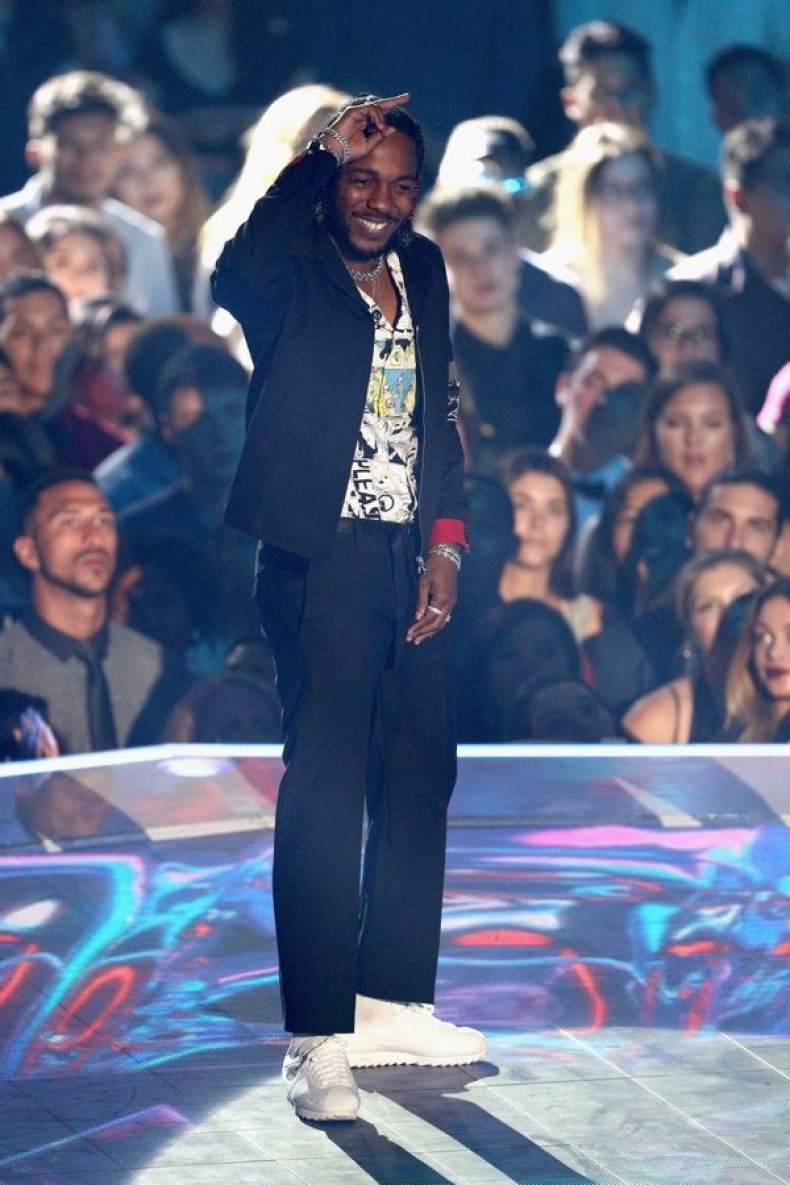 UPDATE 9:29 p.m. ET- No surprise here--Kendrick Lamar wins the award for Best Hip Hop Video.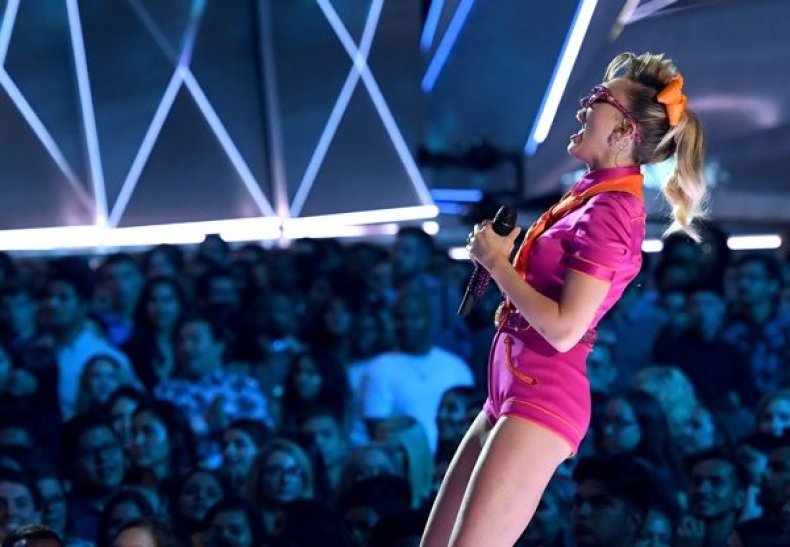 UPDATE 9:23 p.m. ET- Miley Cyrus is taking us back to Rydell High School with this Grease-inspired performance. She looks and sounds great!
UPDATE 9:12 p.m. ET- Jared Leto gives an emotional tribute speech remembering recently fallen rock stars Chester Bennington of Linkin Park and Soundgarden's Chris Cornell just before announcing a surprise performance by Linkin Park.
UPDATE 9:10 p.m. ET- Just like we predicted, Taylor Swift and Zayn win the moon man for best collaboration.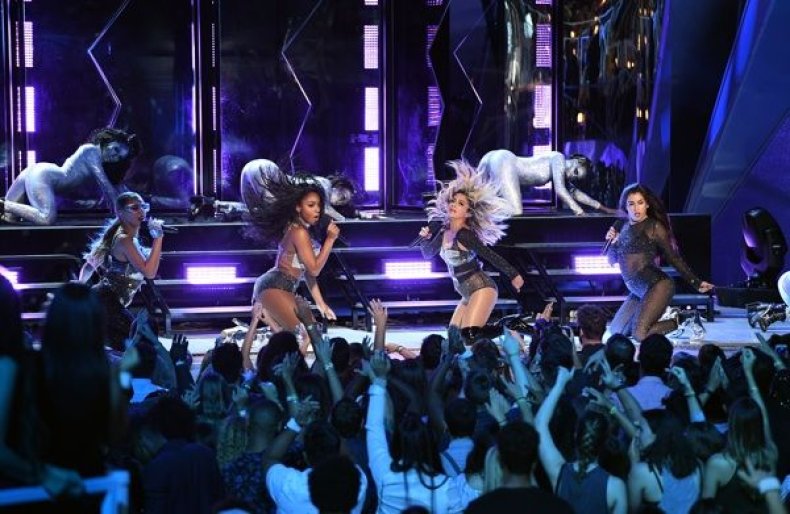 UPDATE 9:04 p.m. ET- We can't think of anyone better or more qualified than Baby Asahd (accompanied by his dad DJ Khaled, of course) to introduce Fifth Harmony and Gucci Mane's performance. The group may be down a member since the last time we saw them at the MTV VMAs, but they totally killed their set.
UPDATE 8:52 p.m ET- Zedd and Alessia Cara win the award for Best Dance Video for their single "Stay."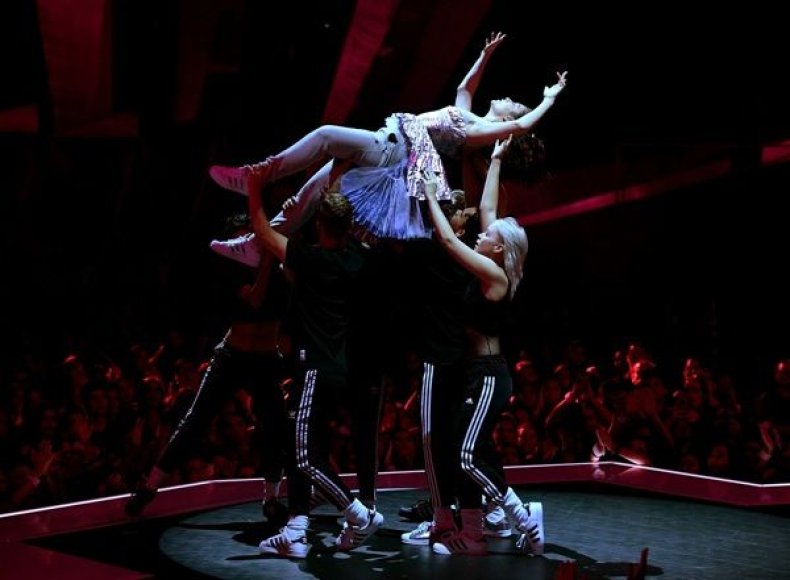 UPDATE 8:48 p.m. ET- We've been waiting for Lorde's performance all night and instead of singing her hit single "Dynamite," the New Zealand pop star gives fans an interprative dance performance, which was interesting to say the least. Maybe she was sick?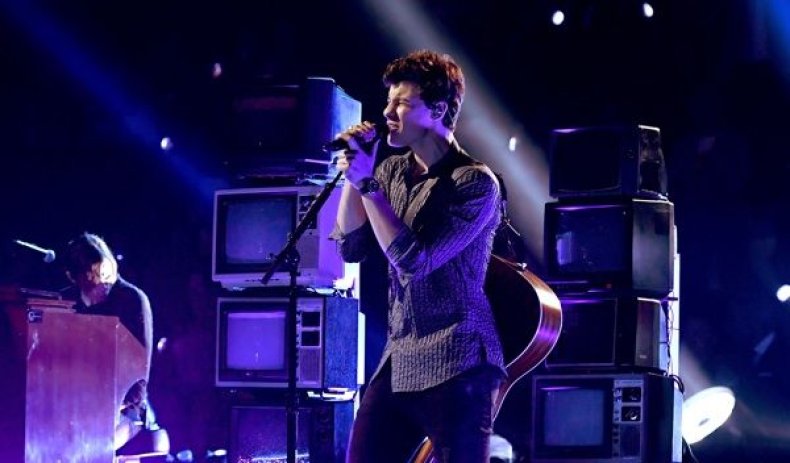 UPDATE 8:33 p.m. ET- Shawn Mendes is opening hearts with his performance of hit song "There's Nothing Holding Me Back." For his first time performing at the VMAS, he's doing a pretty great job.
UPDATE 8:29 p.m. ET- Taylor Swift's video for her new single "Look What You Made Me Do" premieres. We haven't caught a glimpse of Swift at the VMAs just yet, but her new video is, simply put, something else.
UPDATE 8:22 p.m. ET- Best New Artist nominee Julia Michaels takes the stage for the first time to perfom her song "Issues." Only Michaels and Khalid are in the running for Best New Artist, but fans still have time to vote for their favorite musician HERE.
UPDATE 8:18 p.m.ET- Fifth Harmony and Gucci Mane takes home the first moon man of the awards show for Best Pop Video for their song "Down" featuring rapper Gucci Mane.
UPDATE 8:18 p.m. ET- While handing out the award for Best Pop Video, Paris Jackson condemns the white nationalists and racists hate groups responsible for the violence that occured in Charlottesville in early August.
UPDATE 8:15 p.m. ET- Finally! The hostest with the mostest Katy Perry has made her intergalatic enterance. Doesn't take the singer long to start throwing some subliminal shade at at Capitol Hill.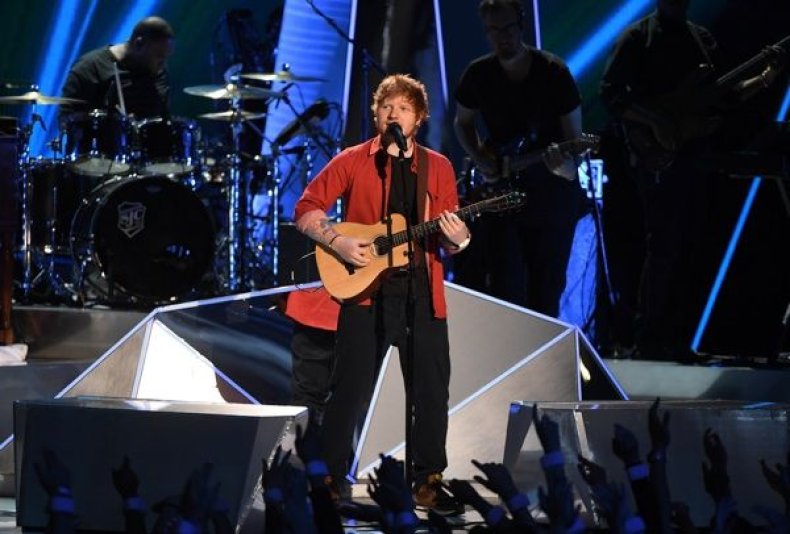 UPDATE 8:07 p.m. ET- Ed Sheeran, who is nominated for three awards hits the stage and brings out Lil Uzi Vert, winner of Song of Summer.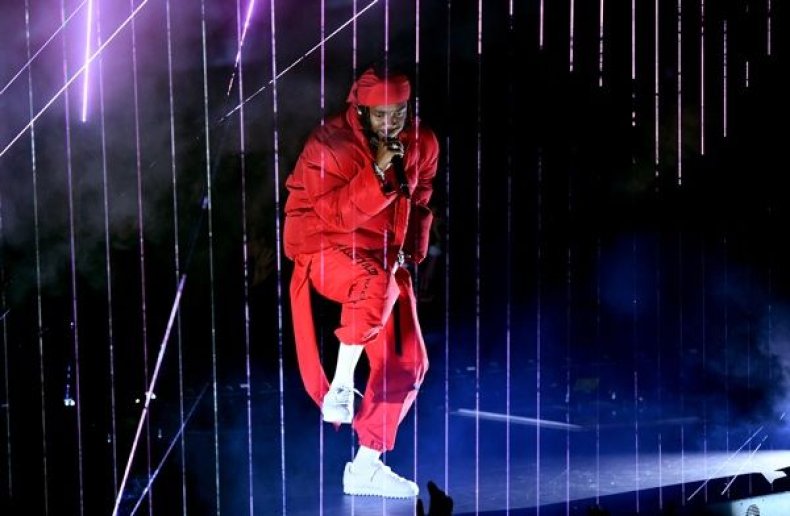 UPDATE 8:00 p.m. ET- What better way to kick off an awards show than with the man of the hour, Kendrick Lamar, who just so happens to be nominated for eight awards including Video of the Year and Artist of the Year.
UPDATE 7:55 p.m. ET- Best new artist nominee Khalid hits the stage to perform his chart topping debut single, "Location" and "Young , Dumb & Broke."
UPDATE 7:44 p.m. ET- Julia Michaels, who is nominated for the Best New Artist category tells pre-show host Terrance J that all of her music is "from the heart" when asked why she should win the moon man award.
UPDATE 7:40 p.m. ET- 30 Seconds to Mars definitely pulled out all the stops with their MTV VMAS ensembles. Jared Leto's shimmery cape.
UPDATE 7:36 p.m. ET- Pink, the winner of the MTV VMA Vanguard award is here with her adorable family right by her side.
UPDATE 7:30 p.m. ET- Bleachers is bringing the energy with their first performance of the night!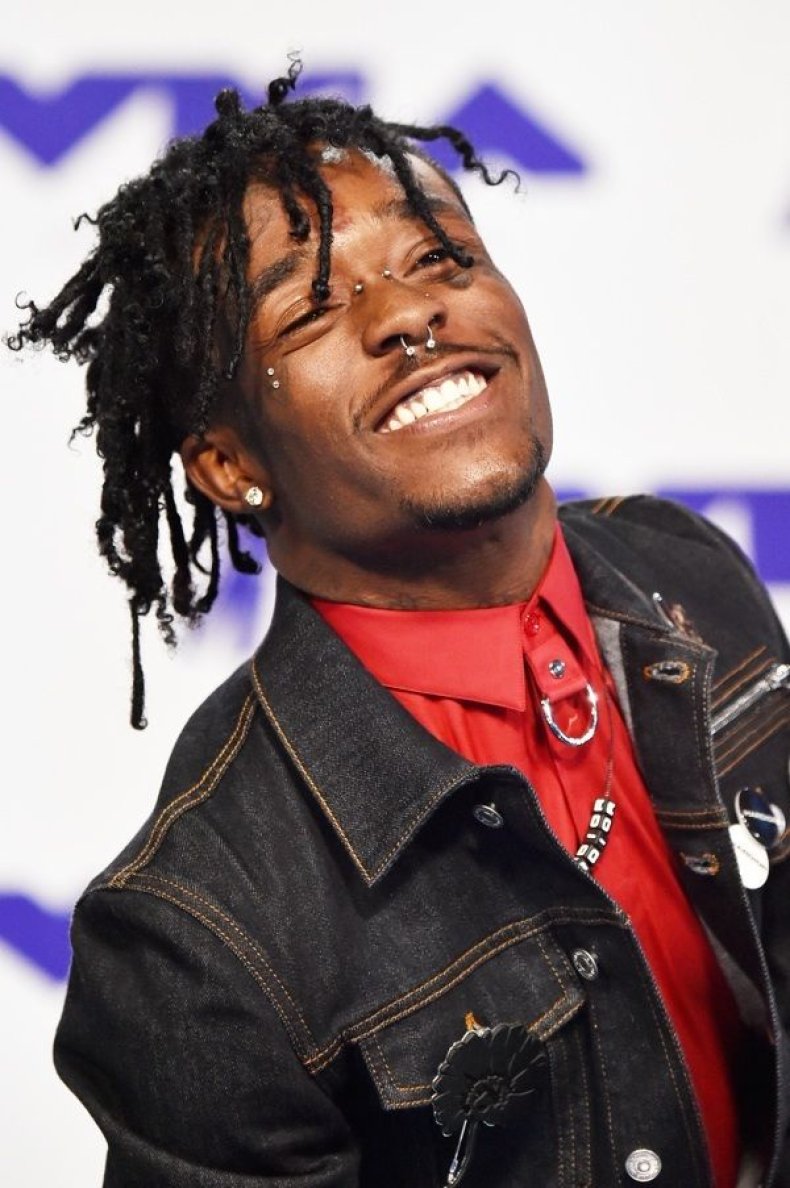 UPDATE 7:23 p.m. ET- Lil Uzi Vert wins Song of Summer award for his "XO Tour Llife."
UPDATE 7:16 p.m. ET- Best Pop nominee Shawn Mendes has arrived.
UPDATE 7:13 p.m. ET- Katy Perry is here at the VMA pre-show looking ravishing in her white gown.
UPDATE 7:05 p.m. ET- The preshow kicks off with a piping hot performance by rapper Cardi B and she looks like she was born for the stage.
Before artists battle it out for the 2017 MTV Video Music Awards or take the stage for highly anticipated performances, viewers can catch them in all their glory as they arrive at the Forum in Inglewood, California, and walk down the blue carpet.
MTV will begin airing a pre-show of the the VMAs, and Newsweek will be tuning in every step of the way to update all the blue carpet glam and surprise performances.
Keep up with our live coverage of the MTV VMAs pre-show and follow along with @Newsweek on Twitter for updates during the awards show, which starts at 8 p.m. ET on MTV.