MTV VMAs Best Moments From Doja Cat's Outfits to Machine Gun Kelly's Performance
The MTV Video Music Awards returned in 2021, after the award ceremony last year took place with no in-person performances or audience. The crowd were thrilled to be back for this year's event, which saw massive performances from Lil Nas X, Doja Cat and Chloe, to name a few.
There were also some great nostalgic moments as MTV celebrated 40 years, with the Queen of Pop herself, Madonna, attending to share a birthday message.
K-Pop band BTS, Olivia Rodrigo and Lil Nas X all took home three awards each, while Billie Eilish and Justin Bieber both took home two awards.
Here are some of the best moments of the night, from epic reunions to wild performances.
Megan Fox Channels Kim K
Megan Fox arrived with her partner, Machine Gun Kelly, in a caramel dress showing off a great deal of skin, as well as her underwear, and wet black hair.
Rewind to the Met Gala 2019 when Kim Kardashian donned a similarly colored dress from Thierry Mugler, which also left little to the imagination while her hair had a similar wet look.
Fans picked up on this homage, though others noted how many other stars, from Ciara to Hailey Bieber, also rocked the sheer dress trend with their undergarments on show.
Kourtney Kardashian and Travis Barker Make Red Carpet Debut
The couple have been officially together for some time, given their Instagram accounts have shared some pretty epic PDA pictures over the last few months.
They were very much the same on the red carpet, and Kardashian even brought some of that to her announcement of Barker's performance with Machine Gun Kelly.
Fox and Kardashian declared the crowd should make some noise for their "baby daddies" before the pair performed. Subtle indeed.
Machine Gun Kelly's Rocking Performance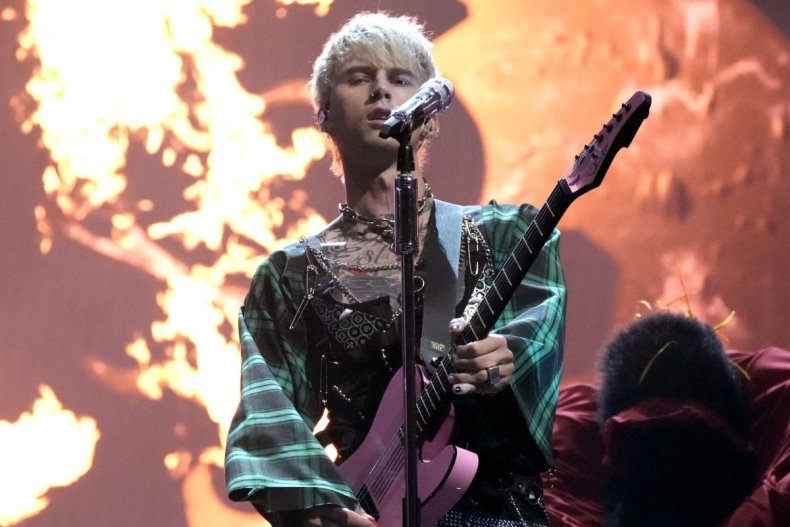 Machine Gun Kelly was already making waves on his arrival to the VMAs when he and Conor McGregor seemed to have a disagreement on the red carpet.
McGregor threw his drink on the singer, but this may not have been the strangest moment of the night.
In Kelly's performance, drummer Travis Barker and dancing poppies joined him on stage. Kelly and Barker then threw their instruments around before finally collapsing onto the ground.
Doja Cat's Outfits Were on Point
Doja Cat was hosting this year, and she really brought her A-game when it came to her outfits.
She started out fairly tame in a purple and black outfit, before moving to an elegant dress with a bright white wig, then a red jumpsuit for her performance where she arrived from the ceiling.
Her dress, dubbed "the worm," has been a massive hit, especially as she struggled to walk in it, before she wore shoes modelled on chicken feet and a chair on her head.
Normani Dances on Teyana Taylor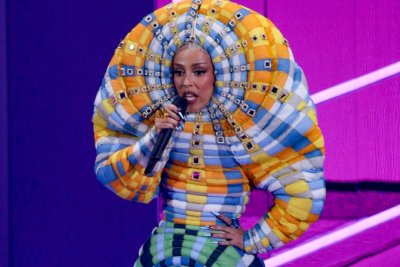 Normani, as usual, brought the heat with her dance moves, which seemed to be tipping her hat to Janet Jackson.
When everyone thought the song was over, a large metal structure was brought out, on which Teyana Taylor was strapped.
Normani climbed up, danced all over Taylor before stretching down in a masterful acrobatic feat.
Ashanti and Ja Rule Are Back
It was 40 years of MTV so some big names came to celebrate, including Madonna showing off her derriere after wishing the network a happy birthday.
But another great nostalgic moment came when Ashanti and Ja Rule reunited on stage, presenting the Moon Person for Best Collaboration.
Needless to say, fans went wild, taking to social media to share their excitement and hoping for another song or two.
Chloe Turns Up The Heat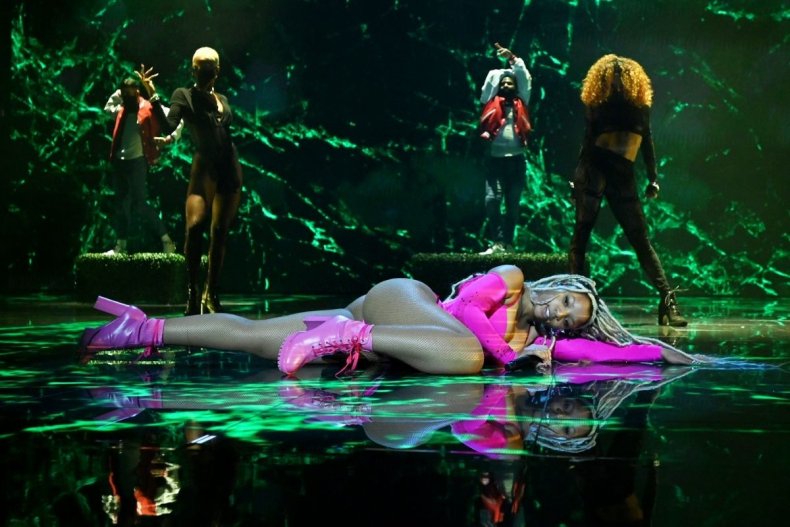 Fans were definitely asking for mercy after Chloe performed her debut song: "Have Mercy."
She started off almost like she was conjuring a spell on the audience, though her incredible moves spoke for themselves.
The singer and a group of dancers twerked, grinded and sent the fans into meltdown with their skills
Lil Nas X Loses His Jacket On Stage
Lil Nas X arrived on stage dressed in a high school band outfit, though suitably bedazzled ahead of his performance of "Industry Baby" and "Montero."
However, there was a moment that confused many, when he removed his jacket and hat to appear in the Montero Prison, much like the music video for "Industry Baby."
To the untrained eye it looked as though a fan had stripped the rapper in the middle of his performance, only for him to strip even further down to glittery underpants as the set continued.
Cyndi Lauper: A Feminist Icon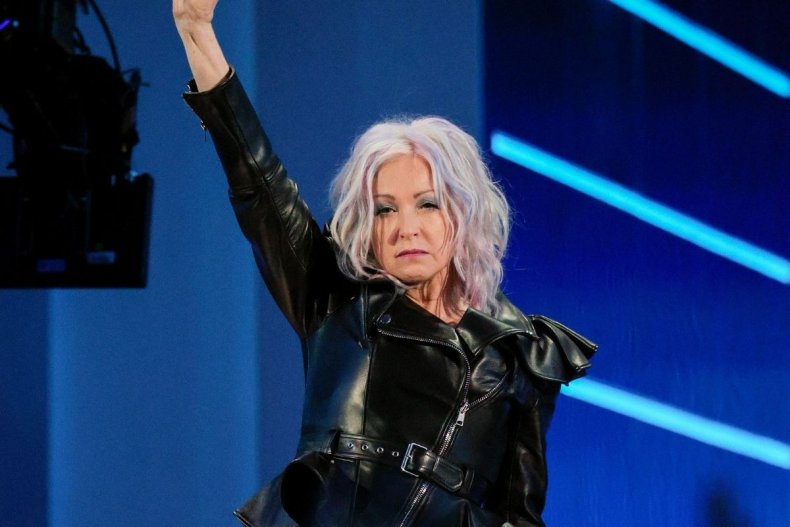 Cyndi Lauper came on stage to present the award for Best Pop, and took a moment to bring to light the abortion ban in Texas and problems with sexism in the music industry.
After reminding the crowd of how she won the first Best Pop award back in 1984 at the first VMAs, she said: "The girls still wanna have fun, but we also want funds. Equal pay...
"Control over our bodies. You know, fundamental rights."