MTV VMAs Salute Chadwick Boseman With 'Rest in Power' Tribute
The first commercial break for the 2020 MTV Video Music Awards featured a tribute to the late Black Panther star Chadwick Boseman, whose death was announced on Friday.
The salute to Boseman began with a black screen bearing the words "The World Needs More Superheroes" in white lettering. MTV then showed a clip of Boseman from the 2018 MTV Movie Awards, when he won the award for "Best Hero" in a movie, for his portrayal of King T'Challa in Marvel's Black Panther.
During his acceptance speech at the MTV Movie Awards that year, Boseman honored a real-life hero named James Shaw Jr., who had stopped a shooting at an Antioch, Tennessee, Waffle House several weeks earlier, in April 2018.
Shaw was at a Waffle House with friends after attending a frat party, when a gunman opened fire, killing four people and injuring four more. Shaw wrestled the gun away from the shooter and threw it over the counter when he stopped to reload. In the wake of his actions, Shaw received a number of awards and praise from celebrities. He was brought on Ellen in May 2018, to meet a personal idol of his, NBA star Dwayne Wade. In August that same year, he received the BET Humanitarian award, according to The Tennesseean.
"Receiving an award for playing a superhero is amazing, but it's even greater to acknowledge the heroes that we have in real life," Boseman said during the Movie Awards, before calling Shaw onstage. "I just want to acknowledge somebody that's here today. James Shaw Jr.... If you don't know James Shaw Jr., he fought off a gunman in Antioch, Tennessee, at a Waffle House. He saved lives."
The 42 star then welcomed Shaw to the stage, handed him the award and said, "This is gonna live at your house."
MTV's tribute ended simply with the words "Rest in Power."
In a tweet sharing the memorial, MTV likened Boseman to a hero for sharing his award with a real-life hero like Shaw. "The world needs more superheroes, and we all deserve to see ourselves in them. Chadwick Boseman helped make that happen. Rest in power," the tweet said.
Before Sunday's MTV VMAs properly began, host Keke Palmer also paid tribute to Boseman in a brief pre-recorded video, dedicating the whole awards show to him. "He is a true hero, not just on screen but in everything he did," Palmer said. "His impact lives forever."
At the end of the show, the Black Eyed Peas finished their closing performance with one final nod toward Boseman. "Wakanda forever. Black Lives Matter," frontman Will.i.am shouted.
Boseman's death was announced on Friday, in a statement revealing that he had been fighting a four-year battle with colon cancer.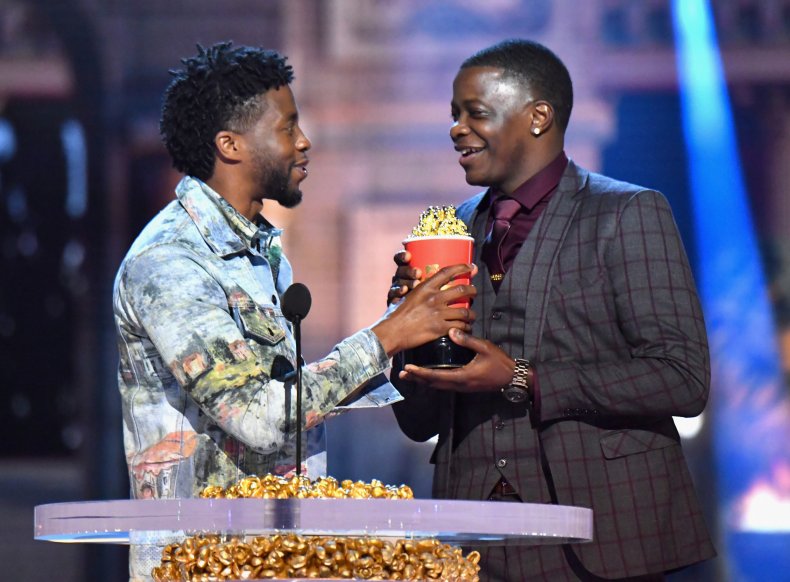 Update 8/30/20 9:16 p.m. EST: This story has been updated with additional context.