The Mu COVID variant has been detected in nearly 50 countries and territories, and while it accounts for a limited number of cases, officials are keeping an eye on it because it has potential to evade vaccines.
First detected in Colombia in January, cases of the Mu variant account for less than one percent of the total COVID-19 cases worldwide. However, its consistent prevalence in Colombia, where it makes up about 40 percent of cases since being detected, raised concerns about its ability to spread and it contains mutations that indicate it could be resistant to immunity to the virus.
The World Health Organization (WHO) categorized the Mu variant as a variant of concern on August 30. As of Monday, Mu has been found in 41 countries, four British territories—the British Virgin Islands, Cayman Islands, Gibraltar and the Turks and Caicos—and Bonaire, a Caribbean island that is a special municipality of the Netherlands, according to GISAID, a website that tracks variants.
Although it accounts for only a minor number of cases worldwide, the Mu variant makes up nearly 30 percent of Colombia's total samples sequenced since it was first discovered and 70 percent of cases in the last 60 days, according to Outbreak.info, an open source data website from Scripps Research.
It's most prevalent in the northern department of Atlántico, followed by the Guaviare department that's located in the south. Antioquia, a department in northwest Colombia, has had the highest number of cases and has identified more than 260.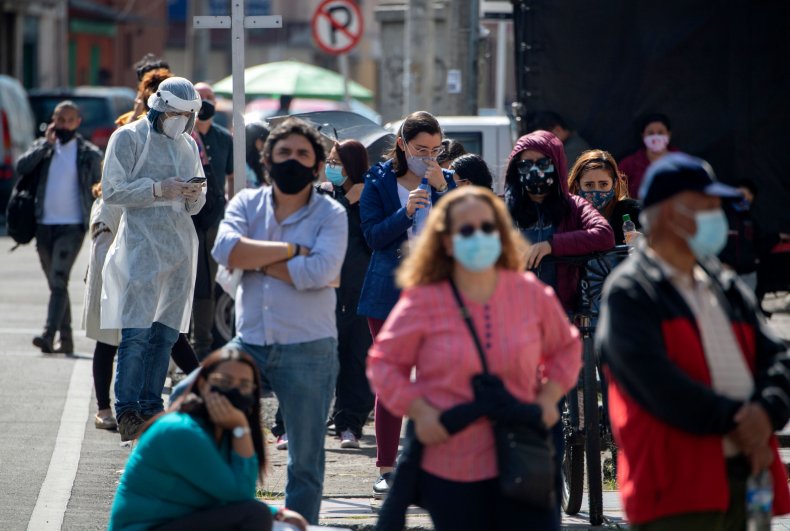 Since it was identified in the British Virgin Islands in July, the Mu variant accounts for more than 60 percent of the total number of samples sequenced, according to data on Outbreak.info.
While Mu has been detected in multiple countries in South America, North America and Europe, it has not been found in Africa or Australia. There have also been a limited number of cases found in Asia. Only China, Israel, Japan and South Korea have reported cases as of Monday, according to GISAID.
To be classified as a variant of interest by WHO standards, a variant must have mutations that make it more transmissible, harmful to humans or the ability to evade vaccines or therapeutics. The variant must also be able to spread within communities.
Early data shows vaccines and natural immunity may be less effective against the Mu variant in a similar fashion to its ability to fight the Beta variant. The variant only had a marginal impact on vaccine effectiveness at keeping people out of the hospital and preventing deaths and the WHO noted more research is needed to identify what, if any, impact the Mu variant will have on immunity.
Along with Mu, the WHO is tracking four other variants of concerns--Eta, Iota, Kappa and Lambda. Health officials are also closely watching four variants of concern--Alpha, Beta, Gamma and Delta--that are all known to either be more transmissible or deadly or pose a problem to vaccines, therapeutics and public health measures.
Although it's unknown how much of an issue the Mu variant could be for vaccine effectiveness, Pfizer spokesperson Kit Longley told the Washington Post they're "encouraged" by real world data and laboratory studies. Longley added that when it comes to the variants of concerns, they haven't seen evidence that they "regularly escape protection" from the vaccine.