Qaddafi Was a 'Hero,' Says Africa's Longest-Serving President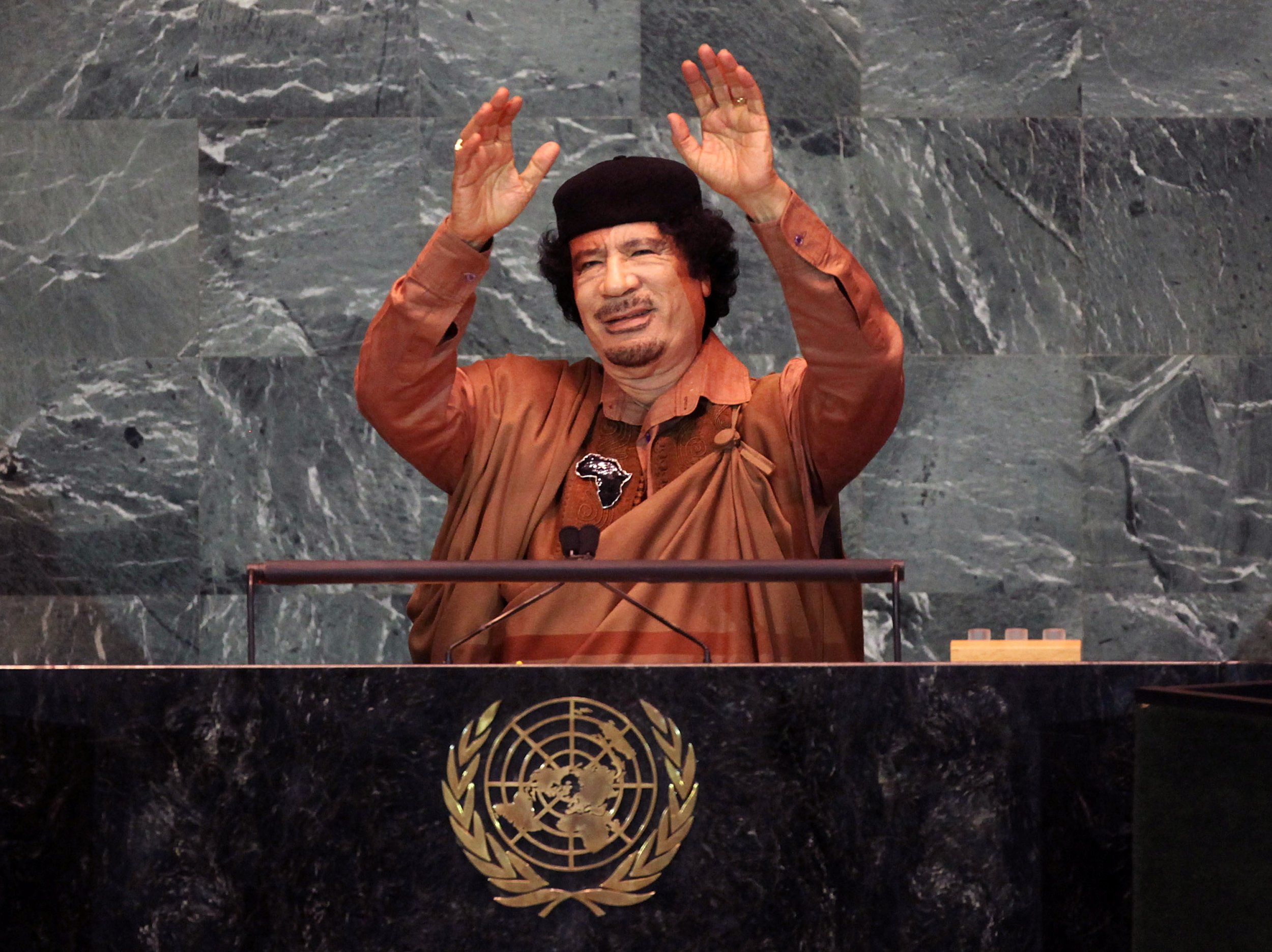 The late Libyan strongman Muammar el-Qaddafi was a "hero" for promoting solidarity among African countries, according to the continent's longest-serving president.
Qaddafi, who was killed in an uprising in the North African country in 2011, was a strong advocate of creating a "United States of Africa" and supported the philosophy of pan-Africanism, which promotes the political union of African countries.
The president of Equatorial Guinea, a small oil-rich country in Central Africa, said the failure to realize Qaddafi's vision was to blame for poverty and conflict in parts of the continent.
"I recall our hero Qaddafi who used to promote this African solidarity, but sadly most countries would not still agree with him," said President Teodoro Obiang Nguema Mbasogo, who has been in power since 1979. Obiang made the comments during a visit to Uganda, where he met his counterpart President Yoweri Museveni, according to Ugandan newspaper the Daily Monitor. "The instability Africa is suffering due to the egoism of each country."
The world's ten-poorest countries by GDP per capita are all in sub-Saharan Africa. The continent has also witnessed major conflicts in recent years, including the Boko Haram insurgency in Nigeria and its neighboring countries and the civil war in Congo.
The African Union (AU), a continental institution that holds semi-annual assemblies and promotes socioeconomic and political integration, is pursuing a version of Qaddafi's dream. In its Agenda 2063 policy document, published in 2013, the AU proposed creating a continent-wide free trade area, similar to the European Union's single market, which ensures the free movement of goods, capital and people within member states.
While Africa already has some regional economic communities that promote trade, African countries on the whole do not trade with each other very much. A 2015 U.N. report found that intra-African trade made up just 14 percent of the continent's total trade; in the EU, the equivalent figure was 61 percent.
The AU also wants to remove visa restrictions and eventually issue an African passport to citizens of AU member states.
Qaddafi ruled Libya for more than four decades before his demise, which followed a NATO military intervention led by the U.S. and the U.K. Since Qaddafi's death, Libya has been mired in chaos, with multiple governments competing for legitimacy and jihadi groups, including the Islamic State militant group (ISIS), establishing bases in the country.
Human rights groups have accused Obiang of widespread human rights violations and rampant corruption. Equatorial Guinea has a higher GDP per capita than Russia or Turkey, but a large proportion of the country's population remains in poverty.
Swiss prosecutors recently opened criminal proceedings against Obiang's son, who also serves as a vice-president of the country, after accusing him of money laundering and seizing 11 luxury cars belonging to him, including a Bugatti Veyron.