Muammar Gaddafi's Son 'Freed' Despite Death Sentence From Rival Government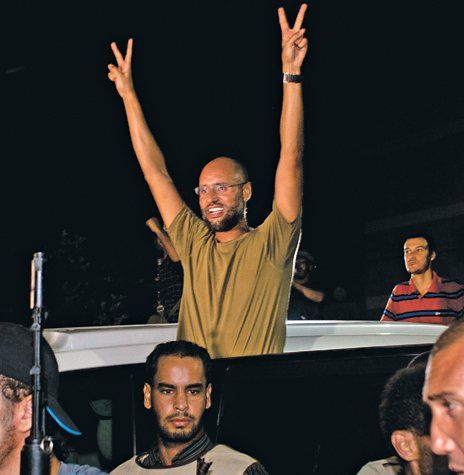 The second son and favored heir of Libya's former strongman Muammar Gaddafi, Saif al-Islam Gaddafi, has reportedly been freed in a move that could prompt more instability in the war-stricken country, BBC reports.
Gaddafi junior was held prisoner for six years by a rebel militia in the town of Zintan, as a handful of factions seized control of swaths of Libya in the wake of his father's death. The Abu Bakr al-Siddiq Battalion announced that Gaddafi was released Friday following a request for amnesty from the "interim government."
The government referred to is the power bloc in eastern Libya, which offered Gaddafi amnesty. However, Libya's rival authority in the west, under the control of U.N.-backed Government of National Accord, sentenced him to death in absentia in a Tripoli court.
Previous reports of his release proved to be false.
Gaddafi's lawyer, Khaled al-Zaidi, confirmed that the once heir apparent was freed but preferred not to reveal Gaddafi's location for security reasons. Local reports say he now resides in the eastern city of Bayda with relatives of the Gaddafi family.
Gaddafi was captured in 2011, less than a year after the start of unrest that evolved into a civil war against his father. Militants caught him fleeing Libya for Niger after his father and brother were killed, while he had an International Criminal Court arrest warrant on his head.
He is one of the most controversial alumni of the British university London School of Economics, where he was awarded his PhD. While his father was in government, his role revolved around developing ties with the West.