Mud-Covered Puppy Stopped From Digging Project Delights Internet
A puppy's hilarious reaction to his latest gardening project being foiled has left the internet in stitches this week.
Posted on Monday, Reddit user Henrik Vargas—who uses the handle u/Chekila—the picture was shared on the forum r/rarepuppers, gaining more than 37,000 upvotes and hundreds of comments.
The malamute mix dog, named Bowser, lives with his owners in Guadalajara, Mexico. Alongside the picture, the caption read: "He was not pleased that I stopped his new project 'another hole in the garden.'"
In the picture, the small and fluffy brown and white canine stares upset at the camera, complete with a mud-covered muzzle caused by his digging antics.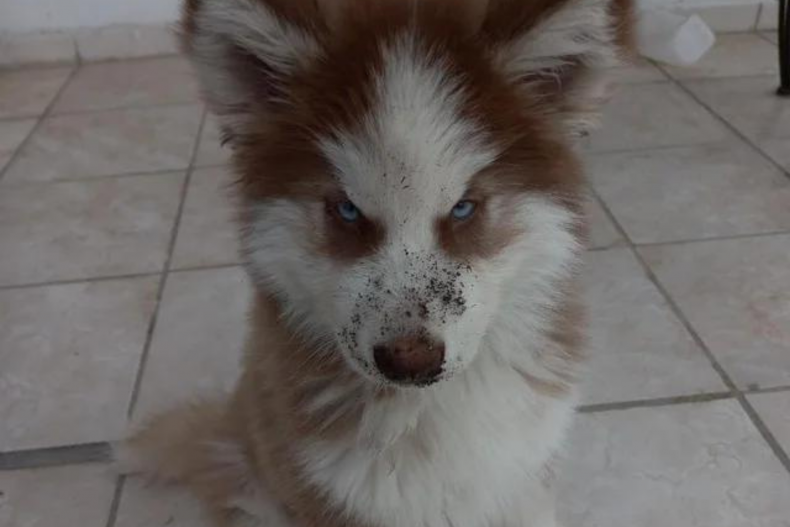 Vargas told Newsweek: "He loves digging in the garden. He currently has a collection of around four holes. When I took the picture, I loved the little evil face and I thought 'this belongs on rare puppers.'"
Anyone who has spent some time with a dog will tell you that they're big fans of digging—with little regard for your landscaping plans. The American Kennel Club (AKC) explains that digging is an instinctual behavior for most dogs that can be traced back to their wolf ancestors.
"Digging is arguably as much a part of dogdom as barking or sniffing," explains the AKC. "In fact, that instinctual tendency is why some breeds were originally used for hunting animals in underground dens."
The reasons for a pup's digging behavior vary greatly. Sometimes it is about the basic instinct to try and seek prey, other reasons include creating a shallow cool bed on a hot day—particularly common in thick-coated Northern dogs like in the viral picture.
Your canine friend will also dig to bury things. If your dog has a bone or toy but doesn't want to risk someone stealing it from him, he might keep it safe by hiding it underground. Dogs can also dig to escape places, getting under barriers to find new places to explore.
The adorable picture delighted other Redditors who headed to the comments to share their thoughts.
One commenter joked: "The next hole he digs is gonna be your grave," while another said: "He looks like the cutest supervillain ever."
"Y'all have no idea how hard it is to pout cutely and give a death stare at the same time," said another reply. "This pupper has nailed it."
Another Redditor said: "He looks like he's plotting his revenge, but he's too cute to be mad at."
If you're looking to put a stop to your canine's digging, the AKC has some advice: "Ensure your dog is getting enough mental stimulation and physical exercise every day." This will help with any boredom or anxiety that may be causing the digging behavior.
It can also help to distract your dog from digging by re-directing the unwanted behavior. For example by asking your dog to do a trick or play with a toy.
But on Reddit, there was lots of support for the pup's big digging project: "In his defense, though: how dare you," said one comment, while another reply said: "He has a deadline, clearly."
"He's clearly an expert in his field and your meddling will not be tolerated," joked another Redditor.
Correction 07/08/22, 2:30 a.m. ET: This article was corrected to state the correct breed of the dog, it previously incorrectly stated that the dog was a husky.
Update 07/08/22, 2:30 a.m. ET: This article was updated with a new headline, image and comments.
Do you have funny and adorable videos or pictures of your pet you want to share? We want to see the best ones! Send them in to life@newsweek.com and they could appear on our site.