Mueller Probe Circling Its Biggest Target Yet: Former Campaign CEO Steve Bannon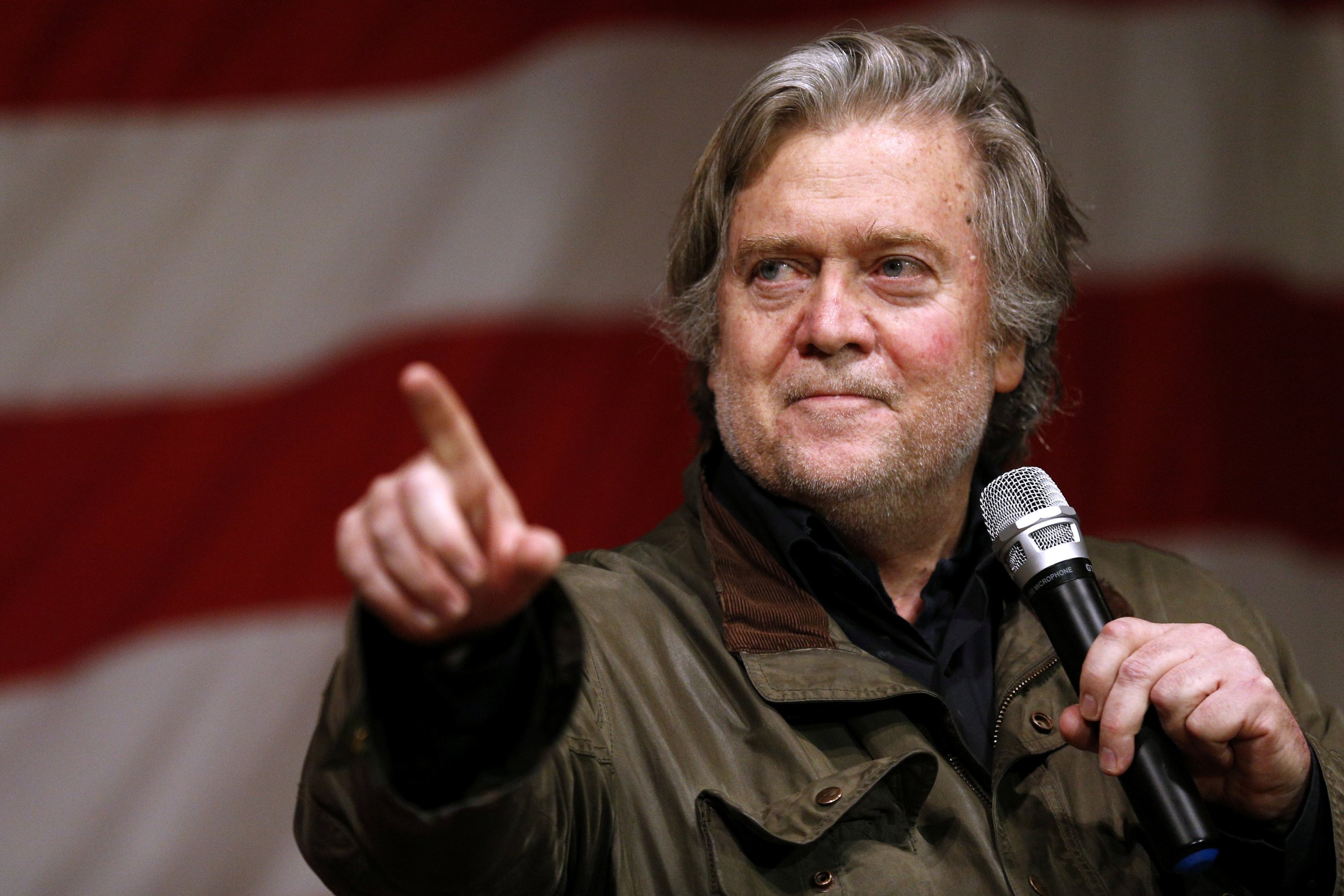 He worked in the White House when former national security adviser Michael Flynn was fired. He spoke with President Donald Trump about firing former FBI Director James Comey. And he played the role of initial mediator between the Trump campaign and the data company that made overtures to WikiLeaks, which is suspected of having Kremlin ties.
So Steve Bannon, President Donald Trump's former chief political strategist and campaign chief executive, could very well be the next key witness interviewed by special counsel Robert Mueller in his ongoing investigation into possible Russian collusion, with some saying it's almost "inevitable," Politico reported Monday morning.
Bannon, who left the White House in August, has often been credited for helping candidate Trump tap into an angry base within the Republican Party. He played such an integral role in the campaign and was so close to Trump that it's likely he'll become the latest member of the president's inner circle to meet with Mueller.
Bannon was reportedly a "key bystander" when Trump dismissed Flynn, and the president even consulted with Bannon before he cut Comey loose in May. Bannon was also a link to data company Cambridge Analytica, which was found to be in contact with WikiLeaks. However, Bannon panned Trump's decision to fire Comey, which led to Mueller's appointment in May.
Both the firings and possible contacts with Russia are believed to be central points of focus for Mueller's investigation.
"Post-election, there's a story every day about some other bombshell, and Bannon would have had a conversation with Trump about it," former Justice Department prosecutor Peter Zeidenberg told Politico.
Zeidenberg also said, "It doesn't mean he's violated any law, but there's no way this investigation gets done without him being interviewed thoroughly. Zero percent chance."
Bannon, like Trump, has flatly denied any collusion with Russia and agrees with the president's accusations of "fake news" and his labeling of Mueller's probe as a political "witch hunt."
Bannon reportedly has not hired a lawyer, nor is he afraid of any accusations of wrongdoing, but his possible testimony may be of interest to Mueller. The special counsel's team has already spoken to current White House communications Director Hope Hicks, White House senior adviser Stephen Miller, former press secretary Sean Spicer and former chief of staff Reince Priebus.
Top lawmakers involved in the various Trump-Russia investigations also believe Bannon's time for questioning will happen at some point.
"I think it'll be very important at an appropriate time to bring him before the committee," the ranking Democrat on the House Intelligence Committee, Adam Schiff, told Politico. "There are a whole range of issues we need to talk to him about."
The former Goldman Sachs executive is back to running "alt-right" news site Breitbart News and frequently chastises the Republican establishment while campaigning for controversial candidates like Alabama Republican Roy Moore, who is running for the Senate.
Last week, Bannon railed against Republicans such as Senator Jeff Flake and possible Senate candidate Mitt Romney during a rally for Moore in Alabama.
"Mitt, here's how it is, brother: The college deferments, we can debate that—but you hid behind your religion," Bannon said of the former presidential candidate, according to CNN. "You went to France to be a missionary while guys were dying in rice paddies in Vietnam. You had five sons, not one day of service in Afghanistan and Iraq.... Where were the Romneys during those wars?"