Mueller Has 'Pieces' to Charge Donald Trump for Conspiring With Russia to Win 2016 Election, Says Ex-Top FBI Official
Special counsel Robert Mueller has the "pieces" available to charge President Donald Trump for conspiring with Russia to claim the White House in 2016, according to a former top FBI official on Tuesday.
Chuck Rosenberg, who previously served as chief of staff to former FBI Director James Comey and later headed up the Drug Enforcement Agency, pointed to Trump's comments during a news conference on July 27, 2016, that encouraged Russia to find Hillary Clinton's lost emails.
"There are bits and pieces in the public record that suggest it wasn't just Russians," Rosenberg told MSNBC. "The timing of the president's statements in Doral, Florida, urging the Russians to go find the missing emails or hack into the DNC computers. All of that is tied to Russian activity that Mr. Mueller recently charged when he brought a case against the Russian intelligence officers."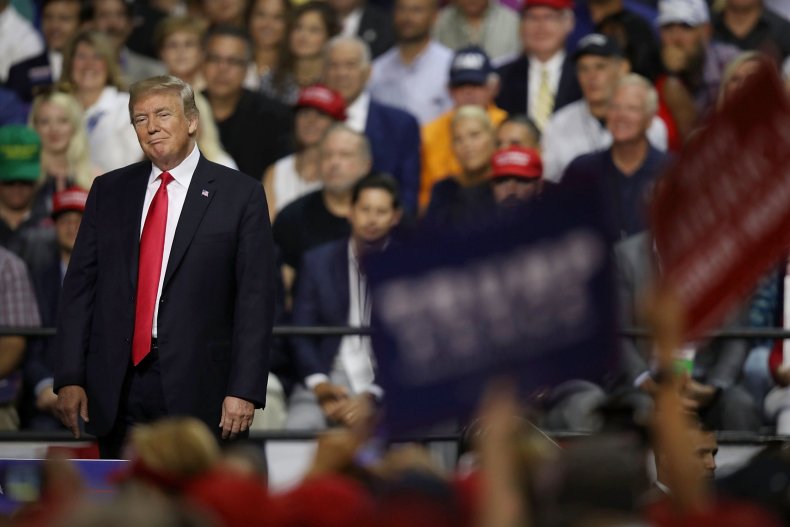 Rosenberg said, however, that it remains unclear whether Mueller could or even would charge Trump.
"So I think there is enough. I think there are other calculations that are really important here, like, for instance, whether Mr. Mueller believes he has the authority to charge a sitting president," Rosenberg said. "There's some debate on that point. The Department of Justice has weighed in on it in the past and has opined that you cannot, so there's some unanswered questions, but I think the pieces are there."
Rosenberg was referring to Trump's apparent encouragement of Russia to find the emails, an issue he repeatedly used like a battering ram against Clinton throughout the campaign and well into his 18 months in office.
"Russia, if you're listening, I hope you're able to find the 30,000 emails that are missing," Trump said. "I think you will probably be rewarded mightily by our press."
Trump's comments came just weeks after his eldest son, Donald Jr., held a meeting with a Russian lawyer in an alleged attempt to gain opposition research on Clinton.
Mueller's investigative team has reportedly told Trump's lawyers the president is not a target, but a subject of the probe into Russia's meddling in the 2016 election.
But the president has continuously attacked the investigation, while also proclaiming collusion is not a crime. On Sunday, Trump claimed Mueller had conflicts of interest and that the two had a "very nasty & contentious business relationship."
"Is Robert Mueller ever going to release his conflicts of interest with respect to President Trump, including the fact that we had a very nasty & contentious business relationship, I turned him down to head the FBI (one day before appointment as S.C.) & Comey is his close friend," Trump tweeted. "Also, why is Mueller only appointing Angry Dems, some of whom have worked for Crooked Hillary, others, including himself, have worked for Obama....And why isn't Mueller looking at all of the criminal activity & real Russian Collusion on the Democrats side-Podesta, Dossier? "