Is Mueller Investigating Cohen? Ukrainian Politician Tied to Trump Lawyer Gets Subpoena for Russia Probe
A Ukrainian politician previously linked to President Donald Trump's former personal lawyer has reportedly been issued with a subpoena to appear before a grand jury tied to the special counsel's investigation of Russian meddling in the 2016 election.
The politician Andrii Artemenko has confirmed he was issued a subpoena and that he is scheduled to appear before the grand jury on Friday.
"I received the subpoena last week," Artemenko told Politico.
Artemenko's potential testimony could directly implicate both the president's ex-private lawyer Michael Cohen, as well as Felix Sater—who, along with Cohen, tried to get a Trump-branded tower built in Moscow while the president campaigned for office in 2015 and 2016.
Cohen reportedly delivered a peace plan for Ukraine allegedly crafted by Artemenko that would involve Russian troops leaving eastern Ukraine before a vote for Ukrainians to decide how long it would lease the Crimea territory to Russia, The New York Times reported in February 2017.
Artemenko was able to reach Sater and the pair ultimately met with Cohen, according to the report, where Cohen said he would get the peace plan to the White House. Cohen reportedly said he left the plan with former national security adviser Michael Flynn, who was later forced to resign after he misled Vice President Mike Pence about his contacts with a Russian ambassador.
Flynn is now cooperating with Special Counsel Robert Mueller's probe and pleaded guilty in December.
Two attorneys currently representing Cohen did not immediately respond to Newsweek's request for comment or emailed questions.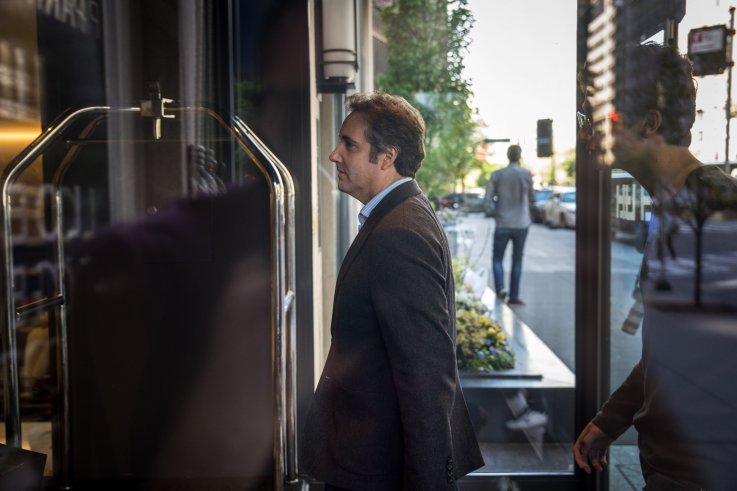 While Cohen has not been named as a target or subject of Mueller's probe, the special counsel has reportedly shown a strong interest in Cohen's dealings involving the potential Moscow tower and the aforementioned Ukraine peace deal, The Washington Post reported in March. Mueller's team has asked for documents and also interviewed witnesses privy to Cohen's interactions.
Furthermore, federal prosecutors at the U.S. Southern District Court in New York received a referral from Mueller's team and were able to obtain a warrant that granted raids of Cohen's office, residence and hotel room last month.
The raids enraged Trump and led him to repeat his cries of Mueller conducting a "witch hunt" and declaring attorney-client privilege to be "dead."
Is Mueller Investigating Cohen? Ukrainian Politician Tied to Trump Lawyer Gets Subpoena for Russia Probe | U.S.