Video: Stephen Colbert Looks Ahead to Mueller Testimony, 'The Super Bowl of Things on C-Span at 8.30 in the Morning'
CBS host Stephen Colbert has made fun of the building anticipation towards the testimony former special counsel Robert Mueller is set to give.
On Wednesday, Mueller will appear before two House committees where lawmakers will quiz him on the report he released in April.

The Late Show host told his viewers on Tuesday night that "we are hours away from the live televised Congressional testimony of Robert Mueller.
"It is the Super Bowl of things on C-Span at 8.30 a.m. in the morning," he quipped.
"Nobody knows what Mueller is going to say at this point, the president does not seem to be too happy about the fact that Mueller is going to testify."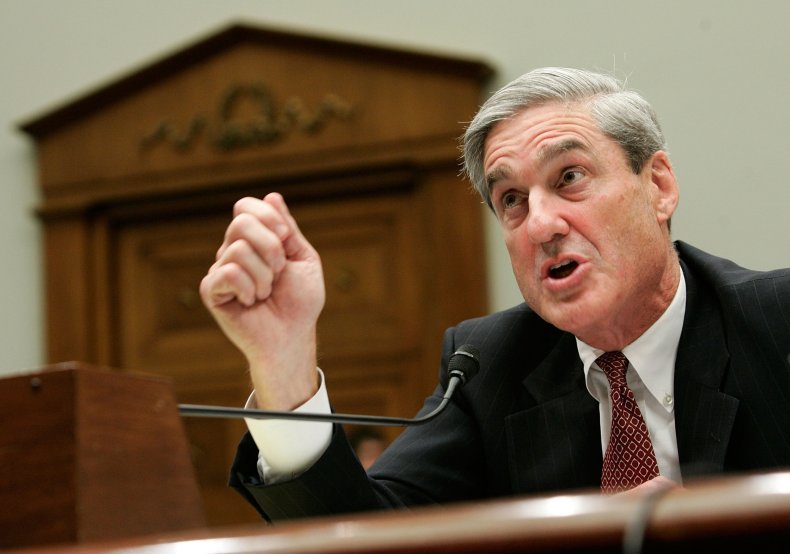 In his trademark mimicking of Donald Trump, Colbert then read out a tweet by the president that said, "highly conflicted Robert Mueller should not be given another bite at the apple."
Colbert countered: "I don't think Donald Trump has ever had a second bite of an apple," while pretending to take a bite out of an apple.
"Oh my God! It's disgusting. Somebody licked all the caramel off this thing," Colbert said to the audience's laughter.
The CBS host also referred to how Mueller has been instructed to limit his testimony to only what is in his report, which did not find any collusion or conspiracy between the Trump administration and the Russian government to influence the 2016 election.
However on claims of obstruction of justice, the report did not conclude that the President committed a crime, but "it also does not exonerate him."
Colbert went on, "Oh no! Now all he's got is 448 pages of incredibly damaging evidence that the president committed 10 separate instances of obstruction of justice and that one point he said, and I quote 'I'm f*****!"
"Then out of habit, he paid himself $130,000," apparently referring to the amount allegedly paid by Trump's lawyer Michael Cohen to prevent adult film star, Stephanie Clifford, also known as Stormy Daniels, from discussing an encounter with the president that he denies.
House Democrats who subpoenaed Mueller in June, hope that they can focus on parts of Mueller's report which can reignite public interest in their investigations, and bolster the case either for impeachment or defeat at the 2020 election, the Associated Press noted.
Meanwhile Republicans are likely to respond by interrogating Mueller on alleged bias within his team of federal prosecutors, USA Today reported.
Mueller's testimony will be broadcast by ABC, CNN, MSNBC, NBC, Fox News and C-SPAN.
The graphic below, provided by Statista, illustrates the number of times Donald Trump's tweets have referenced "Mueller" or "witch hunt."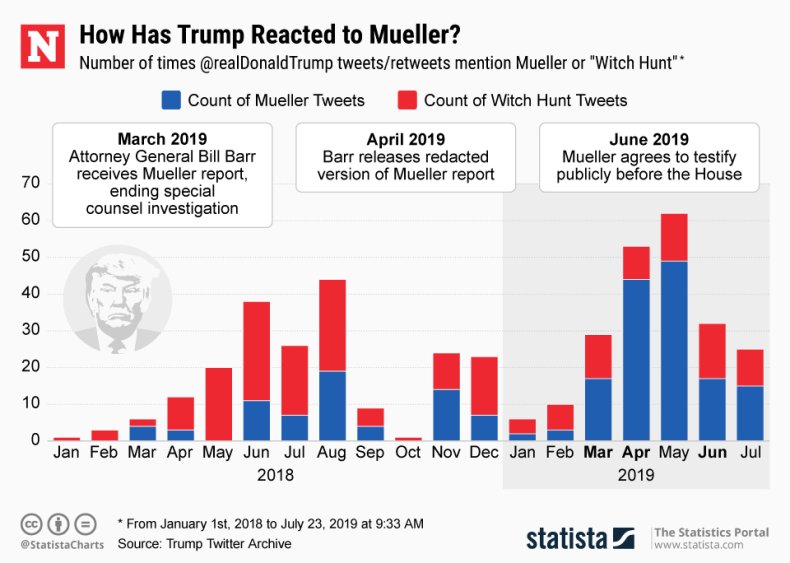 This article was updated to include an infographic.