'Mueller Did Not Exonerate' Trump, 'Democrats Will Call on AG William Barr' to Testify, Says House Judiciary Chair
After U.S. Attorney General William Barr provided Congress his summary of special counsel Robert Mueller's report on Russian interference in the 2016 presidential election on Sunday, the Democratic House Judiciary Committee chair made clear that Mueller's team "did not exonerate" President Donald Trump and vowed that the House would be calling on Barr to testify "in the near future."
In his four-page summary, delivered nearly 48 hours after receiving the completed Mueller report, Barr said the special counsel's probe neither exonorated nor indicted Trump with regard to collusion and obstruction of justice. However, the attorney general also indicated that he saw no reason to move forward with any criminal proceedings against the president.
Responding to the summary, Democratic Representative Jerry Nadler of New York argued that there must be a reason why Mueller's findings didn't explicitly exonerate the president.
"There must be full transparency in what Special Counsel Mueller uncovered to not exonerate the President from wrongdoing," the New York congressman tweeted. "DOJ owes the public more than just a brief synopsis and decision not to go any further in their work."
"Special Counsel Mueller worked for 22 months to determine the extent to which President Trump obstructed justice," Nadler continued in another tweet. "Attorney General Barr took 2 days to tell the American people that while the President is not exonerated, there will be no action by DOJ."
Due to the "very concerning discrepancies and final decision making at the Justice Department," Nadler, the House Judiciary Committee chair, said, "we will be calling on Attorney General Barr to testify" before the committee sometime "in the near future."
Even though Barr's summary stated that Mueller was unable to determine whether Trump or anyone in his 2016 campaign team had obstructed justice, the president finally commented on the news in a post to Twitter this afternoon, writing: "No Collusion, No Obstruction, Complete and Total EXONERATION. KEEP AMERICA GREAT!"
White House Press Secretary Sarah Sanders retweeted Trump's sentiments and added her own, saying: "The Special Counsel did not find any collusion and did not find any obstruction. AG Barr and DAG Rosenstein further determined there was no obstruction. The findings of the Department of Justice are a total and complete exoneration of the President of the United States."
"A great day for America and for President @realDonaldTrump," Sanders added in a later tweet. "After two years of wild anti-Trump hysteria, the President and his millions of supporters have been completely vindicated."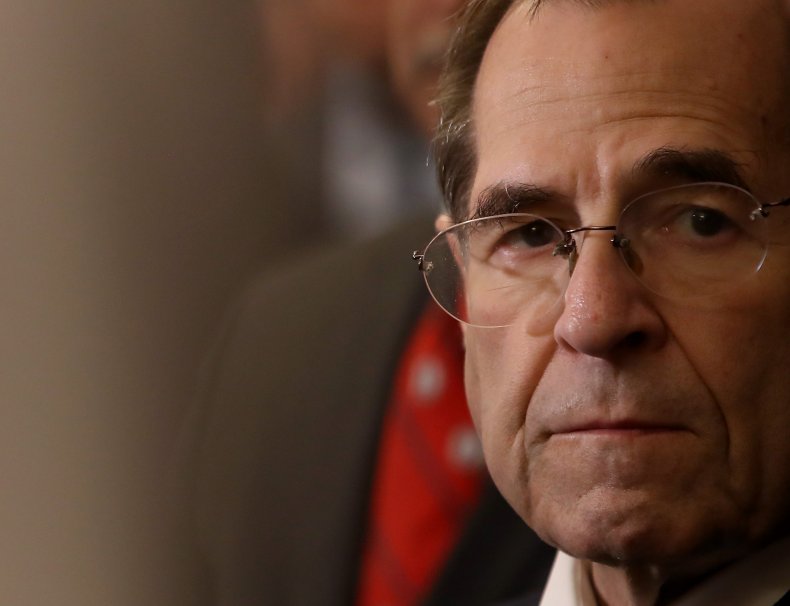 Earlier on Sunday, Nadler made the rounds on the weekly political talk shows, repeating his argument that Mueller's full report was needed in order to determine what, if any, action should be taken by Congress.
"Obviously, we know there was some collusion," said Nadler, hours before Barr sent his summary to legislators. "We know the president's son and campaign manager were involved in a meeting with the Russians to receive stolen—what they thought was to receive stolen information—information stolen by the Russians from the Democratic National Committee as part of the Russian government's attempt to help Trump in the election."