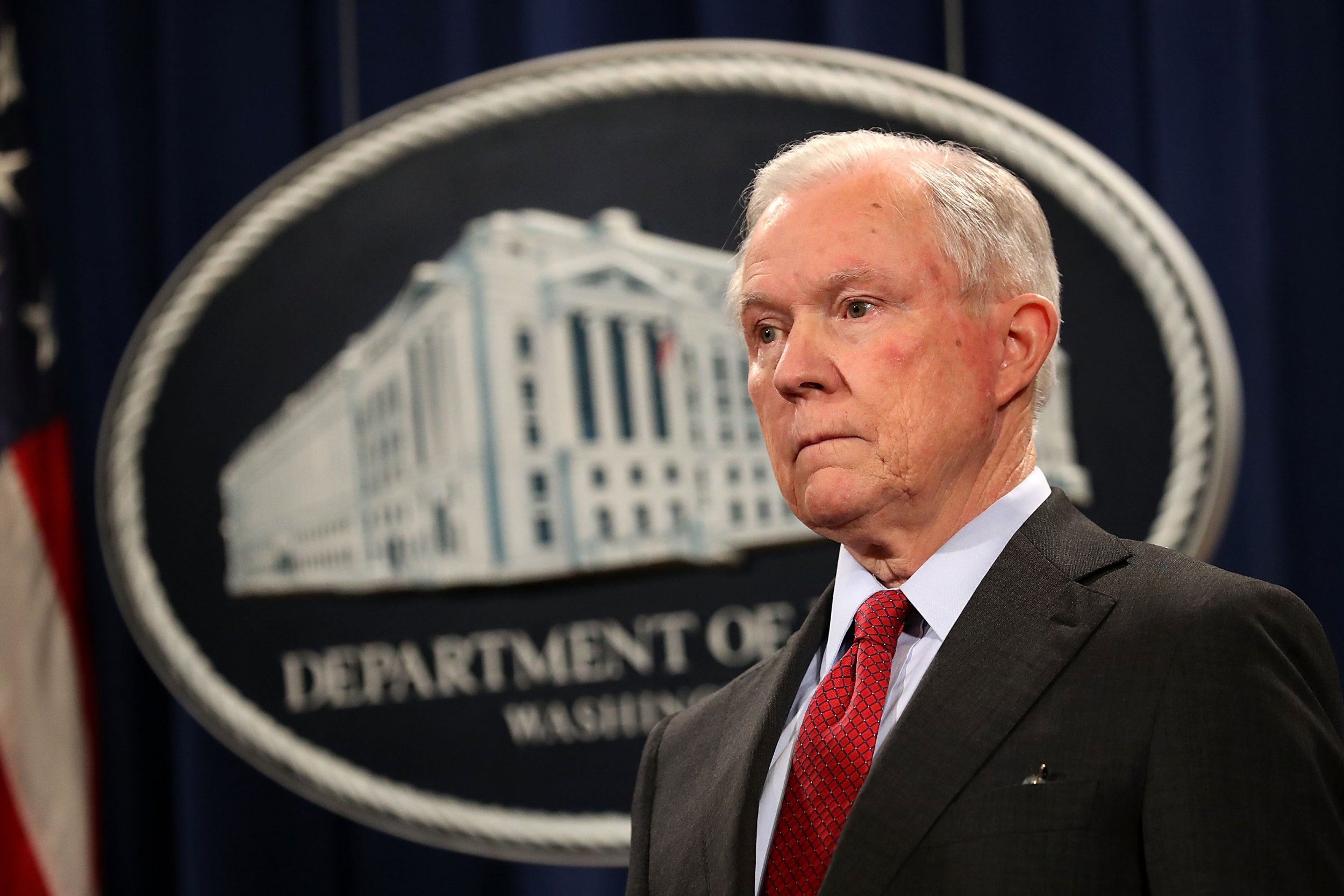 Attorney General Jeff Sessions was interviewed by the special counsel's team for several hours last week, making him the first member of President Donald Trump's Cabinet to face questioning in the Russian election-meddling probe, The New York Times reported Tuesday morning.
Sessions, whom the president has lambasted for recusing himself last March from the Russia investigation, was the highest-ranking administration official to face questioning from special counsel Robert Mueller's investigators.
It's unclear what Sessions said during the interview, but he has been a central figure in many of the Trump campaign and administration activities that are under investigation. Deputy Attorney General Rod Rosenstein told lawmakers in May that he and Sessions had discussed the possible firing of then-FBI Director James Comey before Sessions had been confirmed. The events surrounding Comey's firing have led to accusations of obstruction of justice against Trump.
And Sessions reportedly may have known about an effort by the campaign to get "dirt" on Hillary Clinton from Russia before the 2016 election, another element of Mueller's probe.
Sessions is not the first person close to Trump who has been summoned by the special counsel, whose investigation has already delved into the president's inner circle and family.
White House senior adviser and Trump son-in-law Jared Kushner was questioned by the special counsel's team in November, specifically about former national security adviser Michael Flynn. The ex-general is one of four people previously affiliated with the Trump campaign to face charges from the special counsel. Flynn is cooperating with the investigation, along with former campaign foreign policy adviser George Papadopoulos.
Former campaign manager Paul Manafort and campaign official Rick Gates were also indicted by the special counsel's grand jury, on money laundering and other charges.
Mueller's team has also questioned two former members of Trump's White House crew: ex-chief of staff Reince Priebus and former press secretary Sean Spicer.
During his almost daylong interview in October, Spicer was reportedly asked about Trump's firing of former FBI Director James Comey and the statements he made following Comey's dismissal, according to Politico. He was also questioned about Trump's May meeting with Russia Foreign Minister Sergey Lavrov and former Ambassador Sergey Kislyak in the Oval Office.
Priebus, too, was questioned in October, as was the current head of the National Security Council, former general Keith Kellogg.
In addition, long-time Trump aide and current White House communications director Hope Hicks was interviewed over two days last month. However, it's unclear what questions Hicks faced.
White House senior policy adviser Stephen Miller, who was previously an aide to Sessions, was questioned by Mueller's team about Comey's firing. Miller reportedly helped Trump draft a memo explaining why Comey was dismissed, but the memo was eventually pulled back by White House counsel Don McGahn.
McGahn himself was questioned by the special counsel's team in December, less than a day before charges against Flynn were filed, according to The Washington Post.
The next potential witness on Mueller's docket is former White House chief political strategist Steve Bannon. It is unclear when Bannon, who left the White House in August, will meet with Mueller's team.
An associate of Bannon's, George Nader, has also reportedly spoken with the special counsel's office in the last week.
Currently, two key officials have yet to meet with Mueller's team, and it's unclear if they will. Vice President Mike Pence, whom Flynn misled about his contact with Kislyak, has reportedly not been asked to meet with investigators, NBC News reported this month.
And Trump, so far, has not been questioned. Previously, the president said he would speak to the special counsel's team under oath, "100 percent," but reports have indicated his attorneys are unsure. They have pondered how much time Trump would face inquiries, as well as when and where, or if Trump could provide written responses.