Does Jeff Sessions Resignation Put Mueller Probe in Danger? Replacement Matthew Whitaker Said Investigation Should Be Limited
Attorney General Jeff Sessions resigned Wednesday at President Donald Trump's request, potentially setting the stage for Trump either to end or hamper the special counsel investigation of the Trump campaign and Russia's meddling in the 2016 election.
Sessions recused himself in March 2017 from any investigation into the 2016 election, putting Deputy Attorney General Rod Rosenstein in charge of special counsel Robert Mueller and the bulwark between the president and the investigation.
With Sessions now out, his acting replacement Matthew Whitaker is now expected to take over the probe from Rosenstein. As the head of the investigation, Rosenstein had the power to sign off on any charges brought by Mueller and determine whether the investigation's findings would reach the public in the form of a final report.
Whitaker has also publicly stated that Rosenstein should limit the scope of Mueller's investigation.
Newsweek subscription offers >
Following Sessions's recusal, Trump would repeatedly and publicly attack the attorney general for his action and claim he never would have appointed Sessions if he knew about a possible recusal.
And in the 18 months since Mueller's probe began, Trump had labeled it a "rigged witch hunt" drummed up by Democrats in an attempt to smear the president's administration and as an excuse for Hillary Clinton's loss in the 2016 presidential election.
Trump announced on Twitter that Sessions had stepped down and that the former Alabama lawmaker's chief of staff, Whitaker, would serve as the acting attorney general until a permanent selection could be made.
"We are pleased to announce that Matthew G. Whitaker, Chief of Staff to Attorney General Jeff Sessions at the Department of Justice, will become our new Acting Attorney General of the United States. He will serve our Country well," Trump tweeted. "We thank Attorney General Jeff Sessions for his service, and wish him well! A permanent replacement will be nominated at a later date."
Newsweek subscription offers >
In his resignation letter to the president, Sessions said he was "honored" to have served as the nation's top attorney and "worked to implement the law enforcement agenda based on the rule of law that formed a central part of your campaign for the presidency."
Sessions's departure from the administration was heavily speculated for months. Reports trickled out about Trump verbally thrashing his attorney general and even nicknaming him "Mr. Magoo."
The president had denied assigning the moniker to Sessions but would reinforce his frustration with Sessions over the Mueller probe.
Senate Republicans, like Lindsay Graham of South Carolina, and Democrats had previously warned the president of dismissing Sessions, lest he cause a constitutional crisis or another Watergate-level scandal like the one that occurred under President Richard Nixon in the early 1970s. But Graham and other Republicans had little to say about Wednesday's announcement.
Along with Sessions, Rosenstein's exit had also been long rumored but only after the midterm elections so as to avoid another scandal in the eyes of voters. Rosenstein was said to have offered to secretly record the president and possibly work to invoke the 25th Amendment to oust Trump from power, according to The New York Times in September.
Rosenstein denied the report but it was later viewed as sealing the former federal prosecutor's eventual departure.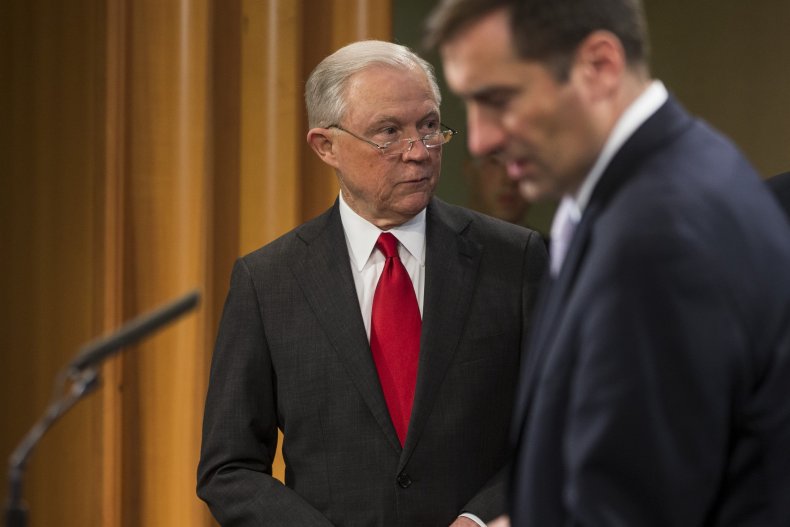 Does Jeff Sessions Resignation Put Mueller Probe in Danger? Replacement Matthew Whitaker Said Investigation Should Be Limited | U.S.