'Mueller Is Not Going to Be Stopped,' GOP Senator Vows
Republican Senator Cory Gardner of Colorado has vowed that special counsel Robert Mueller will "not be stopped" in his investigation into Russian meddling in the 2016 election and possible collusion between Moscow and President Donald Trump's campaign team.
Speaking with Meet the Press's Chuck Todd on Sunday, Gardner addressed fears that Mueller's ongoing probe could be at risk after Trump elevated Justice Department Chief of Staff Matthew Whitaker to acting attorney general, replacing the recently fired Jeff Sessions.
Asked by Todd whether he believed that a recent bipartisan measure proposed by Republican Senator Jeff Flake of Arizona and Democratic Senator Chris Coons of Delaware to protect Mueller's investigation was necessary, Gardner said that he was in "support" of the probe.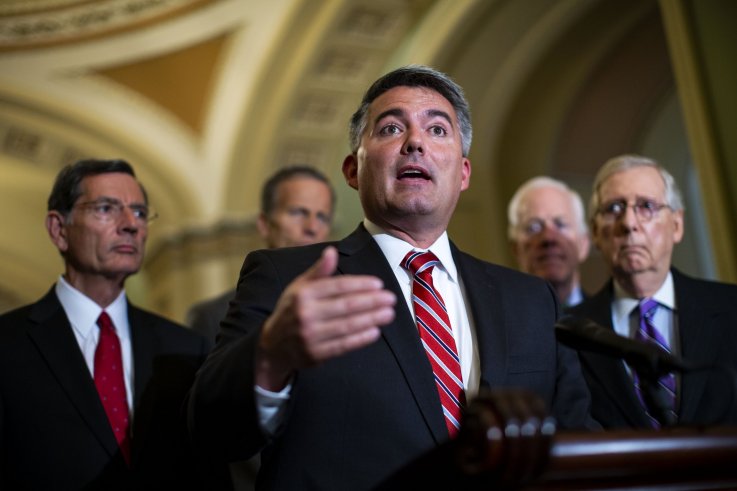 "It's important for the American people," Gardner said. "It's important that we have this for transparency. And I think it's important for the president to have this information out there fully, transparently and accurately. The president has said he wants to keep this investigation moving forward, and I believe that's the way–"
"Does it need protection legislatively, though?" Todd interjected. "Do you need to do that in the Senate?"
"This, Mueller is not going to be stopped," Gardner responded. "It's going to continue, and it should continue."
Todd pressed the Republican senator again, saying, "All right, but you didn't say whether it was necessary in the Senate."
While Gardner once again refrained from saying whether he believed a measure protecting the Mueller investigation was necessary, he repeated his assertion that the probe would "continue."
"I think it's going to continue," he said. "Why protect something that's actually continuing?"
Democratic senators have warned that the Trump administration's decision to elevate Whitaker could put Mueller's probe in grave danger, with the acting attorney general having oversight of the investigation, despite being vocal in his criticism of the probe in the past.
Read more: Integrity of Mueller investigation is in peril, says Nancy Pelosi
In an op-ed for CNN published on November 7, 2017, Whitaker called on Deputy Attorney General Rod Rosenstein to "limit the scope" of Mueller's investigation, accusing the special counsel of going "too far."
Leading Democrats, including House Democratic Leader Nancy Pelosi and Senate Minority Leader Chuck Schumer, have called on Whitaker to recuse himself from any involvement in the investigation, including its oversight over his past statements.
Speaking to CBS News's Margaret Brennan for the Face the Nation show in an interview that was filmed on Friday and aired on Sunday, Pelosi said there is bipartisan opposition to Whitaker's appointment.
"It does violence to the Constitution and the vision of our founders to appoint such a person in such a manner to be the chief legal officer in our country," Pelosi said. "And that's bipartisan."
The House Democratic leader said the acting attorney general "should recuse himself for any review of the investigation because of statements he has already made in the public domain."
Republican Senator Lindsey Graham has disagreed, however, telling Brennan on Sunday that he believes Whitaker was "appointed appropriately and legally."
Graham added that he was "confident" that Whitaker would not interfere with Mueller's investigation.
The special counsel has indicted a number of Russian nationals and firms over meddling in the 2016 election. The special counsel is also investigating whether anyone on Trump's campaign team collaborated with Russian nationals.