Mueller Probe Identifies Trump as 'Individual 1' in Latest Developments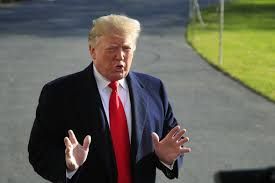 Ratcheting up the potential legal and political problems for President Donald Trump, investigators have now identified him as "Individual 1" in their probe of the possible role he played in conspiring with the Russian government during the 2016 presidential campaign.
The Washington Post reported that two major developments on Thursday indicated that Trump had communicated with his lawyer, "fixer" Michael Cohen, about business deals with Russia, and with Trump's adviser Roger Stone regarding Stone's efforts to obtain documents from WikiLeaks about its plans to release hacked Democratic emails. Special counsel Robert Mueller and his team of investigators revealed they had the evidence to support these two scenarios.
Furthermore, the investigators' documents show that both Cohen and Stone tried to conceal the extent of their activities.
Cohen pleaded guilty Thursday to having lied to Congress when he insisted that after January 2016 Trump had scuttled plans to build a Trump Tower in Moscow. Cohen's guilty plea shed new light on Trump, who had repeatedly maintained that he had no business interests in Russia.
Representative Adam Schiff, the incoming chairman of the House Intelligence Committee, called the plea "significant."
"It means that when the president was representing during the campaign that he had no business interests in Russia, that that wasn't true," Schiff told The Washington Post. "If the president and his associates were being untruthful in real time as they were pursuing this deal, what does it mean now about how much we can rely on what the president is saying about any continuing Russian financial interest?"
On Tuesday, "a draft special counsel document" disclosed that prosecutors were seeking more information about Stone allegedly seeking information from WikiLeaks.
Exactly how much trouble the president is in remains a question. But the Mueller team's new evidence finger-points increasingly at the president.
"It's deeply troubling," former federal prosecutor Glen Kopp told The Washington Post. It's not a place that anybody wants to be, or where you would want your friends or family to be. And it's certainly not a place that you would want your president to be."
Trump, or "Individual 1," was identified as such in Cohen's guilty plea. Cohen allegedly gave Trump direct updates until June 14, 2016, as Cohen pursued the Moscow Trump Tower project with the Kremlin.
The draft charging document also named Trump and Trump ally Jerome Corsi, accused of telling Stone about WikiLeaks' plan to release damaging Democratic emails, because he knew the two kept in touch. The Washington Post reported this week that after Corsi tipped him off, Trump spoke with Stone the next day about the mission.
The documents show that prosecutors wanted Corsi to plead guilty to lying about knowing about WikiLeaks' plans.
Trump's account of his Moscow business dealings included a July 2016 tweet he posted: "For the record, I have ZERO investments in Russia." A day later he claimed: "I have nothing to do with Russia."
Trump reinforced his story in January 2017, when he told a reporter: "I have no deals that could happen in Russia because we've stayed away."
For his part, Trump has turned on Cohen, calling him a "weak person" and "not very smart."
"He was convicted of various things unrelated to us," Trump has said. "He's a weak person, and what he's trying to do is get a reduced sentence. So he's lying about a project that everybody knew about. I mean, we were very open with it."
Frequent Trump defender and constitutional legal scholar Alan Dershowitz seemed to offer Trump some hope.
"This is politically damaging, but I'm not sure how legally damaging it is," Dershowitz told The Washington Post. "This is all about questionable political behavior. It's a good reason for people voting against Trump. But I don't see a crime yet."
But Trump biographer and critic Tim O'Brien, whom Trump had unsuccessfully sued at one time, said the new information revealed major new difficulties for Trump.
"This is part of the fact pattern that gets to the heart of whether there was collusion between the Trump campaign and the Kremlin during the campaign," O'Brien told The Washington Post. "I think the unforgiving grinding force of the U.S. justice system, which he has tried to undermine since he became president, is encircling him. I don't think we know where he will land. But he is certainly mired in something that he is ill-equipped, legally and personally, to handle."