Michael Flynn Sentencing Memo: Mueller Recommends No Prison Time After Ex-Trump Adviser Provided 'Substantial Assistance'
The office of special counsel Robert Mueller has recommended that former national security adviser Michael Flynn not face any jail time after committing a federal crime by lying to the FBI.
"Given the defendant's substantial assistance and other considerations set forth below, a sentence at the low end of the guideline range—including a sentence that does not impose a term of incarceration—is appropriate and warranted," Mueller's team wrote in a government memorandum filed on Tuesday evening.
The sentencing memo was expected to inflict some kind of punishment for Flynn's false statements to the FBI about his relationship with Russia while serving as a top official in the Trump administration. Flynn was only in his role at the White House for 24 days before he was forced to resign after pleading guilty to federal crimes. The filing described Flynn's transgressions as "serious," but added that his cooperation with Mueller's investigation is enough to eliminate going to prison.
"The defendant deserves credit for accepting responsibility in a timely fashion and substantially assisting the government," the filing reads.
Flynn admitted that he lied to investigators about his communication with then-Russian ambassador Sergey Kislyak during the Trump team's transition. After pleading guilty, Flynn became the first high-ranking Trump adviser to agree to cooperate with Mueller's probe into Russian election meddling and possible collusion between Russia and the Trump campaign.
The recommended sentence, or lack thereof, provided the federal judge overseeing Flynn's case with a description of how valuable he has been to Mueller's probe and comes just two weeks before the former adviser's December 18 sentencing date. Two other Mueller defendants who also pleaded guilty to making false statements, Alex van der Zwaan and George Papadopoulos, both had to serve prison time. Van der Zwaan received a 30-day sentence and Papadopoulos got a 14-day sentence.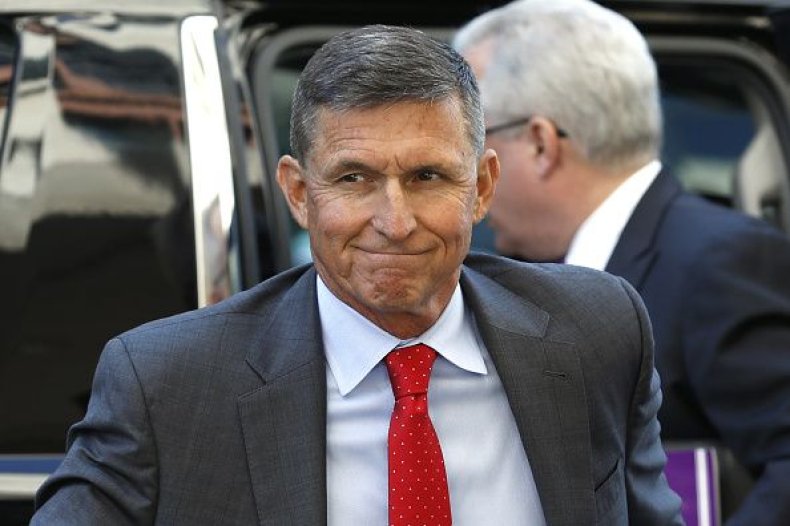 Flynn, a retired U.S. Army lieutenant general, had lied to federal investigators about serving as the messenger between members of the Trump campaign and Kislyak. Conversations between the NSA chief and the Russian ambassador were mainly focused on the easing of sanctions imposed on Russia by former President Barack Obama for election interference as well as influencing other foreign governments' votes on a United Nations resolution about Israeli settlements.
According to memos kept by former FBI Director James Comey, Trump allegedly tried to protect Flynn at the time, calling him a "good guy" and asking Comey to dismiss the investigation into Flynn's false statements.
The recommended sentence for Flynn is the latest development in Mueller's investigation, which has also been closing in on former Trump confidants Paul Manafort and Michael Cohen. The special counsel is reportedly gearing up to release similar memos on the two men later this week.
Cohen, Trump's former personal attorney, pleaded guilty last week to lying to Congress about the president's business dealings in Russia during the 2016 campaign. His admission came as part of a new plea agreement with Mueller and just four months after he had pleaded guilty to a slew of federal charges in August including bank fraud, tax evasion and campaign finance violations.
Cohen's plea agreement prompted Trump to attack his former attorney and Mueller in a series of tweets.
"Did you ever see an investigation more in search of a crime?" Trump tweeted last Thursday. "At the same time Mueller and the Angry Democrats aren't even looking at the atrocious, and perhaps subversive, crimes that were committed by Crooked Hillary Clinton and the Democrats. A total disgrace!"