Five Most Explosive Revelations From Mueller Report's Findings on Trump-Russia Investigation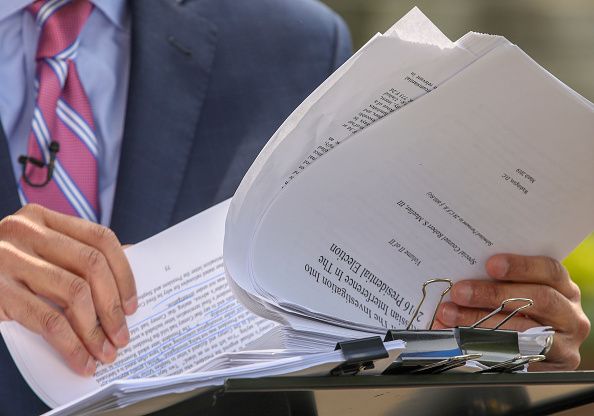 After weeks of anticipation, Attorney General William Barr on Thursday released special counsel Robert Mueller's final report, albeit a redacted version, on the nearly two-year Russian investigation.
The 448-page report detailed Russia's efforts to interfere in the 2016 presidential election to favor Trump. While the special counsel concluded that the Trump campaign did not conspire with the foreign power, it highlighted the conflicts within the White House and the president's misconduct throughout the investigation.
"Accordingly, while this report does not conclude that the President committed a crime, it also does not exonerate him," Mueller wrote.
Yet Trump continued to call the report and its findings a victory, announcing at a Wounded Warriors event at the White House that he was having a "good day."
"They're having a good day. I'm having a good day, too. It was called no collusion. No obstruction," he said, prompting cheers from the crowd. "There never was by the way and there never will be. And we do have to get to the bottom of these things I will say. This should've never happened."
But congressional Democrats remain outraged at Barr's performance on Thursday, accusing him of protecting the president rather than the rule of law. Many lawmakers are have called for the Justice Department to hand over the entire, unredacted document.
"Because Congress requires this material in order to perform our constitutionally mandated responsibilities, I will issue a subpoena for the full report and the underlying materials," Jerrold Nadler, chairman of the House Judiciary Committee, said in a statement.
In the meantime, here are some of the biggest revelations from the Mueller report.
Trump Tried to Fire Robert Mueller...Multiple Times
The president tried to remove Mueller from the position of special counsel only one month after he was appointed. According to the report, in June 2017 Trump called then-White House counsel Don McGahn (twice), directing him to order Deputy Attorney General Rod Rosenstein to fire Mueller.
McGahn said he did not carry out Trump's demand, despite feeling "trapped." The former White House counsel said he would rather resign that follow the order to fire Mueller. He had even packed up his desk and prepared to submit a letter of resignation.
Later, in early 2018, Trump again tried to have McGahn fire Mueller after news reports surfaced of the president's first request in 2017. Again, McGahn refused.
Mueller Suggests Congress Should Judge Obstruction Issue
Mueller did not take prosecutorial action over whether Trump obstructed justice throughout the 22-month probe, citing long-standing Justice Department policy not to indict a sitting president—a policy that does not apply to Congress.
In the report, Mueller wrote that his office "concluded that Congress has authority to prohibit a president's corrupt use of his authority in order to protect the integrity of the administration of justice."
Despite not charging the president, Mueller's report does not exonerate him. The special counsel wrote that if his team "had confidence after a thorough investigation of the facts that the President clearly did not commit obstruction of justice, we would so state."
Trump's Reaction to Robert Mueller's Special Counsel Appointment
"Oh my God. This is terrible. This is the end of my Presidency. I'm f***ed."
Those were President Donald Trump's words upon hearing about Mueller's appointment, according to the report. Trump had learned about Mueller's appointment from former Attorney General Jeff Sessions. Mueller also wrote that the president had "slumped back in his chair" when taking in the news.
Trump then asked Sessions how he could let this happen and "lambasted" his attorney general for recusing himself from the Russia investigation. After months of harassment and name-calling by the president, Sessions was fired the day after the 2018 midterm elections.
Trump Aides Denied Orders to Sabotage the Investigation
According to Mueller's report, Trump's efforts to obstruct the special counsel's inquiry mainly failed, largely because his aides refused to carry out orders to disrupt it.
"The President's efforts to influence the investigation were mostly unsuccessful, but that is largely because the persons who surrounded the President declined to carry out orders or accede to his requests," the report reads.
Some of the requests include asking former FBI Director James Comey to stop investigating Michael Flynn and ordering McGahn to remove Mueller. Former Trump campaign manager Corey Lewandowski also refused an order from Trump to deliver a message to Sessions saying he should try to limit the Mueller probe to only future election meddling.
Trump Campaign Figures Deleted Evidence Before Mueller Could See It
On page 10 of the report, Mueller's team detailed the efforts of members of Trump's 2016 campaign team to conceal communications from prosecutors.
Some people pleaded their Fifth Amendment right against self-incrimination when questioned by prosecutors. Other witnesses were "covered by legal privilege." Certain materials were located outside the U.S., which limited how much the special counsel's team could get its hands on.
"The investigation did not always yield admissible information or testimony, or a complete picture of the activities undertaken by subjects of the investigation," Mueller wrote. Investigators concluded that it could "not rule out the possibility that the unavailable information would shed additional light" on the findings.
Mueller also detailed how he and his team's investigation was at times hindered by the Trump campaign's deleting records of their communications.
"Further, the Office learned that some of the individuals we interviewed or whose conduct we investigated-including some associated with the Trump Campaign—deleted relevant communications or communicated during the relevant period using applications that feature encryption or that do not provide for long-term retention of data or communications records," the report reads.