Here Are The 10 Events Robert Mueller Investigated for Potential Obstruction of Justice Charges Against Donald Trump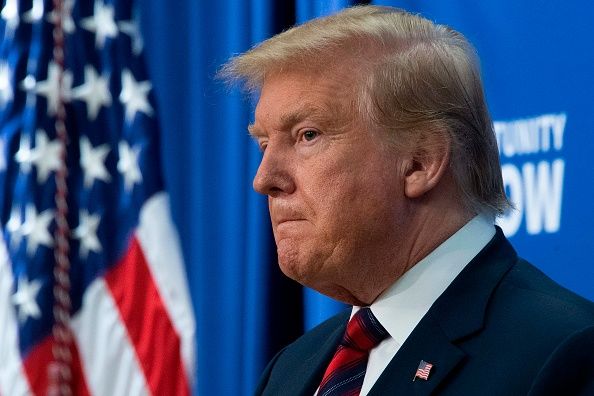 Special counsel Robert Mueller's detailed report on his nearly two-year probe into Russia election interference shows that while his office struggled to make a decision on whether President Donald Trump obstructed justice, it is in no way exonerating his behavior.
"The evidence we obtained about the President's actions and intent presents difficult issues that would need to be resolved if we were making a traditional prosecutorial judgement," the report reads. "At the same time, if we had confidence after a thorough investigation of the facts that the President clearly did not commit obstruction of justice, we would state so."
Specifically, Mueller and his team tried to determine the president's intent in his "public attacks on the investigation, non-public efforts to control it, and efforts in both public and private to encourage witnesses not to cooperate with the investigation."
The 448-page report, albeit a redacted version, was released by Attorney General William Barr on Thursday morning. The document was split into two binders, one of which discussed conspiracy and the other devoted to an assessment of obstruction of justice.
Although Mueller did not reach a conclusion "one way or the other" on whether Trump obstructed justice, Barr and Deputy Attorney General Rod Rosenstein determined that there was insufficient evidence to prove the president committed a criminal offense.
Barr's decision to make the final judgment on obstruction stunned some former federal prosecutors and left the public with more questions than answers regarding the president's conduct.
In his press conference on Thursday morning, just hours before the report's release, Barr said he hoped that Mueller's intent wasn't to leave the obstruction issue up to Congress.
The attorney general also told reporters that Mueller examined 10 episodes involving President Trump when trying to determine whether he obstructed justice. Barr then added that he and Rosenstein disagreed with some of the special counsel's "legal theories" involving obstruction of justice.
Further action on potential obstruction could be taken up by Congress, according to the special counsel. In his report, Mueller wrote that his office "concluded that Congress has authority to prohibit a president's corrupt use of his authority in order to protect the integrity of the administration of justice."
Here are the 10 events Mueller investigated for potential obstruction of justice charges:
The firing of FBI Director James Comey in May 2017. At the time he was dismissed, Comey was leading the bureau's probe of alleged links between the Trump campaign and Russia.
Trump's efforts to have former Attorney General Jeff Sessions take control of the Russia investigation. After Sessions recused himself, Trump expressed anger at the fact that Sessions was unwilling to "protect him" from the probe.
Trump's attempt to have Comey go easy on former national security adviser Michael Flynn, who had made false statements about his communications with Russian Ambassador Sergey Kislyak during the transition. The president had a one-on-one meeting with Comey during which he asked him to think about "letting Flynn go."
The campaign's response to Russia's outspoken support for then-candidate Trump. According to the report, Mueller focused on the campaign's reaction to Russia's involvement in the WikiLeaks release of damaging Democratic Party emails and the president's denying he had Russian business contacts.
Trump's attempts to remove the special counsel. Trump reacted to Mueller's appointment by telling advisers that it was "the end of his presidency," according to the report. Then, in June 2017, the president called White House Counsel Don McGahn at home and directed him to remove Mueller over conflicts of interest. McGahn refused.

Trump's efforts to "curtail" Mueller's investigation. The special counsel investigated several instances where Trump attempted to affect the course of the probe. In one instance, Trump told his former campaign manager Corey Lewandowski to tell Sessions to publicly say the investigation was "very unfair" to the president.
The president's efforts to "prevent public disclosure of evidence." Specifically, the special counsel took issue with Trump's attempt to mislead the media about Donald Trump Jr.'s June 9, 2016, meeting with a Russian lawyer at Manhattan's Trump Tower.
Trump's denial of having directed McGahn to remove the special counsel. When the press began reporting in early 2018 that the president had told McGahn to get rid of Mueller, Trump directed White House officials to tell McGahn to dispute the stories.
Trump's conduct toward Flynn and former campaign chairman Paul Manafort. When Flynn began cooperating with prosecutors, Trump's personal counsel asked Flynn's attorney for a "heads-up" if Flynn had damaging information on the president. Then, when Manafort was found guilty, Trump defended him as a "brave man" and declined to rule out a potential pardon.
Trump's attacks on his former personal attorney Michael Cohen. After Cohen implicated Trump in campaign finance crimes and began cooperating with Mueller, the president publicly attacked him as a "rat" and a fraud.