Mueller Reveals Secret Authorization to Go After Paul Manafort
Special Counsel Robert Mueller was secretly given the go-ahead to investigate allegations former Trump campaign chairman Paul Manafort worked with Russia to interfere in the 2016 election and also committed financial crimes.
In a memo dated August 2, 2017, Deputy Attorney General Rod Rosenstein wrote Mueller was free to go after Manafort on allegations he worked with the Kremlin to interfere in the election "in violation of United States law."
Mueller was also authorized to examine "a crime or crimes arising out of payments [Manafort] received from the Ukrainian government before and during the tenure of President Viktor Yanukovych."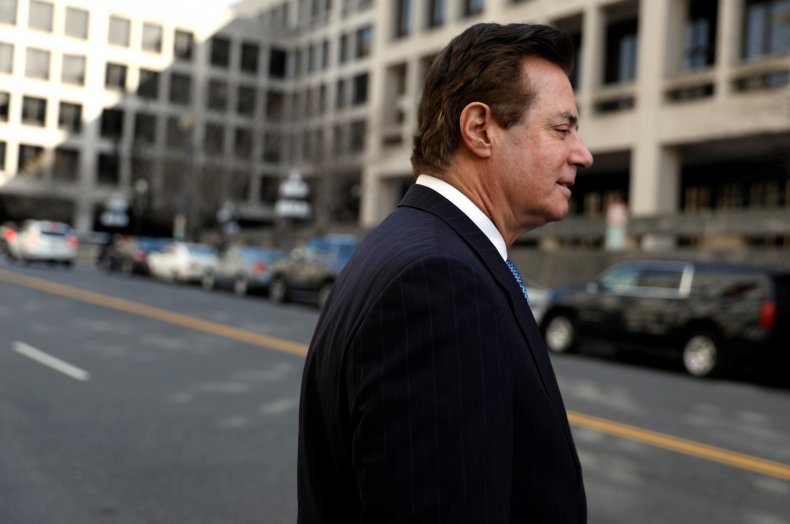 The redacted, previously classified document leaves space for other specific tasks for the Mueller investigation and was drawn up as an addition to the public authorization of the special counsel's broad remit to investigate Russian election interference last May.
"The May 17, 2017 order was worded categorically in order to permit its public release without confirming specific investigations involving specific individuals," Rosenstein's memo states.
The memo was released at the end of 282 pages of court documents filed by the special counsel's team on Monday. The documents argue against Manafort's claims a series of indictments against him should be dismissed because they concern matters outside the special counsel's authority.
Last October Manafort and his business partner Rick Gates, a former Trump campaign aide, were indicted on multiple charges including laundering $30 million, tax avoidance and corruption in connection with work they did for a political party in Ukraine. Manafort has pleaded not guilty.
Early this year, Gates pleaded guilty to lesser charges, including fraud and lying to investigators, in exchange for agreeing to assist Mueller's investigation. Since then, nearly two dozen charges against him have been dropped.
Read more: Mueller tells court Paul Manafort partner Rick Gates knew they were dealing with ex-Russian intelligence agent
Manafort argues the case against him should be dismissed. Rosenstein has been overseeing the investigation after Attorney General Jeff Sessions stepped away from it last year because he worked on the Trump campaign.
Manafort makes similar arguments in a civil suit against the Department of Justice (DOJ) that he filed in January. In that case, Manafort argues Mueller's appointment violated the law. The DOJ is seeking to have the suit dismissed.
President Donald Trump has denied "collusion" between his campaign and the Kremlin. Trump's former top Russia investigation defense lawyer, John Dowd, called for Mueller's investigation to be shut down late last month. Trump has repeatedly called the investigation a "witch hunt" and has begun attacking Mueller by name on Twitter.
In early January 2017 American intelligence agencies issued a report that found Russian intelligence was involved in hacking U.S. political parties and conducting a coordinated misinformation campaign targeting the 2016 election.
The Mueller investigation has so far resulted in guilty pleas from several former Trump campaign and administration officials, including Trump's former National Security Adviser Michael Flynn and Trump campaign foreign policy adviser George Papadopoulos.
In total, the investigation has brought criminal charges against 19 people. Thirteen of those are Russian nationals who it claims waged "information warfare" against the U.S. during the election.