As Mueller Meets Skeptical GOP on Capitol Hill, Majority of Republicans Now Think Russia Probe Was Fair, Poll Says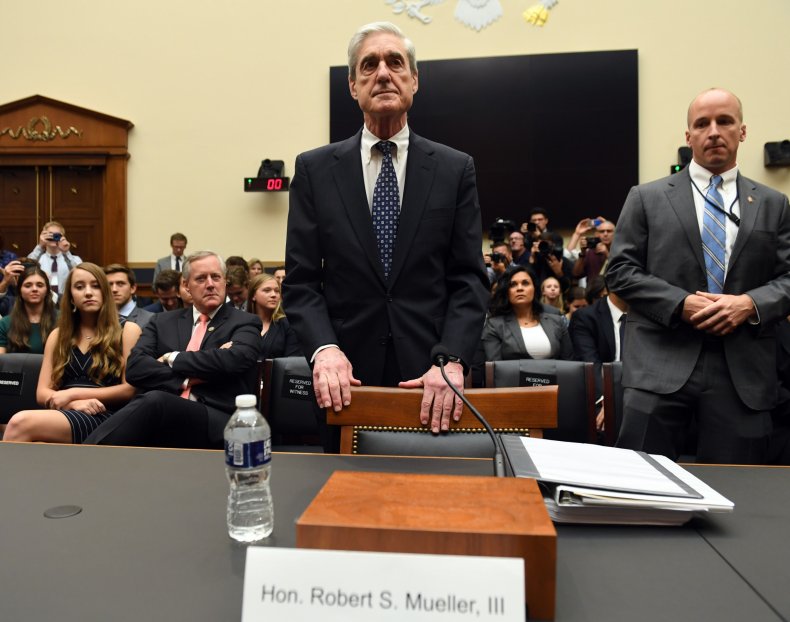 As former special counsel Robert S. Mueller III testifies on Capitol Hill in his first public hearings since his appointment in May 2017, a new poll has found that, for the first time, the majority of the Republican Party now has confidence in the fairness of the Russia probe that he led for 22 months.
According to a poll from the Pew Research Center, 65 percent of U.S. adult respondents said they believed Mueller conducted a fair investigation, and 60 percent of Republican respondents also reached the same conclusion, the first time a majority of the party has ever had confidence in the Russia probe.
Mueller was chosen to helm the FBI's nascent Russia investigation after the firing of then-FBI director James Comey. In his mandate appointing the special counsel, then-Deputy Attorney General Rod Rosenstein charged Mueller with investigating Russian interference, allegations that President Donald Trump or his campaign were involved in those efforts and any other matter directly arising from the probe itself.
Newsweek subscription offers >
July marks the first time Pew has polled attitudes about the Mueller investigation since its completion in March of this year. As recently as January, only 39 percent of Republicans had faith in the integrity of the probe. Republican attitudes about the investigation have fluctuated notably more than Democratic attitudes, which have remained relatively consistent over the course of the nearly two-years-long investigation.
At its peak, Democratic support for the investigation reached a high of 76 percent in September 2018, up from a low of 68 percent from December 2017. Republican faith in the investigation reached its peak in the July survey, surging upward from a low of 33 percent in September 2018. The historic confidence within the Republican Party in Mueller's investigation appears to be connected to the probe's conclusion.
The near supermajority of public support, and overwhelming support within both parties, for the Russia probe may likewise be a result of differing public interpretations of Mueller's findings. In an April survey conducted by ABC News and The Washington Post after the release of the full report, 87 percent of Democrats thought that the investigation did not clear President Donald Trump of all wrongdoing. By contrast, only one quarter of Republicans shared this belief. That survey also measured similar confidence in the probe's fairness across party lines.
Moreover, the April survey found that 77 percent of Republicans did not see any act that constituted obstruction of justice in the report, a conclusion predicated on Attorney General William Barr's pre-report summary that purported to clear Trump of wrongdoing on this charge, despite Mueller's actual findings that this question could not be adequately investigated. Eighty percent of Democrats thought the president committed obstruction of justice during the course of the Russia investigation.
Newsweek subscription offers >
Where voters differ, according to the Pew survey, is in their attitudes about ongoing efforts to stymie future Russian interference in U.S. elections. About half of U.S. adults said they thought the Trump administration is undertaking a serious effort to prevent Russian election interference, slightly higher than in March of last year. Republicans are firmly united on this point, with an 81-percent majority expressing confidence in the Trump administration's election defense efforts.
Democrats, on the other hand, expressed only a modicum of confidence in the Trump administration on this issue. 15 percent of Democrats think the Trump administration is serious about blocking future interference, relatively unchanged since last year.
As Mueller Meets Skeptical GOP on Capitol Hill, Majority of Republicans Now Think Russia Probe Was Fair, Poll Says | Politics