Mueller Tells Court Paul Manafort Partner Rick Gates Knew They Were Dealing With ex-Russian Intelligence Agent
In a court filing Tuesday night special counsel Robert Mueller alleges Rick Gates, a close associate of former Trump campaign chairman Paul Manafort, knew the two were working with a former Russian intelligence officer during the 2016 election.
The FBI has determined the former officer continued to have ties to Russian intelligence in 2016 and worked with Gates and Manafort in September and October that year. It is not clear whether the two men knew this.
Mueller's team made the revelation in a sentencing document against lawyer Alex van der Zwaan, who pleaded guilty in February to lying to investigators in the Russia probe. The investigation is examining whether the Trump campaign assisted the Kremlin's interference in the 2016 election.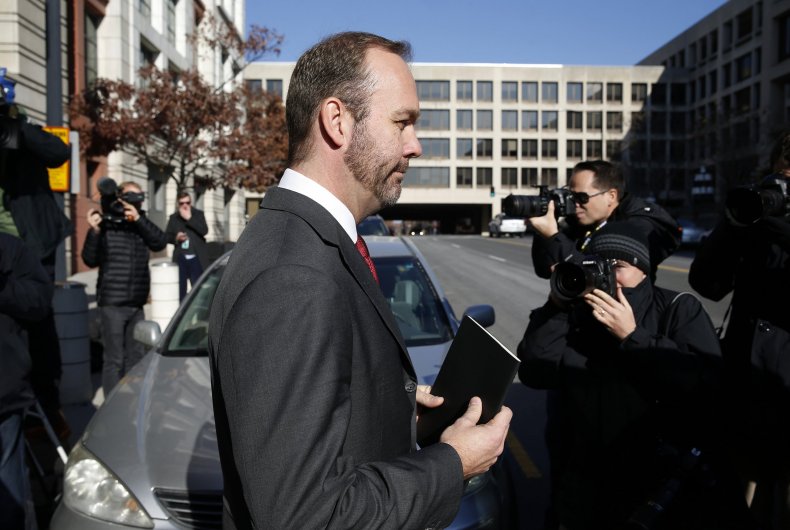 Gates continued to work on the Trump campaign after Manafort stepped down amid allegations of fraud over his political work in Ukraine in August 2016. Manafort and Trump continued to stay in touch, according to reports.
During an interview with Mueller's investigators last November, van der Zwaan "deliberately and repeatedly lied" about his communications with Gates the filing said, even when he "was expressly warned by the government that it is a crime to lie to the Special Counsel's Office."
One of those lies, the filing alleges, was about the former Russian military intelligence directorate (GRU) agent, identified in the document as "Person A." This unnamed person worked in Ukraine for Manafort's company Davis Manafort International on its lobbying work for the government and lived in Kiev and Moscow until mid-August 2016.
Read more: Rick Gates is Mueller's "bitch" in Trump-Russia probe, former Ken Starr deputy says
During his first interview with Mueller's team, van der Zwaan said "Gates told him Person A was a former Russian Intelligence Officer with the GRU," the filing states.
It accuses van der Zwaan of lying about "his communications with Gates, his communications with a Ukrainian business associate of Manafort and Gates (Person A), and his failure to produce an email between himself and the Ukrainian business associate—all important matters in the investigation." It also accuses him of deliberately destroying documents.
In February, Gates pleaded guilty to fraud and lying to investigators and agreed to work with the special counsel's investigation. Mueller then dropped nearly two dozen fraud charges against him. Both Gates and Manafort were first indicted last October on charges they laundered $30 million.
Gates "saw everything" inside the Trump campaign, a Republican consultant who worked with him on the campaign told Politico Monday, calling Gates among the "top five" insiders who could benefit Mueller's investigation.
Working for the international law firm Skadden, Arps, Slate, Meagher & Flom, van der Zwaan assisted Gates on a report about the trial of Ukraine's former Prime Minister Yulia Tymoshenko for a Ukrainian political group.
A 30-page sentencing memorandum van der Zwaan's lawyer filed Tuesday asks the judge for leniency and no jail time when he is sentenced on April 3. It states that if he is jailed he may miss the birth of his first child in London and asks that he pay an "appropriate fine." He could face as many as six months in jail.
The filing by Mueller's team makes no recommendation on how van der Zwaan should be sentenced, but argues that he is a trained, experienced lawyer who repeatedly sought to deceive investigators.