Mueller Tells Trump Witness to Hand Over Communications About Top Campaign Officials
Through a grand jury, special counsel Robert Mueller's investigation has issued a subpoena targeting communications and documents concerning members of Donald Trump's inner circle and the president himself, according to reports.
In a subpoena issued to one witness in the investigation last month, Mueller sought all communications—including telephone logs, emails, text messages and handwritten notes—concerning nearly a dozen Trump aides and advisers, according to the document, reviewed by both Axios and NBC News.
The document targeted any communications about Trump as well as the various former heads of Trump's campaign throughout the election, including Paul Manafort, Steve Bannon and Corey Lewandowski, stretching back to November 1, 2015.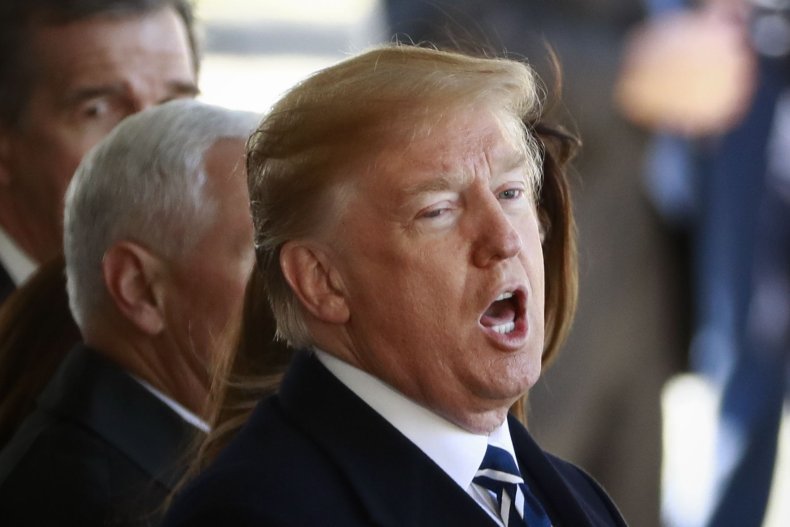 It also targets communications from the same period about Trump's personal lawyer Michael Cohen, Trump's longtime communications aide Hope Hicks, adviser Roger Stone and personal bodyguard Keith Schiller.
Mueller is also looking for communications about Rick Gates, who worked on the Trump campaign. Gates was indicted along with Manafort last October on charges of tax dodging and money laundering. Gates pleaded guilty last month to a lesser charge of lying to investigators and agreed to cooperate with Mueller's team. Nearly two dozen charges against Gates have since been dropped.
The special counsel is conducting a wide-ranging probe into whether the Trump campaign assisted the Kremlin's efforts to influence the 2016 election in its favor. The investigation also is examining if Trump attempted to stymie a law enforcement inquiry of the issue.
Last month, Mueller charged 13 Russians for waging "information warfare" on the U.S. through a misinformation campaign during the election.
In an interview on NBC News's Meet the Press on Sunday, Russian President Vladimir Putin denied that Russia interfered in the election and said he would "never, never" extradite the accused Russians.
Read more: Mueller asking about Trump's Russia business deals and Miss Universe Pageant
Over the past week, reports have emerged citing sources familiar with witness interviews conducted by Mueller's investigators.
According to those reports, witnesses are being asked about Trump's Russia ties, efforts to build a Trump Tower in Moscow and why two separate deals there fell apart. They are also asking about potentially damaging information Russia might have on the president stemming from his visit to Moscow to promote the 2013 Miss Universe beauty pageant.
Mueller also is reportedly looking at whether Trump's son-in-law and senior White House adviser Jared Kushner's business dealings are impacting the administration's policies. Witnesses are being asked about what Trump knew of the timing and pending release of emails alleged to have been hacked by Russian intelligence from the Democratic party and Hillary Clinton's campaign that were distributed by WikiLeaks.
Trump has repeatedly called the investigation a politically motivated "witch hunt" and "hoax."
It was reported last December that Mueller had also obtained a wide range of documents from Trump's transition team.
The most recent subpoena was not a surprise to those familiar with national security investigations.
"This encompasses major players that any reasonable prosecutor would be looking into in the regular and diligent course of the investigation," tweeted national security lawyer Bradley Moss in response to the subpoena for documents, calling it "interesting but not really shocking."
"This is entirely expected in terms of the scope of these subpoenas," he wrote.
Ned Price, a former CIA officer and special assistant to former President Barack Obama, observed that the subpoena concerns "with just a few exceptions" Trump's senior campaign team over the course of the election.
Mueller's investigation, Price tweeted, "is treating it like a criminal enterprise."