Mueller Testimony Live Stream: Watch Special Counsel Answer Questions Before Congress
Russia probe special counsel Robert Mueller will testify before Congress on Wednesday, nearly three months after a redacted version of his report was released finding no collusion but not exonerating President Donald Trump of obstruction of justice.
Mueller will answer questions for the first time before the House Judiciary Committee starting at 8:30 a.m. EDT for three hours. The former special counsel will will then testify before the House Intelligence Committee beginning at 12 p.m. EDT for two hours.
How To Watch Robert Mueller Testimony Online
His testimony will be broadcast by ABC, CNN, MSNBC, NBC, Fox News and C-SPAN. Here is a live stream courtesy ABC News:
The Judiciary Committee testimony will focus on obstruction of justice. Mueller looked at 10 instances in which Trump could have obstructed justice, including the president's decision to fire then-FBI Director James Comey, his efforts to get then- Attorney general Jeff Sessions to un-recuse himself from overseeing the probe, and his order to then-White House counsel Dan McGahn to have Mueller fired. Though Mueller did not charge Trump with obstruction of justice, he stated in his report that Trump's actions were "designed to cover up a conspiracy between the Trump campaign and Russia."
Meanwhile, the Intelligence Committee testimony will focus on Russian interference in the 2016 presidential election and if Trump campaign members participated. Mueller found that Russia interfered with the election by spreading information on social media that would help Trump and hurt his opponent Hillary Clinton, and by hacking Democrats' emails and sending them to WikiLeaks. But "Ultimately, the investigation did not establish that the Campaign coordinated or conspired with the Russian government in its election-interference activities," Mueller's report states.
What Has Mueller Said So Far?
Less than two months ago in May, Mueller spoke about his report in a Department of Justice press conference. He said "any testimony from this office would not go beyond our report," and, "I hope and expect this to be the only time that I will speak about this matter."
However, House Democrats in June subpoenaed Mueller, who did not want to testify, and made a deal for him to appear.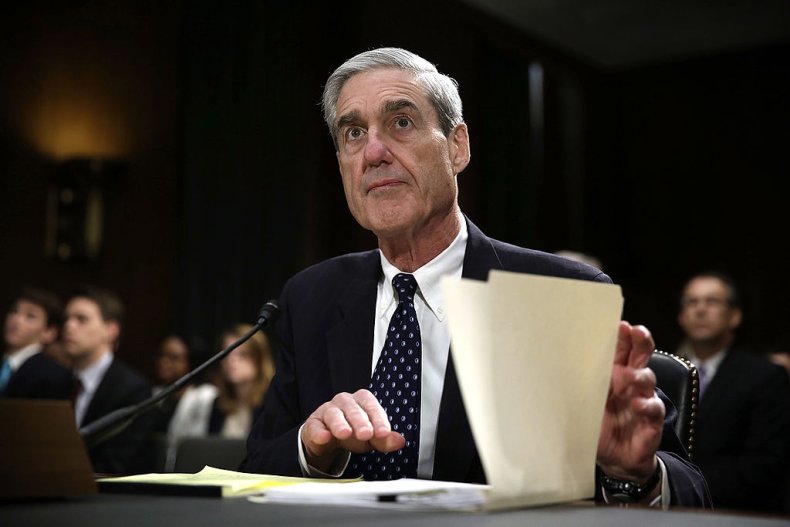 How Will Republicans Respond To Mueller?
Republicans will likely interrogate Mueller on alleged bias within his team of federal prosecutors, including then-FBI agent Peter Strzok and his lover attorney Lisa Page, who texted anti-Trump messages to each other during the Clinton emails probe.
Trump on Friday told reporters he did not plan to watch Mueller's testimony, but in the days following continued to bash and complain about it on Twitter.
"Highly conflicted Robert Mueller should not be given another bite at the apple. In the end it will be bad for him and the phony Democrats in Congress who have done nothing but waste time on this ridiculous Witch Hunt," Trump tweeted Monday morning. "Result of the Mueller Report, NO COLLUSION, NO OBSTRUCTION!"
The president also tweeted, "But the questions should be asked, why were all of Clinton's people given immunity, and why were the text messages of Peter S and his lover, Lisa Page, deleted and destroyed right after they left Mueller, and after we requested them(this is Illegal)?"
According to a CNN poll, only three percent of American adults had read Mueller's entire 448-page report as of early May.
On Monday night, he quoted Fox Business Network host Trish Regan as saying, "I completely read the entire Mueller Report, and do you know what I concluded after reading both Volume 1 and Volume 2? There is no there there. NO THERE THERE! We completely wasted everybody's time and taxpayer's money."