Mueller Sees Cooperation of Witness to Erik Prince Meeting With Russian Government Banker
Updated | A Lebanese-American businessman who witnessed a meeting between a Trump adviser and a Russian investor is cooperating with special counsel Robert Mueller for his investigation into the Trump campaign, according to a New York Times report.
George Nader, a top adviser to the United Arab Emirates, gave testimony to a grand jury convened in Mueller's investigation of the Trump campaign last week, two sources told The Times Tuesday.
Nader was witness to the January 2017 meeting between American businessman and unofficial Trump adviser Erik Prince and Kirill Dmitriev, a Russian investor close to Russian President Vladimir Putin and CEO of the Kremlin's Russian Direct Investment Fund. The meeting took place in the Seychelles islands after Nader introduced the two men to each other.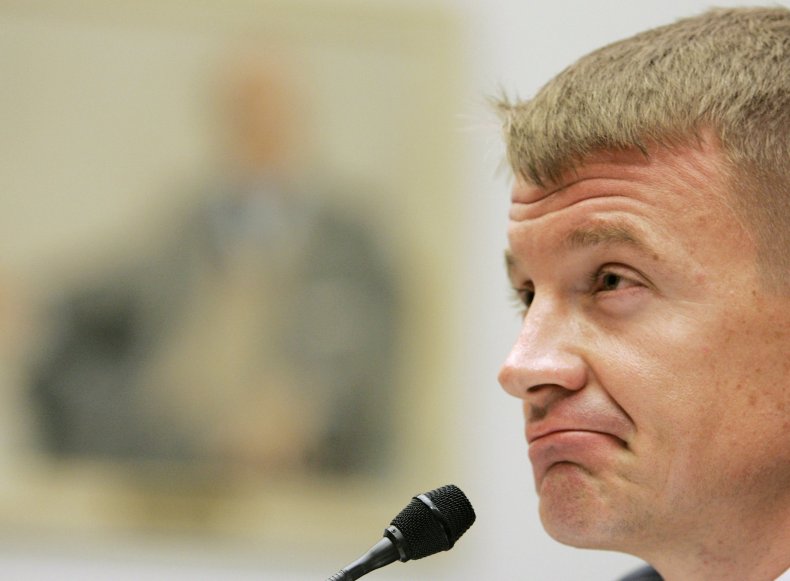 According to The Times, the meeting was convened by UAE Crown Prince Mohammed bin Zayed Al-Nahyan, who Nader advises.
U.S., European and Arab officials told The Washington Post last April that the meeting was part of an effort to set up back-channel communications between the Kremlin and then President-elect Donald Trump.
Mueller is investigating whether the Trump campaign aided Moscow's interference in the 2016 election. Last month the special counsel indicted 13 Russians for operating a campaign of "information warfare" against the U.S. stretching back to 2014.
During an interview with the House Intelligence Committee last November, Prince confirmed that he met with Dmitriev in the Seychelles and that the two discussed U.S.-Russia relations, including trade. Prince denied representing the Trump campaign and incoming administration during the meeting, which he characterized as a chance encounter over a beer that lasted no more than 30 minutes.
Read more: Erik Prince told Russian banker that Trump and Putin should be like Roosevelt and Stalin
Prince was interviewed as as part of several ongoing congressional investigations into the matter of Russian election interference.
Nader is also a former consultant for Prince's firm Blackwater, which controversially provided mercenaries to the U.S. during the Iraq War. Some assets from the now defunct firm were bought in 2010 by the security company Academi.
Although Prince had no official role in the Trump transition team, The Intercept—citing a former senior U.S. official that advised the transition—reported in January 2017 that he had weighed in on Defense and State Department candidates and provided advice on intelligence and defense. Prince visited the transition team's New York City office in December 2016.
Prince is the brother of Trump's Secretary of Education Betsy DeVos and contributed $100,000 during the election to a Political Action Committee run by Rebekah Mercer. Her family played a large role in former White House advisor Steve Bannon becoming head of the Trump campaign in August 2016.
The meeting between Prince and Dmitriev was originally probed by the FBI as part of its investigation of the Trump campaign's Russia ties before Trump fired former FBI Director James Comey in May 2017.
Correction: This article has been updated to clarify the relationship between Blackwater and Academi.