Mufasa the Lion Has Face and Paws Chopped Off, 4 Other Lions Poisoned
Poachers in South Africa have been described as "monsters" for killing five lions and brutally hacking the paws and face of one of the animals.
Bronwyn Moss, manager of Akwaaba Predator Park in Limpopo, said the park's farm manager discovered the dead lions after being alerted by security guards who appear to have scared off the poachers.
She said that the manager "saw a lot of blood in the one cage and found that the one lion's two front feet and face were chopped off." The mutilated lion was called Mufasa, named after the father in Disney's the Lion King.
"We suspect that the lions were all poisoned at the same time, but the poachers were disturbed by the security guards before they could get to the other lions," Moss told to The Citizen.
"We are devastated that this could happen on our doorstep and that our babies were killed for nothing. The poachers murdered five and only got parts from one. What an absolute waste of life," she added.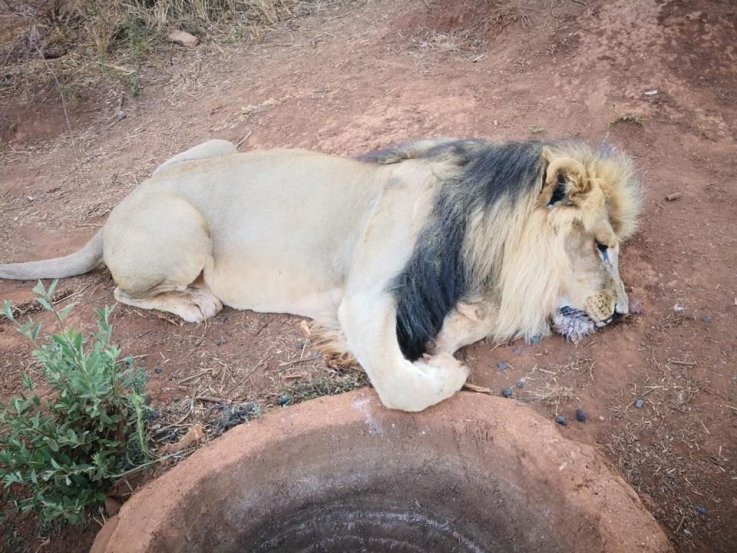 Workers believed poachers were planning to mutilate all of the big cats and use their body parts for traditional medicine rituals, or sell them to a trophy collector.
A similar attack occurred nearby only three months ago. In July, six lions were poisoned and mutilated for parts used in traditional medicine rituals at the nearby Mystic Monkeys & Feathers Wildlife Park in Pretoria.
"The poachers could have been after the parts to make traditional medicine or they could have been harvesting them for a trophy collector. We hope to get to the bottom of it soon," Moss added.
Akwaaba is a 72-hectare game farm for wild animals including big cats that have been abandoned or abused. Many of the animals have been hand reared from a very young age and so tourists are able to pet them
Distressing images of the lions were posted on the park's Facebook page. The park is offering a reward of 100,000 rand ($6,700) for information that leads to a conviction.
The post read: "Tragedy struck last night at our park. We lost five lions to murderers. That is what they are, they killed our babies. Our hearts are broken.
"Please help us, let's stand together and find these monsters."
Meanwhile, London will host a global summit this month on tackling the illegal wildlife trade. Dominic Jermey, director general of the Zoological Society of London, has called for an international response to wildlife crime.
"The annihilation of wildlife by organized criminal gangs is violent, bloody, corrupt and insidious," he told The Guardian.
Mufasa the Lion Has Face and Paws Chopped Off, 4 Other Lions Poisoned | World