Muffins and Mini Muffins Sold at Walmart, 7-Eleven Recalled for Listeria
The manufacturer of muffins and mini-muffin brands sold at Walmart, 7-Eleven and elsewhere has recalled several flavors of its products as of Monday, after possible listeria contamination.
Give and Go Prepared Foods Corp issued a voluntary recall for its blueberry, strawberry, banana nut, chocolate and corn muffins and mini-muffins, which are sold in multiple national chains under several brand names. The company said via their Food and Drug Administration (FDA) recall statement that they were issuing the recall because of the muffins' possible contamination by Listeria monocytogenes, "an organism which can cause serious and sometimes fatal infections in young children, frail or elderly people, and others with weakened immune systems."
Although most healthy people would only have short-term, non-fatal symptoms if infected, "Listeria infection can cause miscarriages and stillbirths among pregnant women."
Walmart brands affected by the recall include Freshness Guaranteed, Great Value, and Marketside. Other brands affected are 7-Eleven Selects, Stop & Shop brand mini muffins, Uncle Wally's, and The Worthy Crumb.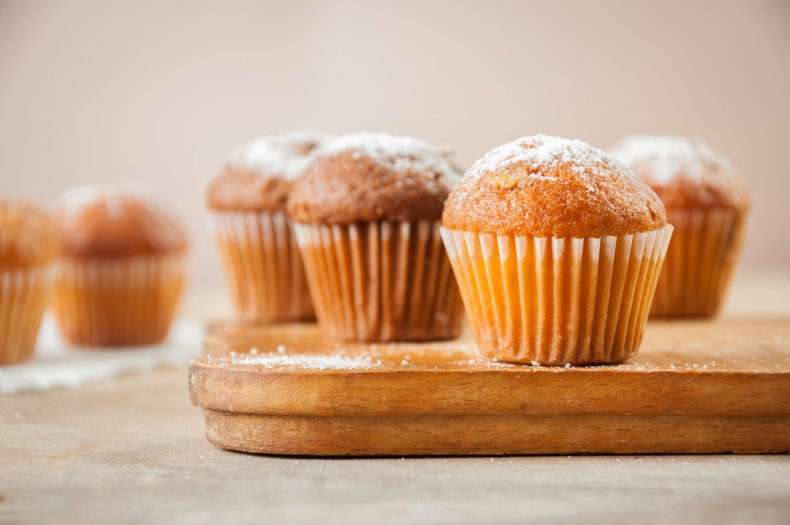 Only the muffin and mini muffin products listed on the FDA recall notice are affected, not all products made by the brands. Only products in the U.S. are included in the recall.
If you think you may have one of these recalled products, Give and Go Prepared Foods Corp says you should make a note of the lot code listed on the label, so you can verify if it's one of the recalled products and provide it if you contact them. They recommend you dispose of any affected muffins.
Give and Go says the company "became aware of this issue as part of our environmental monitoring program." Newsweek reached out to a company spokesperson to find out the source of the possible listeria contamination but did not immediately hear back.
Listeria infects about 1600 Americans every year, and kills roughly 260, according to the CDC. In healthy adults, short-term symptoms that will resolve include high fever, severe headache, stiffness, nausea, abdominal pain and diarrhea.
"Pregnant women are ten times more likely than other people to get Listeria infection," says the CDC. Fetuses and newborn babies are also at heightened risk of serious illness or death due to listeria infection.
Other grocery food recalls issued by the FDA this month include dried apricots from Backroad Country for undeclared sulfites, salad greens from BrightFarms for salmonella, kimchi products from 5000 Years Foods, Inc. for potential listeria contamination, and packaged chicken salad sandwiches from Circle K, also for possible listeria contamination.