Mugger Unknowingly Uses Rare Nazi Handgun Worth $28,000 to Rob Victims, Gets Arrested
Police in Colombia have seized a handgun believed to date back to World War II from a suspected thief.
The man was carrying a Luger P08 Parabellum pistol—a weapon favored by Nazi officers—when he was detained by officers in the coastal city of Cartagena.
Alex Yesid Álvarez Pérez, 21, is accused of using the weapon, valued at around $28,000, during the attempted robbery of a woman's cellphone.
He was charged with trafficking, manufacturing and carrying firearms, parts or ammunition.
The suspect was apparently unaware that the firearm was a collector's item worth far more than any cellphone.
Pérez was shown in a photo released by the police, flanked by officers and with the weapon propped up on a table.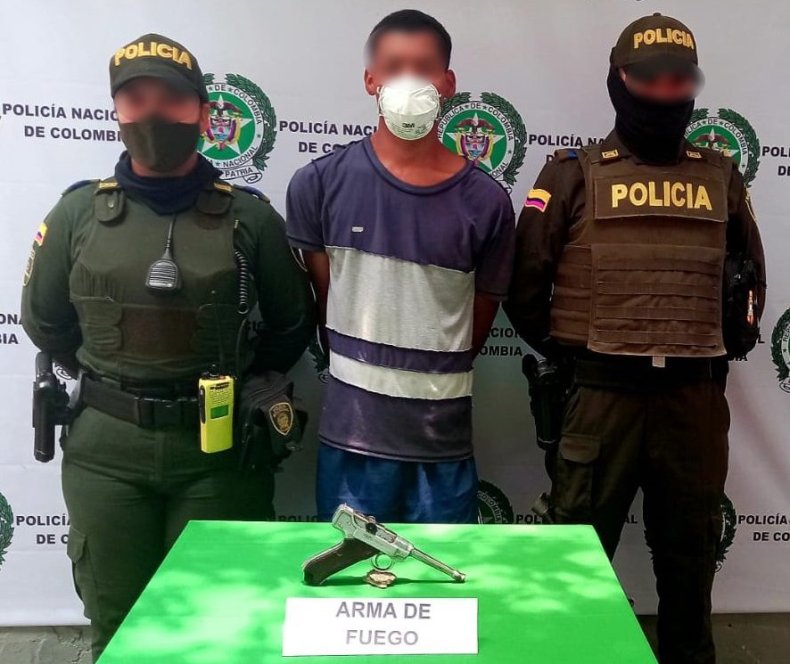 Colombia's national police force tweeted that Pérez was detained in the El Milagro neighborhood of Cartagena, a city popular with tourists. "The weapon is valued at 100 million pesos [$27,700]," the force said.
Local media reported that the pistol was still in good condition despite its age. The suspect has yet to comment on how he came to acquire it and police suspect he may have taken it during another robbery.
Luger pistols are one of the 20th century's best-known weapons. The P08 pistol was a mainstay for a host of armies during World War I and later became infamous for its use by Nazi officers during the early years of World War II. By 1942, however, production had ceased and the P08s were largely replaced by later-generation Luger P38 pistols.
The Parabellum name is borrowed from the Latin phrase "Si vis pacem, para bellum"—meaning "If you want peace, prepare for war."
This is not the first Luger P08 found by police in Cartagena. In July 2018, officers arrested two men armed with an even older Luger, thought to date from 1900. The pair were planning to use the antique firearm to rob a store, according to reports.
Earlier this week, police in the city announced that they had seized 494 kilograms of cocaine stored inside a boat that was apparently bound for Europe.
Safety in Cartagena has improved markedly in recent years, but petty crime and drug smuggling remain a problem.
The U.S. State Department says violent crime in Colombia, including armed robbery, is "common." However, most vacations to the country pass without incident.
About 4.5 million tourists visited Colombia in 2019, many of them Americans. Cartagena is particularly popular thanks to its position on the Caribbean coast, preserved 16th-century center and proximity to islands and beaches.