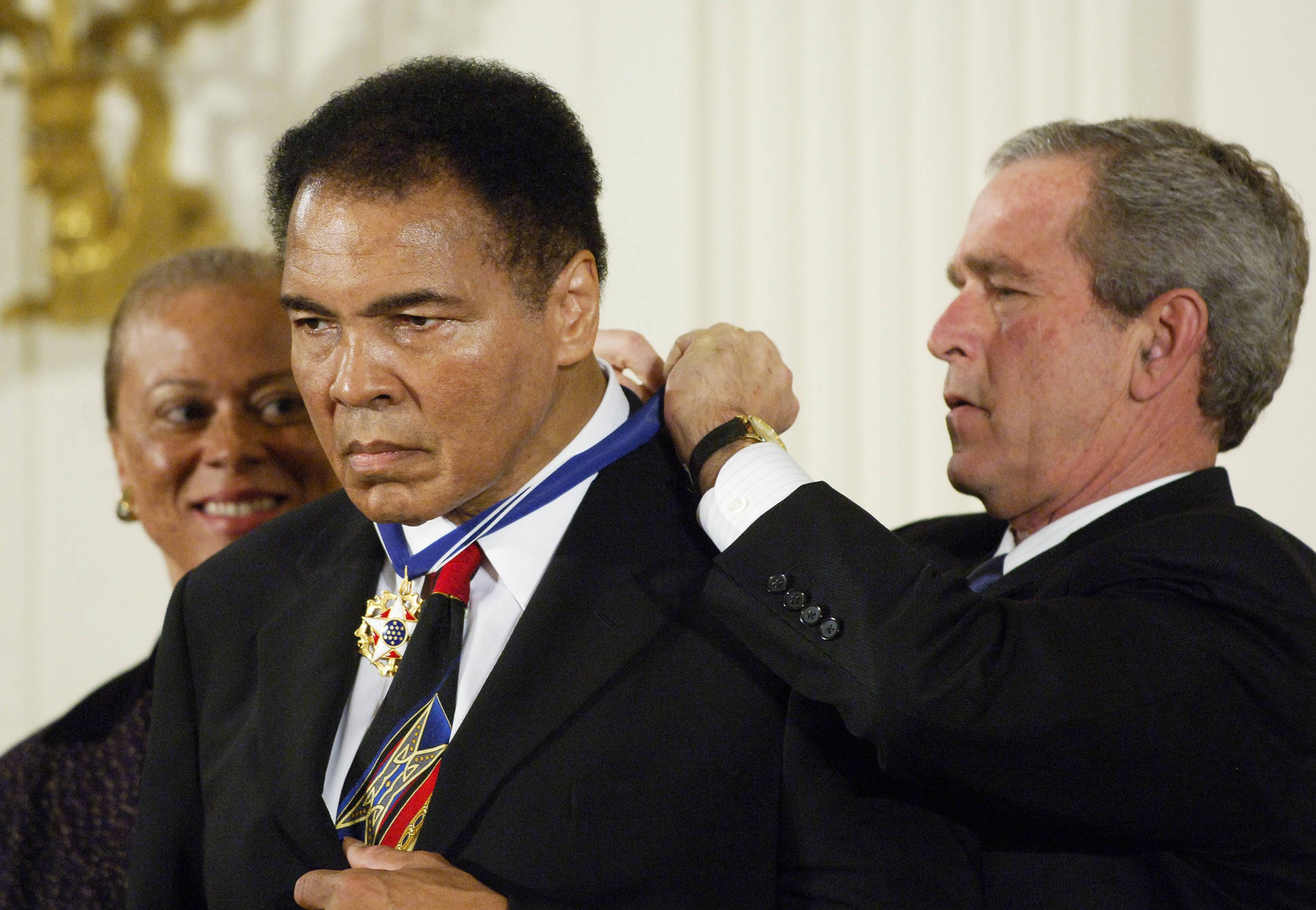 President Donald Trump said Friday that he is considering a pardon for Muhammad Ali, but the deceased boxing great's attorney Ron Tweel responded that the move would be "unnecessary."
"We appreciate President Trump's sentiment, but a pardon is unnecessary," Tweel wrote in a statement shortly after Trump's remarks prior to boarding Air Force One on a flight to Canada for a G-7 summit. "The U.S. Supreme Court overturned the conviction of Muhammad Ali in a unanimous decision in 1971."
Ali was convicted in 1967 for dodging the draft for the Vietnam War. He cited his religious beliefs as a practicing Muslim for his decision to forgo military service. As a result, he was sentenced to five years in prison, fined $10,000 and banned from the boxing world for three years.​
At the time, Ali had told reporters that he "ain't got no quarrel with them Vietcong." He added that he wasn't going to fight for a country that treated black people like second-class citizens, which added fuel to the fire of the civil rights movement.
Ali was also stripped of his heavyweight title, which he won in February of 1964 against Sonny Liston.
Trump's announcement that he was considering a pardon for Ali, among many others, on Friday morning quickly prompted the question, What for?
The Supreme Court decided to overturn Ali's conviction in the early 1970s in the decision Clay v. United States. Not only did the court clear Ali of any crimes, but President Jimmy Carter also pardoned all dodgers of the Vietnam War draft in 1977.
Trump has already granted a posthumous pardon to Jack Johnson, the first black heavyweight champion in boxing history. Johnson was convicted in 1913 for taking his white girlfriend across state lines for "immoral purposes" in violation of the Mann Act.
In a tweet, Trump said that Johnson's "trials and tribulations were great, his life complex and controversial."
And earlier this week, Trump granted clemency to Alice Johnson (no relation to Jack Johnson) after Kim Kardashian West championed her case. Johnson was serving a life sentence for a nonviolent first-time drug offense.
Earlier this week, a White House official reportedly called pardons the president's new "favorite thing" to discuss, and the billionaire is reportedly "obsessed" with them.
Tweel began representing Ali in 1986 and handled a myriad of Ali's financial work.
"We always got along well over 30 years, which is unusual for any lawyers out there to realize. We never had the first dispute or argument or disagreement about anything. So that's quite unusual when you're a lawyer for that period of time," Tweel told reporters after Ali's death, in 2016.