As Mulan Opens in China, Disney is Under Fire From All Sides in America
Disney is taking hits this week from all sides, including lawmakers, human-rights activists and shareholders, for its decision to film Mulan in a region of China that sanctions the abuse of ethnic minorities while also publicly thanking the Communist dictatorship for its help in the making of the film.
The latest attack came late Thursday when the Human Rights Foundation mailed a letter to Disney CEO Bob Chapek asking that the company "condemn the grave human rights abuses in Xinjiang and Hong Kong, and consider donating a portion of Mulan's proceeds to organizations supporting human rights in these regions."
Mulan, set to open in China on Friday and already available on Disney's streaming service due to the coronavirus causing the shuttering of theaters in the U.S., is the live-action version of the Disney animated film about a heroic Chinese girl who takes the place of her elderly father in the military.
The movie was partly filmed in Xinjiang, where Uighurs and other Muslims are confined and abused if they refuse to pledge their loyalty to the Chinese Communist Party, according to several human-rights groups. In the film's credits, Disney thanks the Turpan Public Security Bureau, the agency that allegedly sanctions the abuse of ethnic minorities in the Turpan district of China.
"The world has not seen a mass internment of an ethnic-religious minority group comparable to this since the Holocaust. Yet, Disney has not only chosen to film in Xinjiang, but also to thank—and by extension legitimize—the very people and organizations responsible for some of the most heinous human rights violations of our times. This is outrageous," the HRF says in its letter to Chapek, obtained exclusively by Newsweek.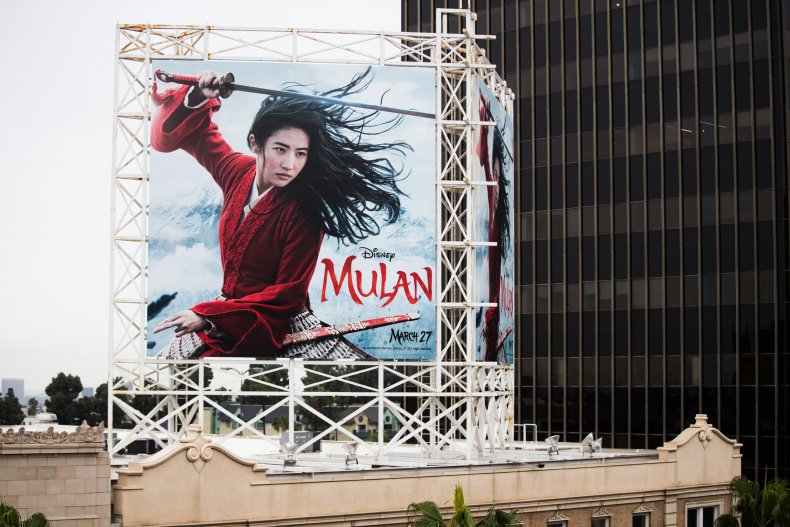 The HRF, run by Thor Halvorssen and chaired by former chess grandmaster Garry Kasparov, is best known for smuggling DVDs of the movie, The Interview, into North Korea to embarrass Kim Jong-un. The communist dictator considered the comedy starring Seth Rogen and James Franco so insulting that he deemed HRF's actions an act of war and his regime threatened Halvorssen with death.
The letter from the HRF comes a day after a similar one from U.S. Sen. Josh Hawley of Missouri, also addressed to Chapek.
"How exactly does giving 'special thanks' to the officials responsible for imprisoning, torturing, and forcibly sterilizing millions of people because of their ethnicities and beliefs align with your supposed commitment to promoting human dignity and respecting human rights?" Hawley asks Chapek in his letter.
"How does glorifying the Chinese authorities perpetrating abuses in Xinjiang provide comfort, inspiration, and opportunity to Uighur children—including those who were never born because the CCP forced their mothers to abort them?" he asks. "Disney's actions here cross the line from complacency into complicity. For nearly a century, Disney has told stories, produced films, and built theme parks that inspired us, brought us together, and shown us the very best of what America has to offer the world. Your decision to uncritically approve this film's release rather than apologizing to those harmed by Disney's actions is reprehensible."
Hawley asks Chapek nine questions, such as, "What assistance did Disney receive from the Turpan Public Security Bureau and other Chinese government agencies involved in the atrocities in Xinjiang?" and demands that Disney answer them by Sept. 30.
Disney did not respond to Newsweek's request for comment.
Meanwhile, Justin Danhof, general counsel for the National Center for Public Policy Research, which owns shares of Disney, told Newsweek Thursday that he's planning an all-out blitz to shame Disney into denouncing abuses in China, where the company has theme parks and makes hundreds of millions of dollars annually from its movie, which are oftentimes tweaked to satisfy Communist censors.
Danhof plans to badger Chapek and the rest of Disney's executives at upcoming shareholders meetings (he has done so previously to complain about leftward bias at ABC News and ESPN), but he intends on upping his game due to Mulan.
Danhof said he has created a coalition of a couple dozen large Disney shareholders along with a who's who of "conservative groups" that will engage Disney in multiple ways, including on social media and by way of introducing proposals subject to a vote of the majority of shareholders. One proposal the coalition, dubbed "Back to Neutral," is considering is a demand that Disney sell ESPN, in part because he says the sports network has become overly politicized.
"We will confront Disney in order to get them out of the culture wars, where they only engage on behalf of the left," said Danhof. "Disney thrusts its worldview on the shoulders of its employees, shareholders and customers."
He added: "In Mulan, they thanked China's propaganda arm and the people who rape and torture minorities. It's a tacit endorsement of genocide. Yet, through its support of protesters, it calls America—the world's greatest bastion of freedom—a systematically racist country. Their moralism has no place in polite society. If you're swayed by the opinions of Disney, check you moral compass."