MultiBillion-Dollar Cocoa Industry Gives $600,000 to Fight Ebola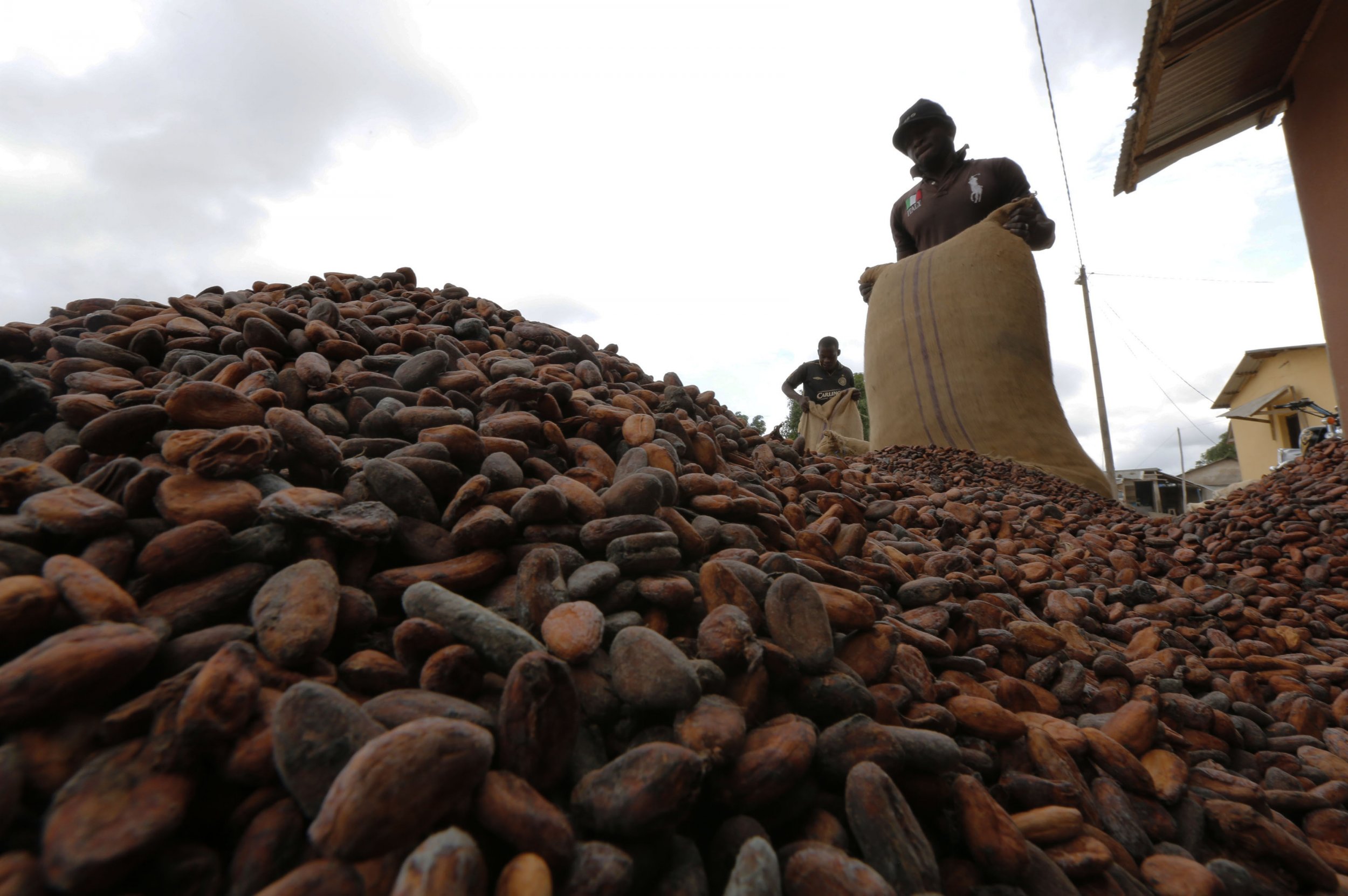 The companies that make Snickers bars, M&Ms, Reese's peanut butter cups, Baby Ruth and a slew of other popular treats have a vested interested in containing the spread of Ebola.
Should the disease make it across borders from Liberia and Guinea into neighboring Ivory Coast and over into Ghana, more than half of the world's supply of cocoa, chocolate's key ingredient, would be at risk. Neither country has reported any cases of Ebola thus far.
The World Cocoa Foundation (WCF)—whose more than 100 members include household names like Mars Inc., the Hershey Co., Ghirardelli Chocolate and Nestlé—announced a $600,000 donation Wednesday to fight Ebola in West Africa. To put that number in context, Hershey has revenues of around $7 billion, and Mars has annual sales of more than $33 billion. The announcement comes just one day after Mark Zuckerberg, co-founder and CEO of Facebook, said he and his wife would donate $25 million to the fight against Ebola.
The funds from the WCF will go directly to the International Federation of Red Cross and Red Crescent Societies and Caritas to bolster care and prevention efforts already underway.
"We recognize that many rural communities in West Africa, including those where cocoa is grown, need support to find sustainable solutions to economic and social problems that may hinder their ability to tackle threats such as Ebola," said Bill Guyton, president of the WCF, in a press release issued Wednesday in conjunction with the WCF's 26th Partnership Meeting & Cocoa Sustainability Trade Fair.
Ebola has had the chocolate industry on edge. Prices on cocoa futures spiked to $3,400 per ton in September, according to Politico, from a normal trading range of $2,000 to $2,700 per ton.
"The price made the move to three-year highs in response to the Ebola crisis, on fears that it could spread into Ivory Coast and Ghana," Jack Scoville, a senior market analyst at Price Futures Group, told NPR. Ivory Coast shares borders with both Liberia and Guinea, where 3,301 people have died from Ebola out of 5,721 confirmed or suspected cases, according to the most recent numbers from the World Health Organization.
Cocoa prices have since retreated from the September high, settling Tuesday at $3,102 per ton, according to The Wall Street Journal.
It wouldn't take a huge Ebola epidemic in Ivory Coast to wreak havoc on the cocoa industry, The Wall Street Journal says. Because the crop is grown on small plots and then collected by middlemen who drive from farm to farm, quarantines and travel restrictions involved with stemming an Ebola outbreak could have a huge impact on supply and prices.
To prevent Ebola from entering Ivory Coast, the country's prime minister, Daniel Duncan, signed an order that sealed its land borders with Guinea and Liberia in late August.
The closed borders might help keep out disease, but they also prevent migrant workers from Liberia and Guinea—who make up the majority of those who harvest cocoa—from entering the country, according to NPR. The main harvest season begins in October in Ivory Coast, the International Cocoa Organization says. A labor shortage could cause major problems.
The WCF donation builds on an $100,000 initial contribution by Transmar Group, a company that supplies cocoa products to the confectionary, ice cream and baking industries, according to its website. Other members' contributions brought the total donation up to over half a million dollars, including Ghirardelli Chocolate, Mars Inc., Mondelēz International Foundation (with brands like Toblerone, Chips Ahoy! and Cadbury), Nestlé, and the Hershey Co., as well as cocoa product suppliers and agriculture companies.
All of the funds raised will go to the International Federation of Red Cross and Red Crescent Societies and Caritas, the WCF says. It will also use its existing networks in West Africa to help teach preventative measures in rural communities, Guyton says.
In the meantime, Guyton says, the members of the WCF also believe "the best way to help West African cocoa farmers and their communities is to continue to buy the cocoa that they grow."
Correction: An early version of this article incorrectly stated that Ghana shares borders with Liberia and Guinea. It is Ivory Coast that shares borders with Liberia and Guinea.