Multi-car Pileup in South Dakota Prompted by Whiteout Conditions from Winter Storm Harold
A winter storm caused a multiple-vehicle crash on South Dakota's Interstate 29 on Wednesday.
While speaking with Newsweek, South Dakota Department of Public Safety spokesperson Tony Mangan said that "it's about a 20 vehicle pileup in the northbound of the I-29 about one mile North of the Dell Rapids exit."
According to Mangan, the northbound lane on I-29 was closed to traffic, and authorities were rerouting traffic to exit 98.
"There's zero visibility in the area, zero visibility," Mangan told Newsweek.
The South Dakota Highway Patrol also confirmed the crash on Twitter, writing that there was a "Multiple vehicle crash blocking Interstate 90 between Sioux Falls and Hartford."
The tweet added, "Zero visibility! This will take some time to clean up! #keepSDsafe and stay put. Wait for better conditions!"
Dell Rapids volunteer firefighter Rick Morris, told the Argus Leader that the pileup included cars and semi-trucks. There were also several non-life-threatening injuries caused by the crash, according to the newspaper.
Mangan also noted that he has been told that there appear to be some injuries, "to what extent has not yet been determined."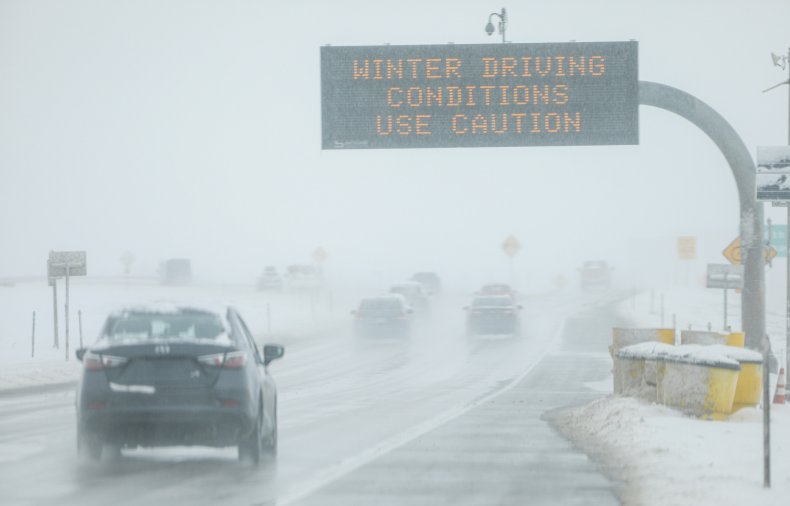 Additionally, the Argus Leader reported that there was an injury crash near mile marker 390 on Interstate 90 at around 1 p.m. local time.
The multi-vehicle crash comes amid blizzard conditions in the state, which prompted the South Dakota Department of Transportation to issue no travel advisories on most roads in the eastern and central parts of the state.
"NO TRAVEL ADVISED for the entire eastern half of the state! Numerous crashes, white-out conditions, strong winds & snow are making travel nearly impossible - especially on I-29. Please postpone travel until the blizzard lets up later this evening," the South Dakota Department of Transportation wrote in a tweet.
According to the National Weather Service (NWS) in Sioux Falls, as of 2 p.m. local time, there were at least 2.1 inches of snowfall reported at the Sioux Falls Airport.
In addition to snowfall, NWS Sioux Falls warned residents that wind gusts ranging between 50 and 60 miles per hour could hinder visibility.
As the snow continues to fall in the state, many residents began posting pictures and videos on social media, showing the current conditions.
"Weather conditions continue to rapidly deteriorate in Minnehaha County. Strong winds and zero visibility in most locations! We strongly urge motorists to use extreme caution and travel only if necessary. County snow plows are not being used at this time due to the poor visibility," the Minnehaha County Sheriff's Office wrote in a tweet.
The South Dakota Highway Patrol also posted a video on Wednesday morning, showing limited visibility on highways caused by the storm.
"We all knew it was coming eventually! Please slow down and turn your lights on. This are the current conditions near Mile Marker 240 on US 14," the tweet said.
Newsweek reached out to the South Dakota Highway Patrol for comment but did not receive a response in time for publication.