Multi-State Search Continues for Peter Manfredonia, University of Connecticut Student Suspected of Two Homicides
A multi-state search for homicide suspect Peter Manfredonia continued Tuesday afternoon, according to reports from Connecticut, Pennsylvania and New Jersey law enforcement agencies.
Manfredonia, a 23-year-old University of Connecticut student, has evaded police since Friday morning, when officials say he was seen leaving the site of homicide and serious assault that took place in Willington, a town near the Connecticut-Massachusetts border.
Manfredonia is also suspected of breaking into the home of another Willington resident, from whom he stole food, firearms and a truck after holding the resident captive for more than one day, according to The Hartford Courant. State police have additionally connected Manfredonia to the subsequent murder of a Derby, Connecticut, resident, as well as a kidnapping.
People who had contact with Manfredonia prior to the suspected crimes, including family attorney Michael Dolan and former university classmates, said he struggles with mental health issues, The Connecticut Post reported. However, in comments to the outlet about Friday's incidents, Dolan said, "This really came out of nowhere."
The suspect was most recently identified in Stroudsburg, Pennsylvania, where authorities said he may have stolen a second vehicle. The first, a black Volkswagen, was abandoned in Pennsylvania near the New Jersey border and later recovered by law enforcement.
According to an update shared by Pennsylvania State Police on Tuesday, Manfredonia's kidnapping victim had escaped and made contact with state police in New Jersey. After leaving the Volkswagen behind, Tuesday's report said security footage from a Stroudsburg Walmart and intel from a ride share employee confirmed his latest known location.
"Troopers were able to determine that Manfredonia was dropped off by an Uber in front of the East Stroudsburg Walmart," the Pennsylvania State Police report states. "Through interviews with the driver and recovered security camera footage, troopers were able to determine that Manfredonia walked behind Walmart and other businesses onto a set of train tracks and was still in possession of a duffle bag full of guns he stole from a home invasion in Connecticut."
A BOLO—or "be on the lookout"—has been issued to agencies across Connecticut, Pennsylvania and New Jersey as law enforcement continues to pursue Manfredonia.
According to a post shared to Twitter by WestNJFireAlerts on Tuesday afternoon, he may be en route to Jersey City, possibly using the second stolen car. Pennsylvania State Police's Tuesday report suggested he was traveling without a vehicle, in which case "he may attempt to solicit ride sharing services, possibly through third-party means, to flee the area."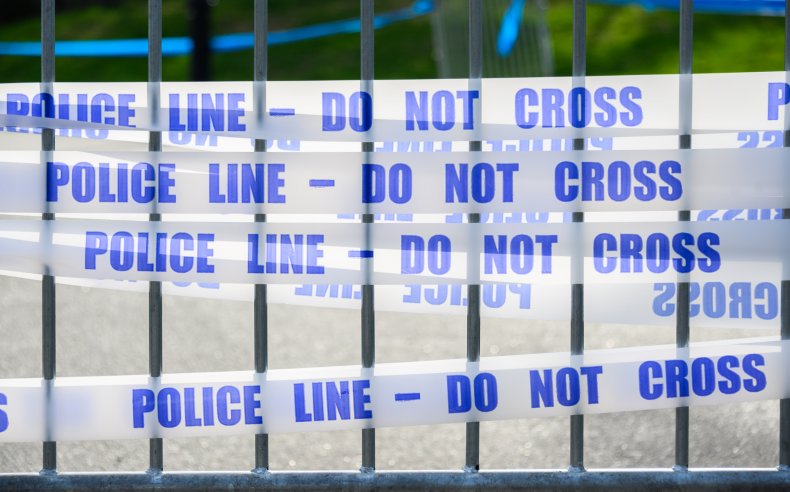 Multiple police reports and public advisories regarding the suspect at large have warned that Manfredonia is likely armed, given the firearms obtained through Friday's home invasion and the security footage that showed him carrying a large duffel bag near the Strousburg Walmart.
Police have described him as a 6'4" white male, weighing approximately 240 pounds with short hair. They are asking anyone with information about Manfredonia's whereabouts to contact state crime units immediately.
Newsweek reached out to the Pennsylvania State Police, New Jersey State Police and Connecticut State Department of Emergency Services for additional updates but did not receive replies in time for publication.