Clothing company Uniqlo is facing criticism for refusing to boycott Russia as other multinationals have pulled out of the country following its invasion of Ukraine.
The president of the brand's parent company Fast Retailing has defended the decision and said that clothing is a basic human need and that the Russian people should not be deprived of it.
"There should never be war. Every country should oppose it. This time all of Europe clearly opposes the war and has shown its support for Ukraine. Any attempt to divide the world will, on the contrary, strengthen unity," Tadashi Yanai said in a statement, per Reuters.
"Clothing is a necessity of life. The people of Russia have the same right to live as we do."
There are 49 Uniqlo stores in Russia and the company said it will continue to monitor the situation.
In contrast, rival clothing stores Zara and H&M have suspended their Russian operations as Western companies continue to face pressure to cease trading in the country.
Uniqlo is not alone in its decision with the likes of Coca-Cola and Shell also remaining open and operational in Russia.
Here are other multinational corporations that are refusing to boycott Russia:
Coca-Cola
Calls have been mounting for a boycott of Coca-Cola as the global firm is continuing its operations in Russia.
Russian state-owned media source TASS reported last week that the soft drink firm had pledged to keep business open in the country.
A spokesperson for Coca-Cola Hellenic Bottling Company—the bottling company that has exclusive rights to distribute its products in Russia—told the outlet, per The Independent, that "all operational, production, and logistics facilities of Coca-Cola in Russia are working,"
"We are fully responsible to partners, society, and thousands of our employees in Russia. Our top priority is the safety of our employees," the spokesperson reportedly said.
Coca-Cola has not denied this but released a statement saying it was donating €1m to support the Red Cross movement in Ukraine.
"While these are our actions today, we will continue to monitor the situation closely," the company said.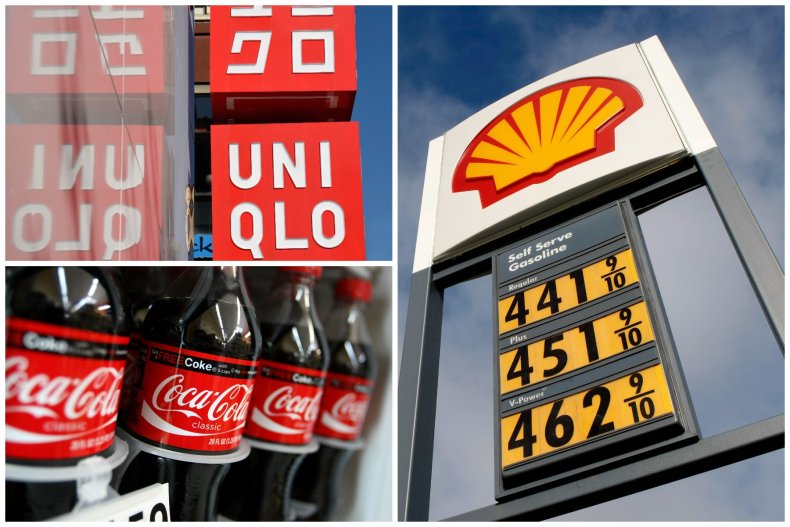 A statement on the company's website reads in part: "Our focus is on our people and supporting humanitarian relief efforts in Ukraine and the region. Our actions are coordinated with our bottling partner, Coca-Cola HBC. Together, our priority is the safety and wellbeing of our employees and their families. We remain in constant contact and are doing everything we can to support them and our communities."
Ukrainian supermarket chain Novus has since announced it would be boycotting Coca-Cola products.
"Our supermarket chain no longer cooperates with the Coca-Cola company, which continues to operate in the territory of the aggressor," the company said in a Facebook post.
Shell
Multinational oil and gas company Shell has defended its decision to purchase Russian crude oil despite the country's ongoing invasion of Ukraine.
The deal was criticized on Saturday by Ukraine's Foreign Minister Dmytro Kuleba, who tweeted: "I am told Shell discreetly bought some Russian oil yesterday. One question to @Shell: doesn't Russian oil smell (of) Ukrainian blood for you?"
The oil giant released a statement to say the company was "appalled by the war in Ukraine" and called the decision to purchase the oil "difficult."
Shell explained in their statement that "without an uninterrupted supply of crude oil to refineries, the energy industry cannot assure continued provision of essential products to people across Europe over the weeks ahead."
The company said: "Cargoes from alternative sources would not have arrived in time to avoid disruptions to market supply."
However, the company said that any profits from any Russian oil it purchases will go towards humanitarian aid to Ukraine.
PepsiCo, McDonald's and Starbucks
PepsiCo, McDonald's and Starbucks are also coming under increasing pressure to pull their business from Russia.
None have released statements on Russia's war on Ukraine thus far.
New York State Comptroller Thomas DiNapoli sent a letter to several major companies on Friday calling on them to halt operations in Russia.
DiNapoli urged businesses to consider the "significant and growing legal, compliance, operational, human rights and personnel, and reputational risks," of remaining operational in Russia, Reuters reports.
Meanwhile, British politician John Mann tweeted: "If Mcdonalds and Starbucks continue to sell in Russia then an international boycott of their products should be instigated."
Companies like McDonald's and Starbucks operate on a franchise system and do not actually own the outlets that operate there under their names, meaning that the decision to remain open comes down to the local franchisee.
The coffee chain is supporting humanitarian relief efforts in Ukraine, The New York Times reported.
Follow our live blog for updates on the Russia-Ukraine conflict.